Relaxing Holidays With Family & Friends
With enough space, indoors and out, to enjoy relaxing with your family and friends, this wonderful farmhouse gite will give you memories to cherish. Perfect for a large family or multiple families holidaying together, creating instant nostalgia.
26 Acres Of Spacious Fun

Yes, 26 acres of grasslands, forest and lakes. Enjoy strolling, games, biking, driving or boating

5 Large Double Bedrooms

Sleep up to 11 comfortably in large 'double' bedrooms, plus optional extra beds

Relax With Friends

Our large lounge and 12-seater sofas allow for social togetherness

Large Country Kitchen

Prepare food and socialise in this huge open country kitchen with 4-metre long breakfast bar peninsula

Outdoor Holiday Terrace

Our outdoor 10m patio area gives you shade under the Caribbean-style roof and sun in the open

Easy Airport Access

Easy access from 3 airports, Limoges, Bergerac and Bordeaux, or drive down in the car
Pete Cook, Guest
This house is amazing
This house is amazing. A typical french country farmhouse and barn have been transferred into a dream holiday house that's perfect for a large family get together or group of friends. All the bedrooms are very comfortable with luxurious bathrooms. The main bedroom even has a fireman's pole for a swift exit downstairs! We were particularly impressed with the open plan lounge/kitchen/dining area that was made for large gatherings. It's huge! Did I mention the fireman's pole? Outside there is a massive terrace partially covered to give some shade on the really hot summer days. Beyond that there is a massive meadow and acres of woodland and a lake to explore. Perfect for letting the kids be kids and go on an adventure. The nearby towns are both full of lovely shops and bakeries (wonderful pastries and breads) but Jumilhac edges the scenic competition with its fairytale castle.
Only downside - It's too far to be able to go to every weekend.
Take a look at our reviews to see what our guests are saying     
.
Your
Friends & Family

Welcome

Come as a family, or as a group of families or friends.
Fly Round The Gite
Watch this video for a flying-view of the house
Country Kitchen

Enough space to move around and enjoy cooking or socialising

Central Chimney

Warm, cosy nights

10-seater Lounge

Relax with friends and family
The Local Area
Just some of the local things to do
Water Parks & Pools

6

Chateaux Castles

57

Superstore Shops

2 + 5

Tourist Office

2
Latest Gite News
Stay up to date with news on the gite, developments, Dordogne France and more
Jaci Legge, Guest
Incredibly High Standard
This property is just stunning! Incredible high standard, felt very opulent, with several quirky features including an indoor balcony & a Narnia wardrobe entrance to the living space! The setting is beautifully quiet & secluded with so much space for the kids to run around in. The property itself was almost as big than my local village - I could fit my house in the kitchen space! This was just the tonic we needed before Christmas, the views are stunning in all directions, like a deep exhale of peace! We will definitely be back!
Its hard to find something to fault with this. The weather could have been better but I don't hold the hosts responsible for that! It was December!
The Outside
Inside the gite farmhouse is fantastic. Outside is just beautiful.
Open Grasslands

For games, running about, walking or just enjoying

Forest

Enjoy walking or making a hammock, den or rope bridge!

Big Lake

For row-boating, fishing or swimming.
Love The Outdoors.
Your Space To Relax
Beyond the large part-roofed open-air terrace patio is 26 acres of open grassland, lakes and forest.
Read More...
Marie Patchet, Guest
Perfect Secluded Spot
The perfect secluded spot to focus on finishing off the outstanding work admin before Christmas... and then sit back, relax and look up at the stars with a nice glass of red wine, whilst pondering my priorities for 2019. Awesome house and grounds, comfy beds, and all the facilities one could need!
Gite Owners
We absolutely LOVE this place. This has been a 10-year dream, to own a large farmhouse and land in France. And we'd be happy for you to love it too.
.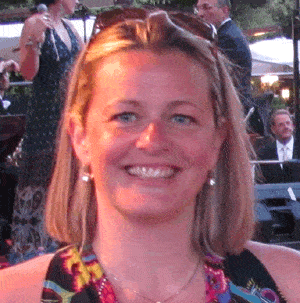 Esther Ritson-Elliott
Owner
Duncan Ritson-Elliott
Owner
The Family