Looking for Dordogne Gites with Pools?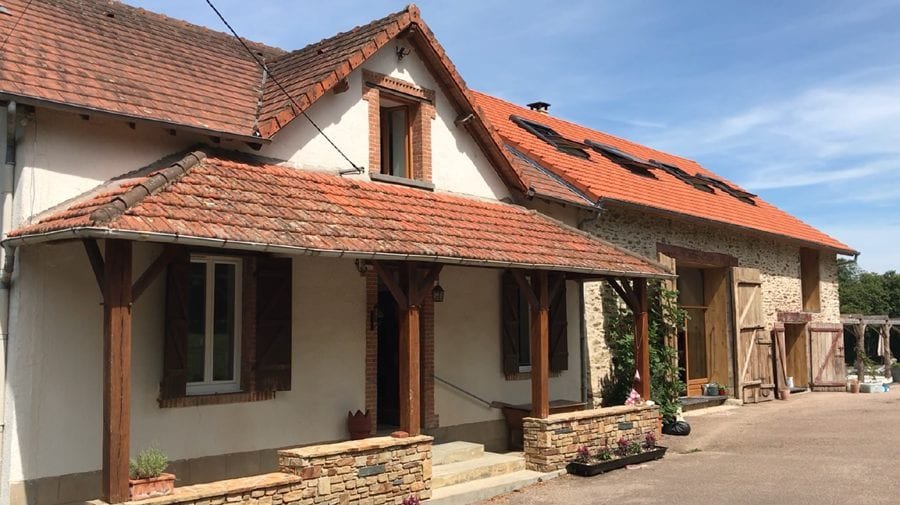 This is a luxury villa in Dordogne. This property is all about space and luxury; inside and outside. The gite was renovated fully in 2017 to a very high specification, with beautiful bespoke solid oak wood throughout. People stay here who are looking for Luxury Villas in France with Private Pools or Dordogne villas with private pools.
This page below shows you all the beautiful bedrooms throughout, with photos and videos.
If you would like to view other areas of the property…
The Banquet Hall
Games Room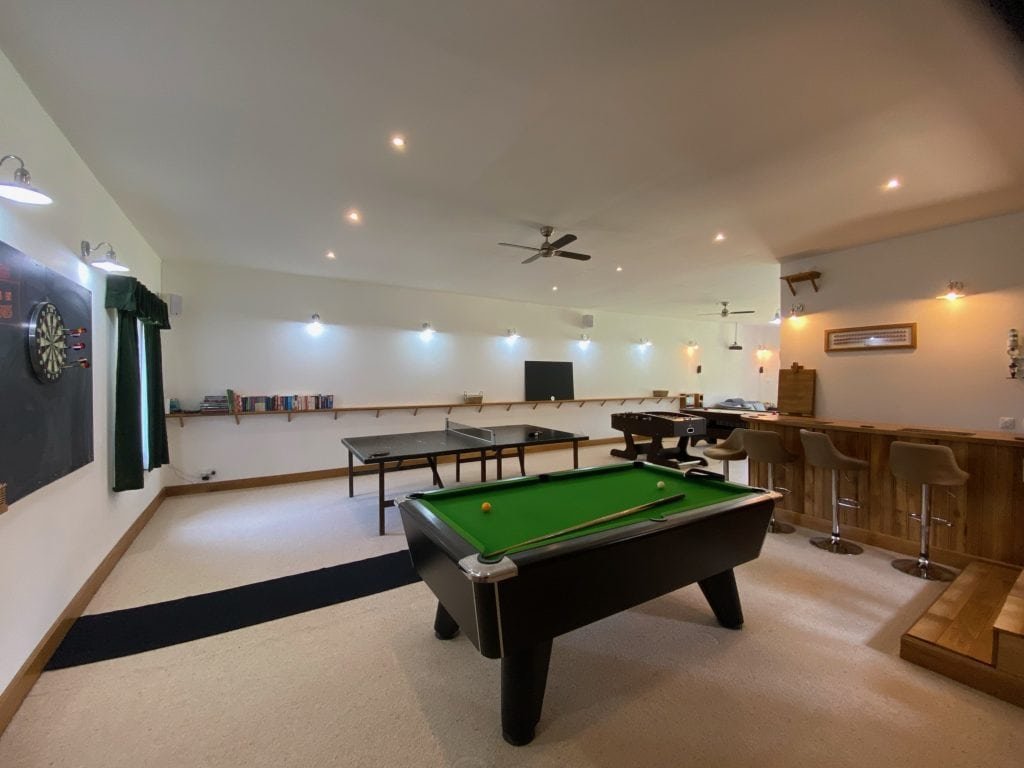 Large Heated Pool
We rent the whole gite and land out to you. We do not rent out this family gite in parts. You will not be sharing it with anyone you don't invite yourself. The whole property is yours for the duration of your holiday.
Your very own large 5 double bedroom luxury farmhouse gite with a huge kitchen and dining 'Banquet Hall' area, laid out in 26 acres of grassland, forest and lakes. For your personal use.
There is plenty of room for you and your family to stay and enjoy your holiday vacation. You might even want to holiday-share with some friends and their families.
As you arrive you have a large driveway, with plenty of on-drive parking space, as well as a 3-car walled (and lit) car parking area, off the driveway, and plenty of turning space.
Gite in Dordogne Bedrooms:
The 5 bedroom area of the house is the white-walled area of the house in the photo above. There are 4 double bedrooms on the ground floor and the huge master double bedroom is upstairs and has both a superking size bed and an additional standard double bed, overlooking the double-height Banquet Hall lounge-kitchen-dining area. All bedrooms are large double rooms, 3 of which have en-suite bathrooms, 2 have access to the family bathroom. Gite Bedroom 2 – "Malbec" – has two double beds as well as an en-suite bathroom.
Please note, we can arrange additional beds as necessary. We have a travel cot available for babies/toddlers and a high-chair, to minimise your luggage, if you prefer.
Gite Bedroom 1 – The Master Bedroom – "Cabernet"
Upstairs is the Master Bedroom, fitted with super-king sized (Emperor/Queen) bed, plus a large standard-double bed, as well as a stunning solid-oak balcony overlooking the Banquet Hall lounge-dining-kitchen area.
The Master Bedroom comes with large 5-star hotel quality bathroom facilities, with solid oak beams and beautiful ceramic tiles. The en-suite bathroom is fitted with a large Victorian bath, ceramic double sinks and a large walk-in shower. While luxuriating in the bath, you can enjoy views out over the upper orchard.
Gite Bedroom 2 – "Malbec"
Gite Bedroom 2, downstairs, has two kingsize double beds, a large oak wardrobe, as well as a spacious ensuite bathroom with bath/shower facilities.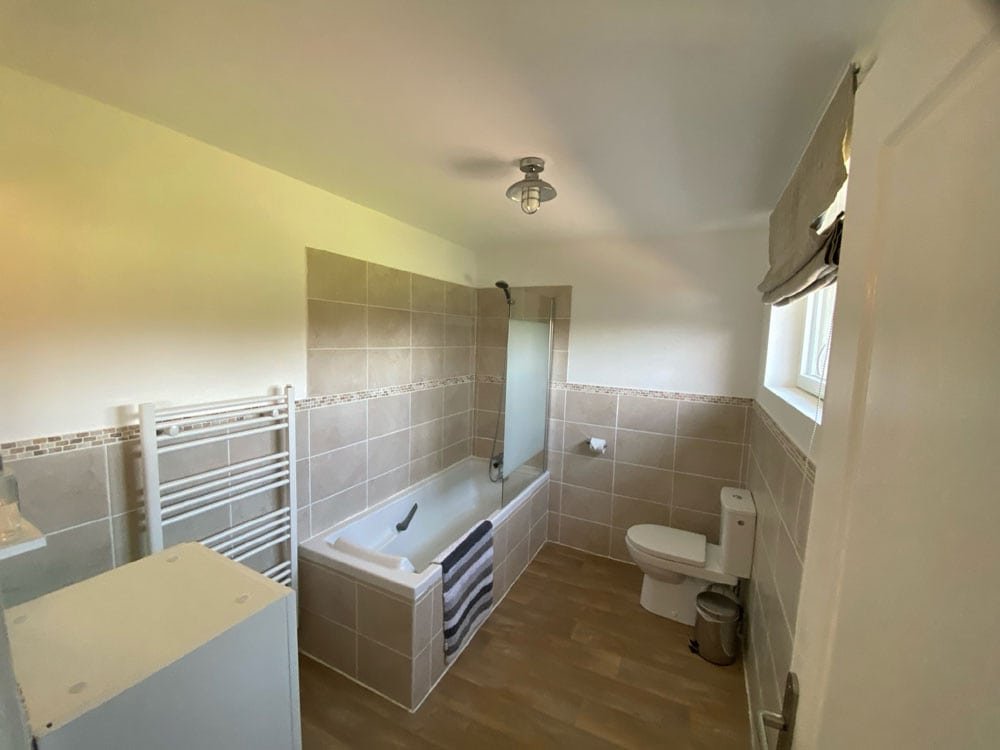 Gite Bedroom 3 – "Merlot"
Gite Bedroom 3 has a kingsize double bed and character brick fireplace for warm winter evenings, with views out over the upper orchard. In the small ante-chamber on the way to the en-suite bathroom is a large recessed wardrobe and desk/dresser table. The large en-suite bathroom has a sizeable walk-in shower and views over the countryside.
Gite Bedroom 4 – "Syrah"
Gite Bedroom 4 has a superking sized double 4-poster bed, for your inner Royalty, a wardrobe and dresser table.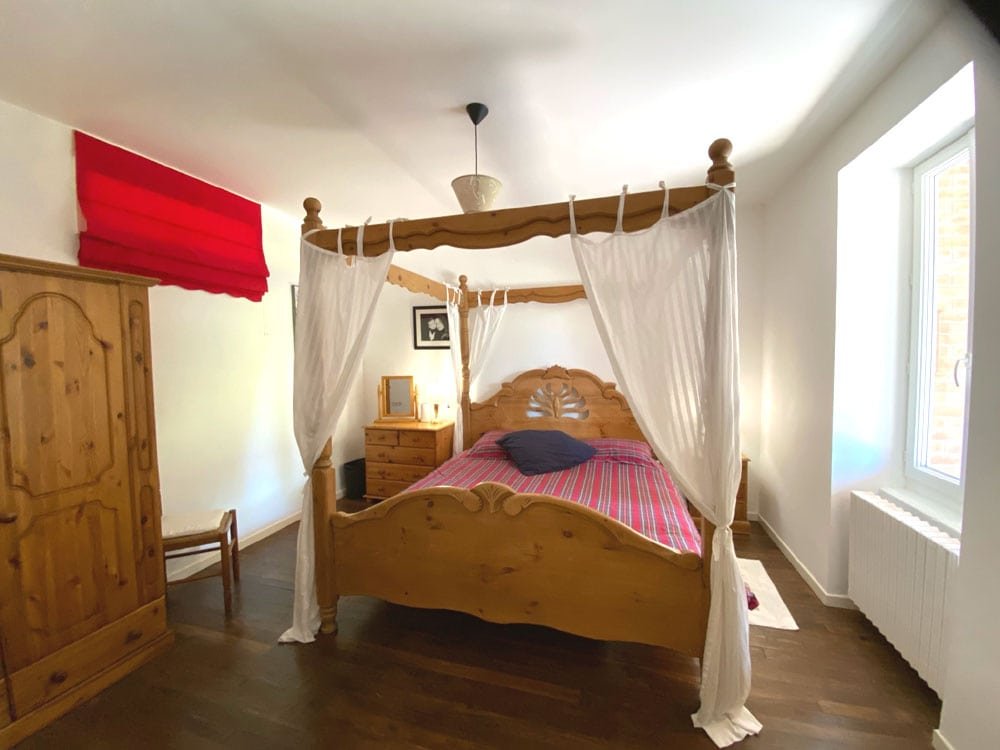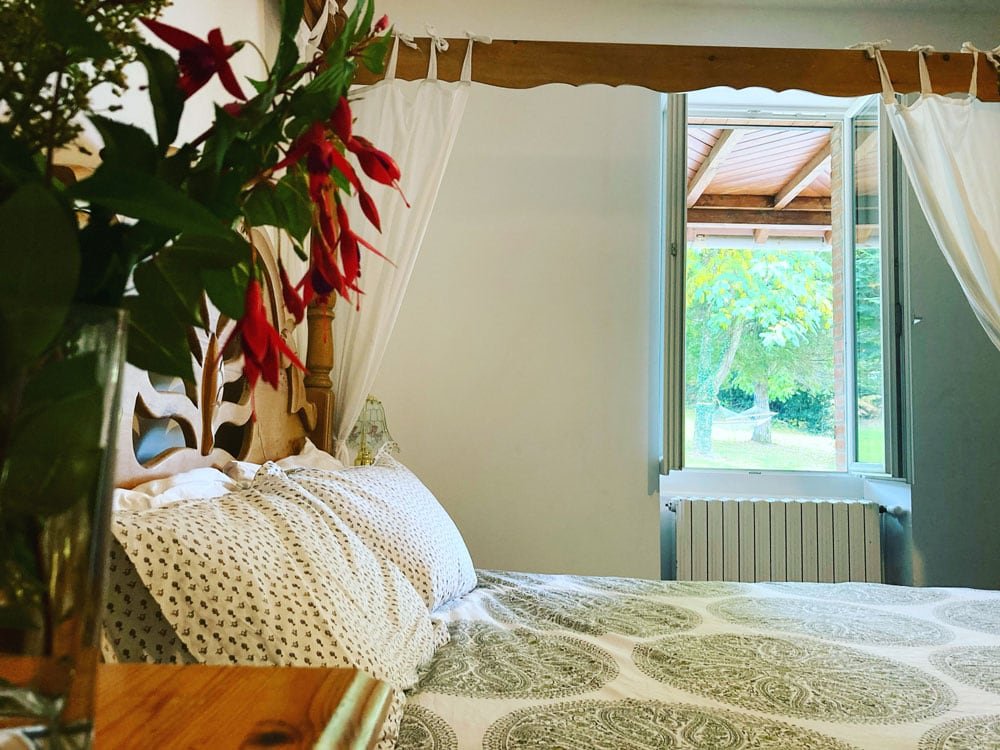 Main Family Bathroom
Gites Dordogne Bedroom 5 – "Pinot"
Gite Bedroom 5 has a kingsize double bed that has the option of inclined headrest. Wardrobe and dresser, it also has 2 windows, one with views over the front garden and the other the upper orchard.
Dordogne Gites With Pools
Entering The Magic
As you walk from the bedroom area of the gite, along this corridor, you find yourself facing this…
When you're looking for gites in Dordogne with private pool, you wont have been expecting this…
Think back to your childhood. Or maybe reading to your own children. Remember the Narnia series, The Lion The Witch and The Wardrobe, The Voyage of the Dawn Treader, Prince Caspian, etc, all by C. S. Lewis.
The children in the stories hide in an ancient, antique wardrobe, and accidentally slip through the back of the wardrobe, into a magical world of fantasy.
Imagine opening that door and going through…
And through…
The Gite's Own Banquet Hall
Click here to discover more about the Banquet Hall
To find out more, contact us or check availability here <<
We are sorry that this page was not useful for you!
Let us improve this page!
Tell us how we can improve this page?