Having your own luxury Christmas villa is a wonderful memory for the whole family. Imagine spending a warm Christmas day by the roaring log fire, as all the children, young and old, get to open their presents together. Plenty of love, plenty of laughter.
Outside you can look out over acres of frosty fields. There might be wild deer scattering out of the fruit orchard, and some occasional bird flies by.
This is exactly what you can expect here at this luxury villa. This happens every year.
Either when we are here ourselves, with our kids and adult siblings for the Christmas holiday, or if guests have rented it that year for their Christmas getaway.
Winter walks, good wine and snuggling up to a wood fire. And probably too much great food and cheese!
Escape
Nestled in a remote rolling hills of south west France, this sumptuous countryside Farmhouse is large enough for up to 14 people. (We have had more guests than that, but usually only by prior arrangement, in summer because some end up camping in the huge gardens) If you need to bring more guests, please get in touch because we do have ways to rearrange some beds.
You will spend most of your Xmas holidays here in the modern Banquet Hall.
An Unusual Father Christmas Entrance…
Watch this video to see Father Christmas make his entrance into the Banquet Hall on Christmas day.
"Pere Noel" is father Christmas – the guests staying were French, so naturally, Father Christmas spoke French…
The Banquet Hall
As you scroll through the photos here, you will see the beauty of this Banquet Hall area. It is a stunning, cavernous space with double-height ceilings up into the roof.
The photo above shows the Banquet Hall, clean and tidy, in summer…
We can arrange for this whole area to be ready for your Christmas celebrations – covered with decorations. (More on this later). The following photo is the Banquet Hall at Christmas time, decorated…
Most of your together-time will be in the Banquet Hall, like the kids above.
Luxury Villas in 2023 and 2024 in South France, Dordogne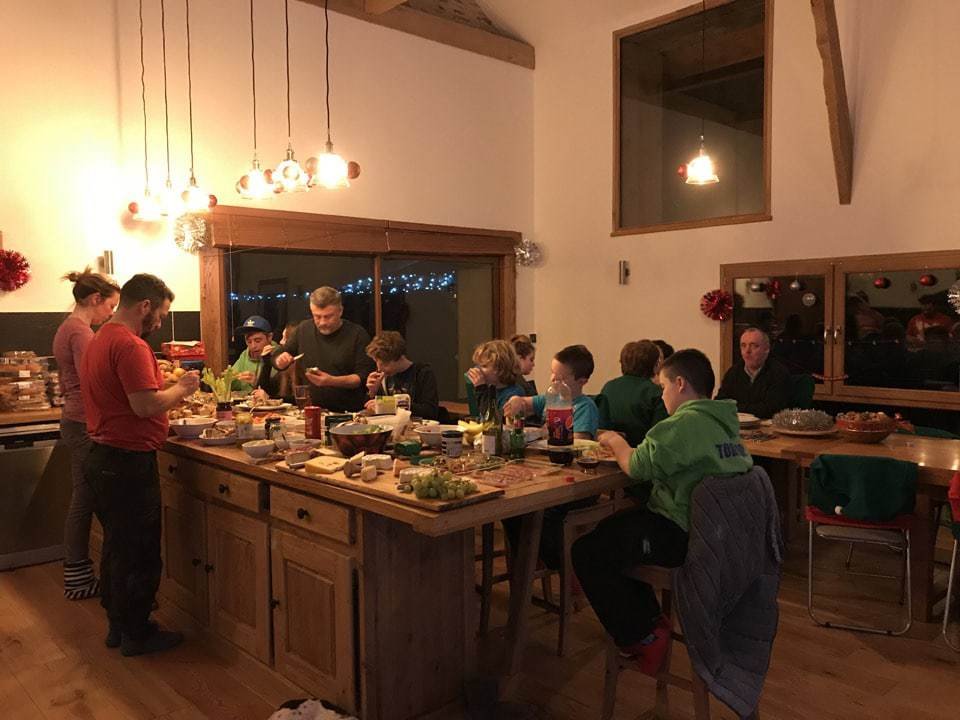 Exclusive Christmas Dinner
Christmas dinner is the focal point of your festive season villa holidays, so it is vital that you know you will be well provisioned, in terms of food, equipment and facilities.
There are 4 self catering areas here.
The Banquet Hall Country Kitchen
The Terrace Kitchen
The Brick Barbeque
The Bakehouse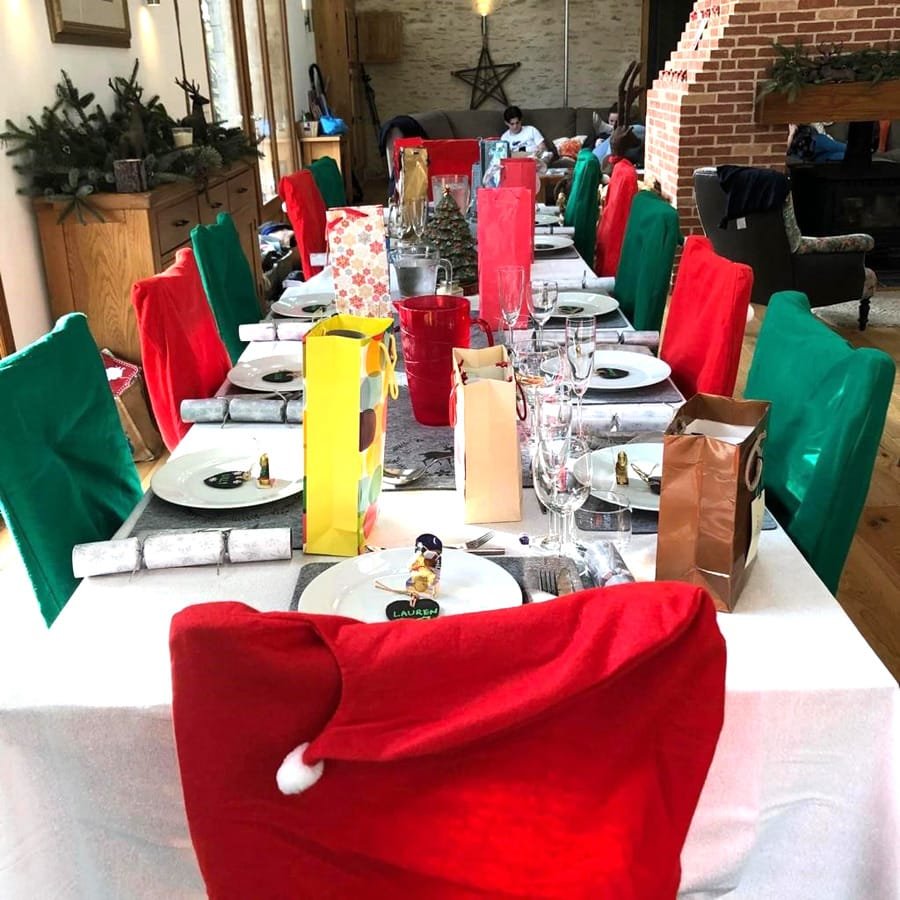 The main kitchen at the villa is an open country kitchen style area, with plenty of room to maneuver, with a Range Master oven system, and all utensils, cutlery and crockery provided, including all labour-saving devices such as mixers, blenders, mixing wand, pans etc. There is also a walk in Pantry room adjacent, with additional oak work surfaces to prepare your sumptuous meal.
The Terrace Kitchen is outside on the Terrace, with additional gas hobs. You might want to use this if you are cooking fish and don't want the smell indoors, or simply want extra stove space. You can also eat al fresco here, December temperatures allowing, in the winter sunshine. We enjoy breakfast out here – maybe an early morning coffee before the others are up.
The Brick Barbecue is just off the Terrace and gives you the opportunity for a winter sizzle-up.
The Bakehouse is a separate building, with a 2-metre wide barbeque and electronic rotisserie for larger gatherings and maybe a Hog Roast.
Christmas Holiday Decorations Package
We have a huge amount of Christmas decorations that you can put up around the house if you wish. This includes 2 big reindeer (1 meter high), garlands, lights and balls. You can have Ali, our lovely friend who helps run the property, put the decorations in place for you and take them down after your stay, if you like.
We can put these decorations all around, on the walls, the central fireplace and on some furniture. This is your villa for the holiday season.
We have a sizable pine forest which is well established, so we will choose one for you.
We can also offer you a tree felled in our own woods on the property. It will be a tree, larger than perhaps you're used to back home, to place in the banquet hall, so you can put your New Year's Eve gifts there.
If you want the decorations bundle installed and removed for you, including a tree installed and decorated for you, it's only £250.
This spacious luxury villa in the Dordogne is a great place to spend the perfect Advent.
Winter Warmth
We have a large amount of chopped wood that you can use for the log fire in the banquet hall. It is wonderful to spend the festive period huddled around a big open fire, blasting out the heat. It is a massive log burner, that you can choose to have the door open or closed, for an open fire.
In the Banquet Hall, we have a wonderful cosy underfloor heating which gives off a comfortable warmth all around you for Advent. The central fireplace also means you can add warmth with a log burner. Once it is lit and the underfloor heating is on, it is a pleasant warmer winter for you, your friends and family. Complete relaxation!
One of the bedrooms also has a fireplace where a wood fire can heat the room.
Exclusive Luxury Bedrooms
All 5 bedrooms are very spacious and luxurious. We have four poster beds, kingsize bed and super-kingsize beds in each.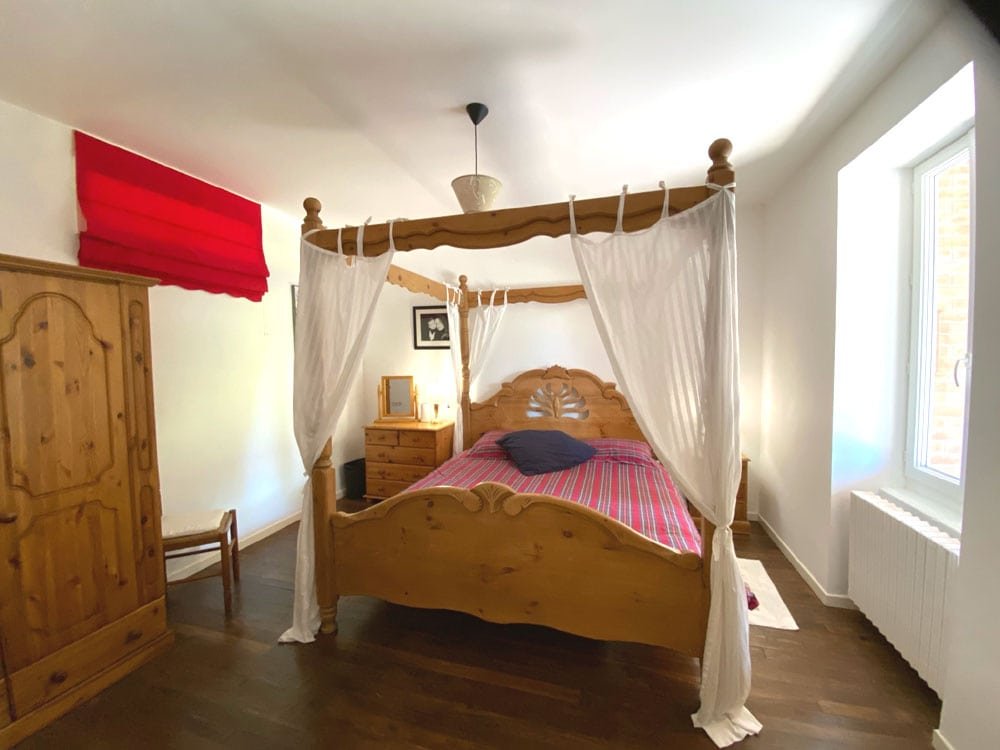 Three of the bedrooms have their own ensuite bathroom, including the Master bedroom upstairs, which also has its own oak balcony, stepping out and overlooking the Banquet Hall.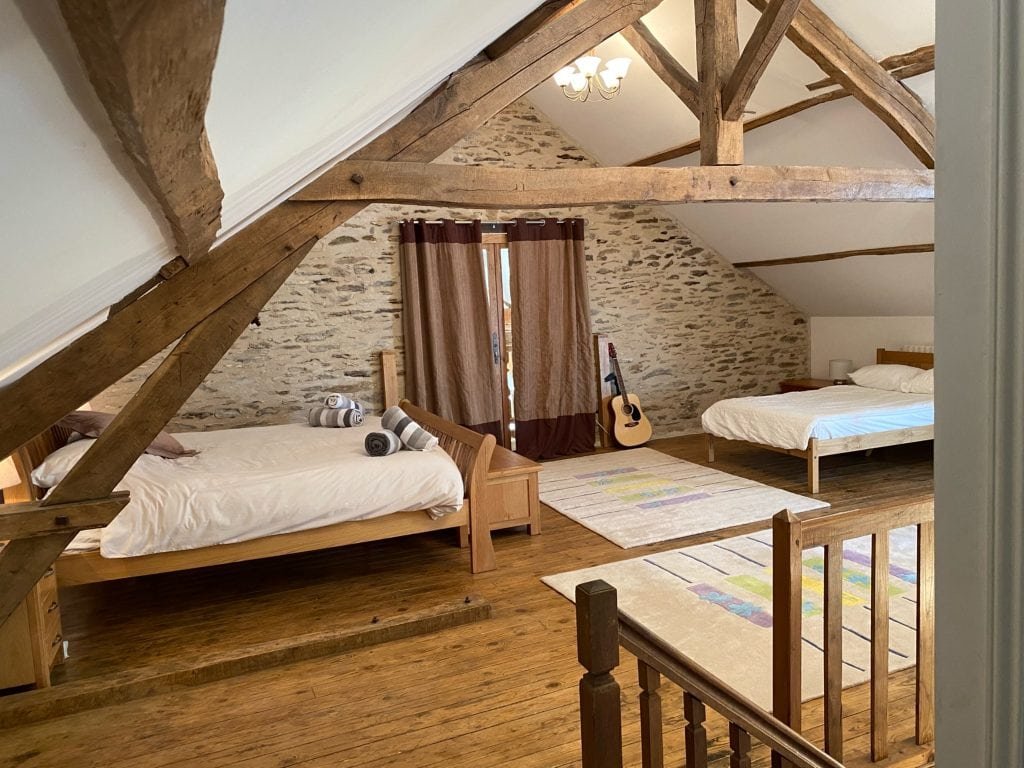 Two of the bedrooms have 2 double beds in, so can sleep up to 4 people per room, which makes it quite family friendly. The downstairs room like this is often used for all the kids of multiple families, or for all of one family to stay together.
All bathrooms have a shower; some have a bath as well.
Games Room
The other place you will likely spend a lot of time here is in the Games Room, which is as big as a house. It has a drinks bar, pool table, table tennis, table football, air hockey and a cinema.
Dogs On Hols
We accept dogs, with strict dog rules.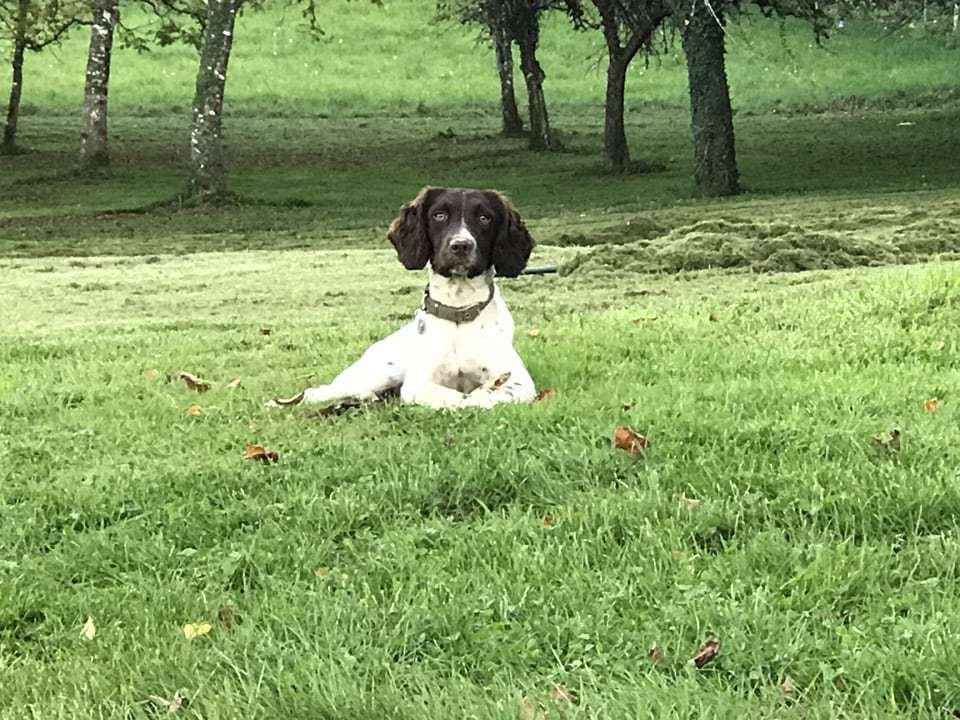 You can bring your dog on your Christmas getaway here. More details here.
Outside and The Gardens
Outside you can enjoy spectacular views and a winter walk through the garden, through the grass, through the forests, to the lake, just a stone's throw. Also within walking distance is our other woods, tucked away, where you and the little ones can explore, being surrounded by nature and rustic wildlife.
Guests can enjoy 26 acres of land around the villa surroundings – of grassland fields, gorgeous woods and lakes for you to relax, take in the breathtaking views, get some winter sun in the outdoor space. You can go hiking and get off the beaten track on many of the country paths around. There is a beautiful path beyond the house within easy reach, to the stream which is less than a mile away, which is a haven of tranquility.
There are is a gym in St Yrieix.
Local Amenities & Leisure
There is also a lot you can do in the local area other than wonderful winter walks nearby.
The local old town of St Yrieix La Perche offers you all the facilities you need when visiting, and has plenty of hidden character worth exploring.
If you feel like indulging, you can also visit local restaurants and bars for evening meals or lunch.
You can search for gold in the nearby Dordogne River, at the nearby village, which is a delight.
For families wanting to golf, there is easy access to a golf course about 20 minutes away at La Desindieras which is popular, although given December temperatures, likely cold at this time of year! The golf course is known to be high quality and the restaurants nearby are good.
The local village of Jumilhac, just a short drive away, has a fabulous chateau castle and architecture to discover.
Location
The villa is situated between Limoges and Bergerac, so easy access from both airports due to this location, wherever in the world you will come here from.
New Year
You can be here for both Christmas and New Year. It is a minimum period of 2 weeks across Christmas because it is very difficult to changeover if one group want it for Christmas and another for New Year.
So come and enjoy it for both and get some winter sun!
The Heated Pool
The heated swimming pool and outdoor pool house will not be open in winter. The hot tub can be available on request, although the hot tub is usually stored at this time of year due to the cold.
Still Looking For A Villa in France?
To hire this resort, be sure to book early to avoid disappointment. We have only one winter break period available, so you need to get your booking in first. It is important for you and your tribe to be here relaxing in the peak luxury season.
I am very available to help – and open to your needs if you have a larger group or need to talk about the different requirements of your group and how you need the rooms to be, then please just call me to discuss it.
To continue discovering if this is one of the best villas in France for you, watch the videos here and read more here and here.
To start planning your reservation for this luxurious country Farmhouse property, click here to check availability or call me directly on +447930338555.
I look forward to speaking with you and talking about your needs and your selected date.
Duncan Ritson-Elliott
Owner / Co Founder
GiteDordogne.co.uk
Cottage in Dordogne 2023 and 2024
---
Why is Christmas So Important?
Christmas is an annual holiday celebrated by millions around the world, primarily on December 25th. It commemorates the birth of Jesus Christ, the central figure of Christianity, and is both a religious and cultural event. While the exact date of Jesus's birth is not known, the choice of December 25th is believed to have been influenced by earlier pagan festivals, such as Saturnalia and the winter solstice, which were celebrated around the same time.
It has evolved over the centuries, and its modern celebrations often combine religious and secular customs. Here are some key aspects of the festive period:
Religious significance:
For Christians, it is a time to remember and honor the birth of Jesus Christ, who they believe to be the Son of God and the Messiah. Many Christians attend special church services on Christmas Eve and Day, which often include readings from the Bible, hymns, and prayers.
Decorations:
Participants decorate their homes, streets, and public spaces with a variety of Christmas-themed items, such as trees, lights, wreaths, and nativity scenes. The tree, an evergreen tree adorned with ornaments and sometimes a star or angel at the top, is a central symbol of the most wonderful time.
Gift-giving:
Exchanging gifts with family and friends is a popular tradition, inspired by the gifts presented to Jesus by the Three Wise Men (Magi) upon his birth. Gifts are often placed under the tree and opened on Christmas morning or Christmas Eve, depending on local traditions.
Santa Claus:
Santa Claus, also known as St. Nicholas, Kris Kringle, or Father Christmas, is a legendary figure associated with this quality time. He is believed to bring gifts to the homes of well-behaved children on Xmas Eve. Santa Claus is often depicted as a jolly, plump, bearded man wearing a red suit with white fur trim.
Music and caroling:
Christmas carols and songs are an integral part of the holidays. Carolers often go door-to-door singing traditional Christmas songs, while popular tunes are played on the radio and in public spaces throughout the break.
Food:
Many families prepare festive meals and treats during the holidays. Traditional foods vary by country and region but may include roast turkey, ham, mince pies, gingerbread cookies, and fruitcake.
Family and community gatherings:
It is a time for families and communities to come together to celebrate, share meals, and engage in various activities, such as attending the end of year holiday markets or watching Christmas-themed movies and plays.
While Christmas is rooted in Christian tradition, it is celebrated by those of various faiths and cultural backgrounds worldwide. Customs and traditions may vary, but the spirit of goodwill, love, and togetherness remains at the core of the festive period.
Villa for Rent Xmas 2023 and 2024
Logically, like all French villas with pools, we are in Europe, Not orlando, phuket, caribbean island, england, africa ocean, tuscany, mexico, seminyak, mediterranean, Kerry ireland, malaga, kenya, pattaya, Florence, UK, mauritius, lanzarote, antigua, marbella, somerset, London, lagos, cotswolds, americas, berkshire, snowdonia, gibraltar, oxfordshire, fuengirola, dartmoor, costa del sol, puerto del carmen, lake district, san miguel, koh samui, playa blanca, no indoor pool, puerto banus, gran canaria, loch lomond, punta mita, not golden sand hotel, sand dunes, beach or beaches, or sea views, turquoise waters, thailand, mountains, algarve islands, barbados, dorset
We are sorry that this page was not useful for you!
Let us improve this page!
Tell us how we can improve this page?