The gite is situated in Dordogne in the South West of France.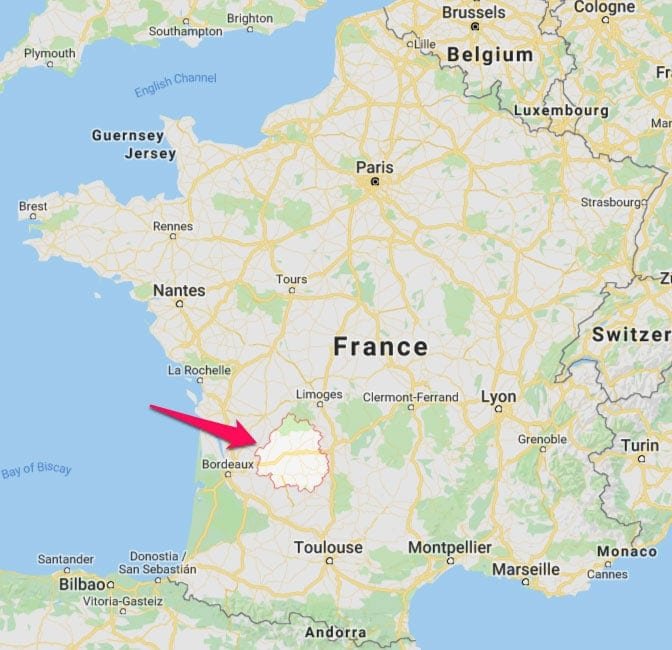 The gite is between Limoges and Bergerac, in the south west of France. The gite below is shown relative to the (numerous) nearest airports:
Flying To The Gite:
Flying is the quicker and easier option, versus driving, but driving has many advantages (see below).
Your 4 best airport options for flying to the gite (in the following order, best first) are;
Limoges
Brive La Gaillard
Bergerac
Bordeaux
Best Options, & From Where?
Because Limoges Airport is the closest option to the gite farmhouse, it is best to figure how you can fly to Limoges, if possible.
As such, if you can fly from London Stansted, London Gatwick, East Midlands, Bristol, Leeds Bradford or Manchester, fly to Limoges.
Second best option if you cant fly from one of those, fly to Bergerac, from Birmingham (with Jet2), Bournemouth, Liverpool (not winter months), or London Southend (not winter months).
Third best option, fly to Bordeaux, with Easy Jet, from London Gatwick, London Luton, or Ryan Air, from Edinburgh
Limoges International Airport is the closest to us. It is 6km west of Limoges. It is about 50 minutes from the gite farmhouse. Map location here. It is a small airport so don't expect all the trimmings of a large airport. There is a restaurant bar and a small shop. For quickly getting to and from our gite farmhouse, this is your best option if you can get the flights.
There is a small car hire depot. We use this car hire comparison site, but invariably go with Buggs car hire because they are cheap, reliable and friendly.
Limoges Airport is almost exclusively served from the UK by RyanAir. You can get to Limoges using RyanAir from London Stansted, East Midlands, Bristol, Leeds Bradford and Manchester. EasyJet fly from Gatwick to Limoges in select months.
There is a taxi service to Limoges centre or train station, which costs 28 Euros. The train from Limoges to St Yrieix costs around 9 Euros. There is a taxi service in St Yrieix that can take you from the train station to the villa, for about 15 Euros.
Brive La Gaillard is 1 hour 20 minutes from the house. AirFrance fly from Birmingham but are not cheap! RyanAir fly from London Stansted to Brive, however if you can fly from Stansted, you're better going to Limoges because this is much closer to the gite villa.
Bergerac Airport is 1 hour 50 minutes from the gite. Again, this is a small airport, only slightly larger than Limoges. Perfectly adequate for getting to and from the gite farmhouse. You can hire a car from here too. Map is here.
RyanAir fly to Bergerac from London Stansted, East Midlands, Bristol, Bournemouth and Liverpool. Jet2 fly from Manchester and Leeds Bradford.
Bordeaux-Merignac Airport is about 2 and a half hours drive from the gite farmhouse so is only wise to use if Limoges, Brive or Bergerac airports don't have the flights you need. It is a much larger airport with more amenities and a large car hire pool. Map is here.
EasyJet go to Bordeaux from London Gatwick, London Luton, Bristol, Liverpool and Manchester.
Driving To The Gite:
You can of course drive all the way from home to the gite with pool France. The benefits of driving – taking a carload of kit, and having freedom of movement when you get there, without the cost of hiring a car. You will inevitably need a car to fully enjoy your holiday locally, to get to local places, shops and activities. As a general rule of thumb, the dividing line between whether to fly or drive is the size of the group (depending on the cost of flights at that time). Approximately; 2 people or less = fly. 3 people or more = drive.
Driving in France is a DREAM compared to driving in the UK. There is simply less traffic per mile of road. French motorways are so easy and simple, to the point of being boring. But you eat up the miles quickly and easily, without stop-start traffic, so that is better for your tyres, brakes and fuel consumption! Budget about 50 euros each way for the motorway toll roads; totally worth it to use better roads.
It is about 6 hours 50 minutes from Calais or if you are getting the ferry, it is about 5 hours 30 minutes from Caen, 6 hours from St Malo and about 6 hours from Le Havre. More specific directions (and tips) are available after booking. You can use "St Yrieix La Perche" as the destination for your SatNav, to get general timings for now, but I have a much better route which I will send to you after you have your booking completed.
There are specific rules of driving in France. The notable differences are these;
It is not a legal requirement to carry a breathalyser (ended 2020)
Speeds are in Kilometres per hour KPH, not Miles per hour MPH. Your car likely has both if it is an analogue dial, or if digital, can be changed in the settings to use KPH. I change this setting while sitting in the EuroTunnel. That, and the car clock time to French time.
Standard road speed-limits are 80kph, down from the previous 90kph limit.
On the motorway, pay super-close attention to speed limits. Around Paris and Orlean, these rather deviously change from 130kph down to 110 and back to 130 in quick succession, and there just happens to be a speed camera in the 110 section!
Must carry hi-visibility jacket and warning triangle. Follow process if your car breaks down.
SatNav with speed camera alerts are illegal. Switch that part off.
Rather than a massive outline of the full requirements here, use the RAC site here for all details. It is worth the 10 minute read there to be definitively sure of what you need to know.
Train:
You can get the international train to Limoges and then to St Yrieix La Perche. You will most likely want some form of transport to get around and enjoy the local amenities so you may want to hire a car in St Yrieix if you haven't already got one.
St Yrieix Car Hire
There are 2 car hire options that we know of here, being Europcar (15 minute walk from the train station) and Garage Bayonne (garage-bayonne87.fr – 4km north of St Yrieix, on the road towards Limoges). You could get a taxi to either.
Travel Cost:
We have found that it is cheaper to fly if there are 2/3 people or fewer. If more than 3 people, it is cheaper to drive, although you may prefer the simplicity of flying.
Family Friendly Gites France with pool
Where:
Head to St Yrieix La Perche or Jumilhac Le Grand. For security reasons, we only give out the specific exact address once a full booking has been made, to avoid nosey visitors just having a look. This means that when you're there on holiday at the gite, you have a peaceful, uninterrupted holiday.
We are sorry that this page was not useful for you!
Let us improve this page!
Tell us how we can improve this page?