The Gite's Own Banquet Hall
Inside Gites Dordogne, this area is a stone barn converted into a double-height (no first floor) area, giving amazing space and height, and phenomenal acoustics. Playing (or making) music in here is beautiful.
You have a 10-12 seater sofa giving you a large social area to chat or watch TV. The lounge is equipped with a modern media centre, with DVD player, Bluetooth music connection from your mobile phone, and (loud) speakers for either music or TV/DVD. The TV has some Bluetooth headphones so only those watching TV need to hear it.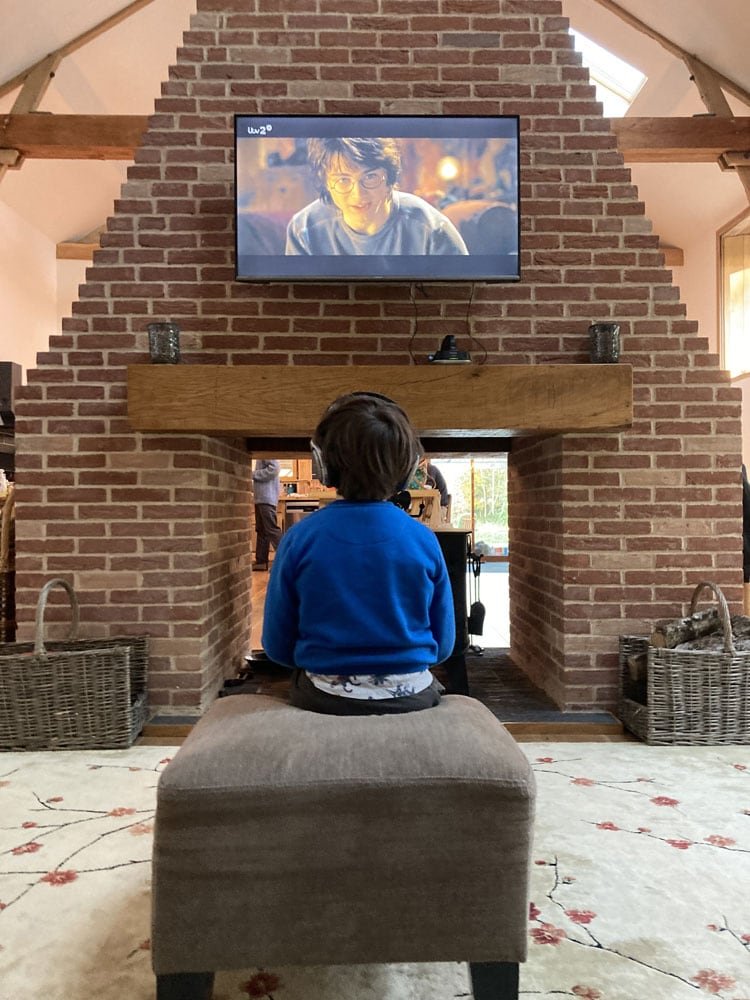 You will also find a guitar or three around the house.
Click to watch this video…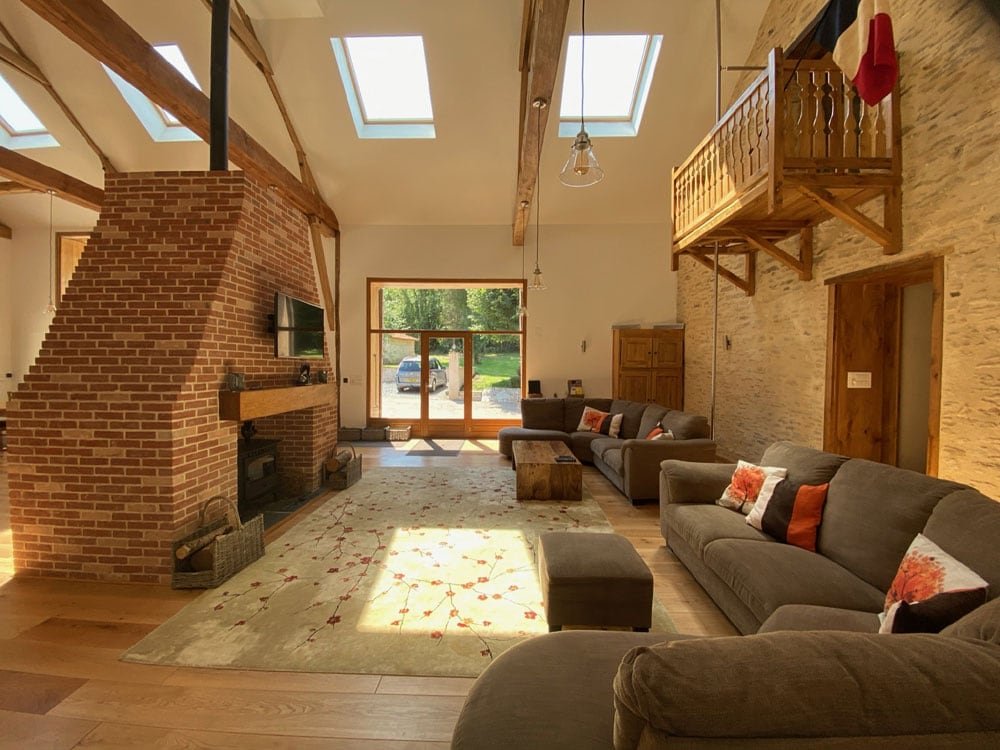 There is a large solid mango-wood coffee table for socialising and games. There is a large supply of family board games to choose from and play together.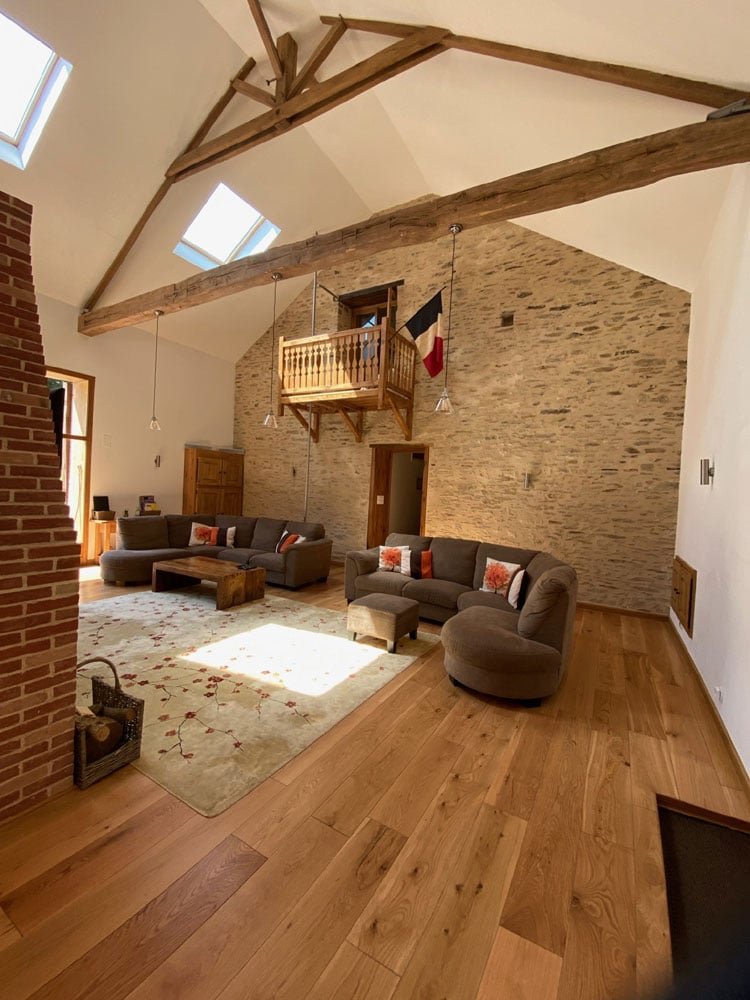 Central Brick Chimney
The central brick chimney divides the large space into the lounge area and the kitchen / dining area.
Banquet Table & Dining Area
The long twin solid oak tables seat up to 20 people. The dining area is fully furnished with all table accoutrements necessary for a large dinner; plates, bowls, tureen servers, heated serving bain-marie, spinning lazy-susans and all necessary cutlery.
The Banquet Hall is a beautifully renovated barn conversion. Looking up from the floor you can see the old oak beam structure. You can also see the 4 top-of-the-range Velux windows. With the remote control you can open these windows on hot days, and and for a better cinema film experience you can close their shutters.
NOTE: We made sure there is double the required thickness of insulation material on the walls and ceilings. Consequently, it is warm and cosy in winter, and cool in the hot summer days.
Large 4-metre-long Breakfast Bar – Boutique & Family Friendly
Built by an artisan carpenter, this bespoke solid oak breakfast bar makes for sociable mornings and any mealtime. There are 6 tall chairs for seated eating and socialising, and additionally, others often stand and chat while nibbling.
Large Farmhouse Country Kitchen
The large and open self-catering farmhouse country kitchen is solid oak throughout, equipped with everything you will need to cook, serve and enjoy your culinary delights.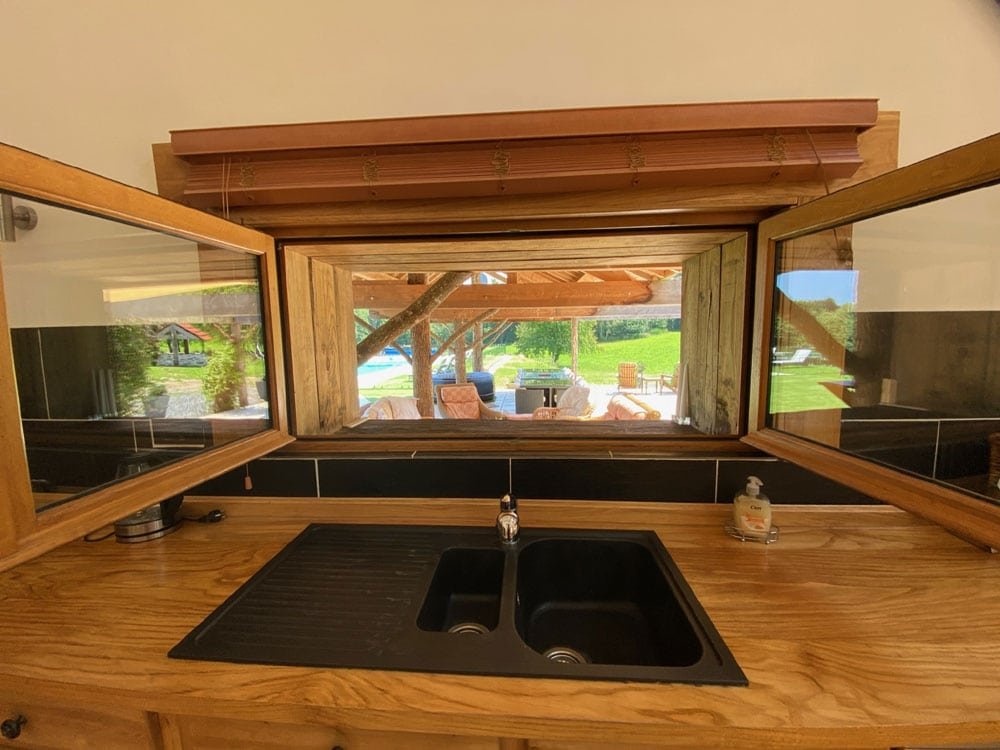 Standing by the double sink you can look through the window out over the terrace, where you may see the rest of your family and friends enjoying a cold glass of something, out over the large swimming pool enclosure, with many sun loungers, and the acres of grassland beyond.
The large Rangemaster double oven has 5 gas hobs plus an electric heat-plate and overhead extractor fan. There is a large American-style double fridge-freezer with water and ice dispenser.
The Balcony & Fireman's Pole
An unusual and quirky feature within this Banquet Hall is the stunning solid-oak balcony leading out from the upstairs Master Bedroom. From the Master Bedroom you can enter onto the balcony to survey the Banquet Hall from above, and interact with your fellow family members and friends below!
From the balcony there is a fireman's pole, allowing the fun-loving or courageous to slide gracefully down to the lounge below; Master Bedroom to lounge in 3 seconds.
NOTE: There are twin lockable doors to gain access to the balcony, so you can secure and close-off the balcony, away from anyone you don't want access to it. Additionally, the fireman's pole has a solid-oak hatch which will be closed and securely padlocked. You control if the fireman's pole is used, and by whom. You will be given the keys to each of these in an envelope, which you can open if you choose to.
So you can see this beautiful area makes for a wonderful family friendly gite in France for you.
Winter Holidays in Dordogne
Although this gite is most popular for summer holidays, it is also a popular winter retreat for families, as well as family and friends holidays. The Banquet Hall is sumptuously insulated to make it snug and warm in winter, with both underfloor heating and a roasting log fire wood burner. There is also a warm air recycling system, that sucks warmed air that has risen to the ceiling and pipes it back down behind the walls, to gently blow it back out at floor level. With these 3 heat sources, together with the double-thickness insulation in the walls and ceilings, you will not be cold here in winter.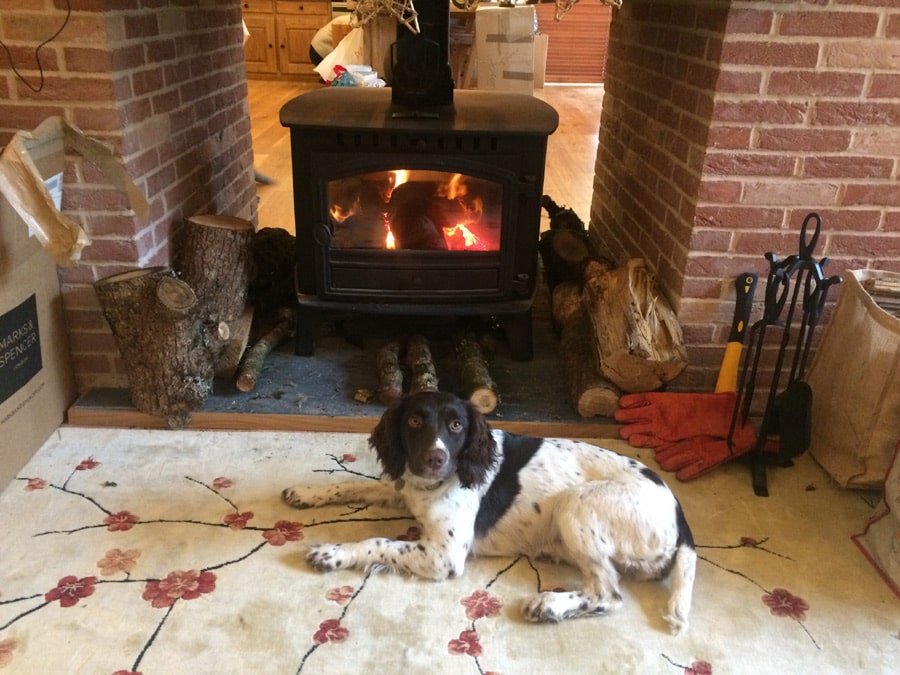 The Games Room
The Games Room is accessed via the Banquet Hall
To find out more, contact us or check availability here <<
Luxury Villas France Private Pools
We are sorry that this page was not useful for you!
Let us improve this page!
Tell us how we can improve this page?