The Local Area Around St Yrieix La Perche
This is a stunning region in the south west of France, nestled in the North East side of the Dordogne, in the Perigord Vert region (which is next to the Périgord noir region). That means it has fantastic warm sunny summers, without the dry, barren brown grass of the more southern regions of the Dordogne (pronounced Dordoyne). Think 'comfy picnics', not sharp dry spikey grass stubs to sit on!
Located within the stunning 'Parc Naturel Régional Périgord-Limousin', where nature provides a beautiful window to woodlands, waterfalls, gorges and lakes.
The holiday rental villa is near Jumilhac Le Grand, a small picturesque village with a truly stunning chateau…
The Jumilhac Chateau is open for tours in the afternoons. The seasonal opening times are on the door. In all honesty, the best views are from the outside, and possibly inside up until the point of paying!
We can thoroughly recommend the restaurant overlooking this chateau (to the right of this photo). You can sit and enjoy the view and a 3 course lunch for only 13 Euros.
Driving around the local area is a joy, exploring the forests, apple fields and valleys.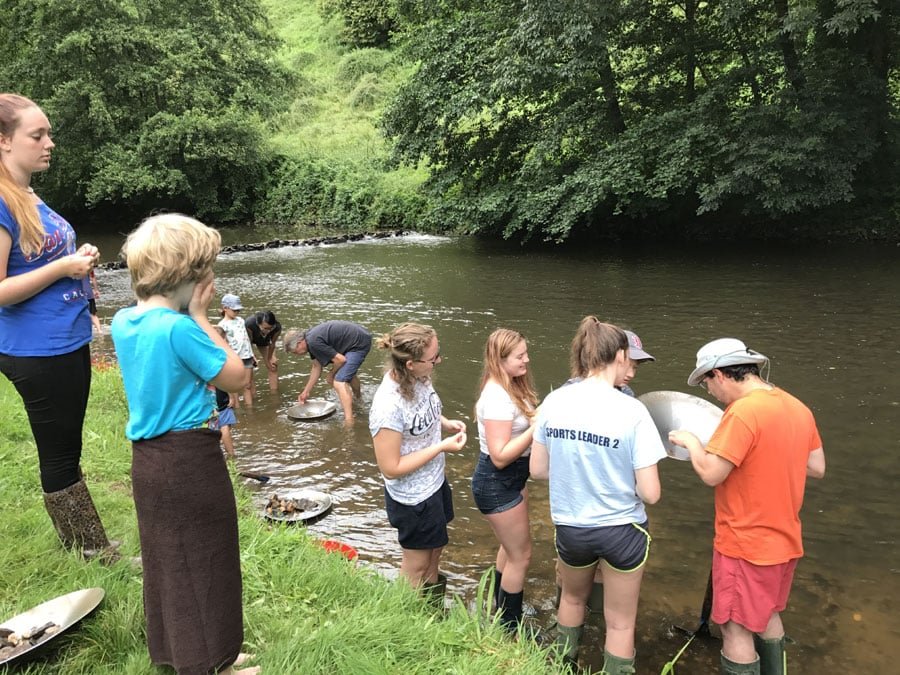 10 minutes from the gite, this gold panning tour is a great afternoon out with the kids. You get into the river and will probably come home with some gold (small flakes). Ask in the Jumilhac Tourist Office (on the square) to book.
St Yrieix La Perche (which is just across the border into Haute-Vienne department in the Limousin region) is a larger town nearby which has all the amenities you might want, from supermarkets, cafes, pubs, to many restaurants, to functional amenities like the tourist information office (which is useful) and hospital (which hopefully you will never need!).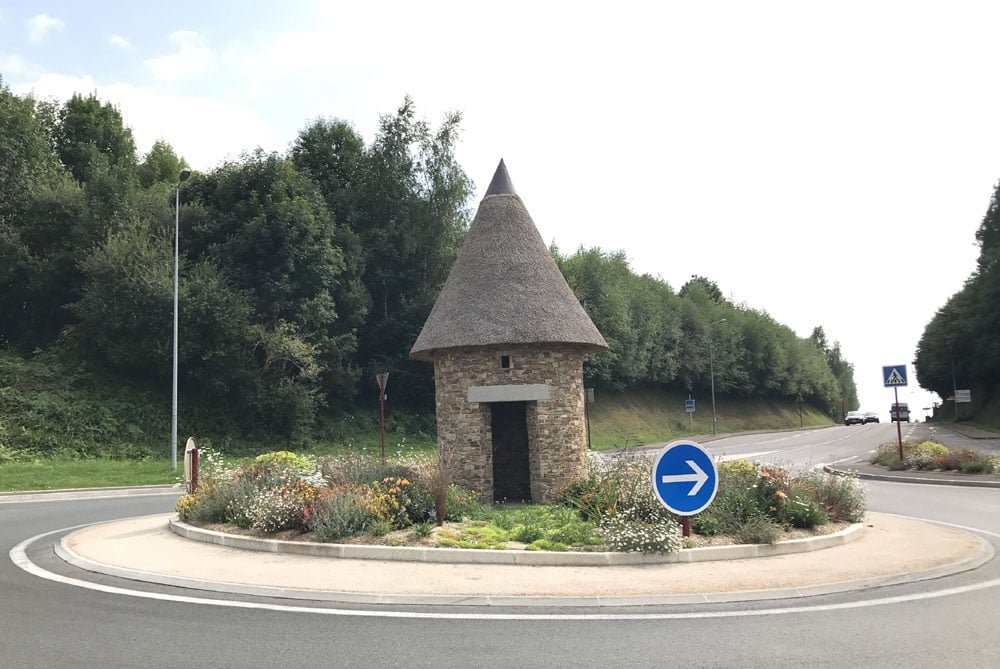 St Yrieix has a large street market in the centre of town the 2nd and 4th Friday of each month all year round.
St Yrieix has a beautiful medieval quarter which you will enjoy strolling around, as well as some interesting shops and restaurants.
The area is known for its porcelain, so there are quite a few porcelain shops. There is also a porcelain village – a museum of the area's history of porcelain.
Markets
St Yrieix La Perche has a street market for food and other produce every 1st and 3rd Saturday morning, throughout the year.
In St Yrieix there is also a good sized water park/pool to entertain the kids (and larger ones!) here.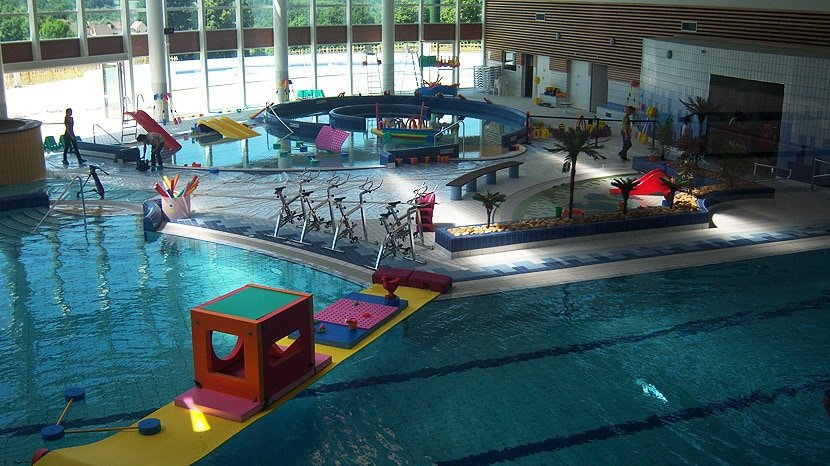 In the summer months (July and August), every Thursday evening St Yrieix holds a farmers market "Marche Nocturne" where you can buy local produce (food and wine) and have it cooked for you whilst listening to live music. See also below "Segur le Chateau". Both are nice; Segur is a slightly more idyllic setting.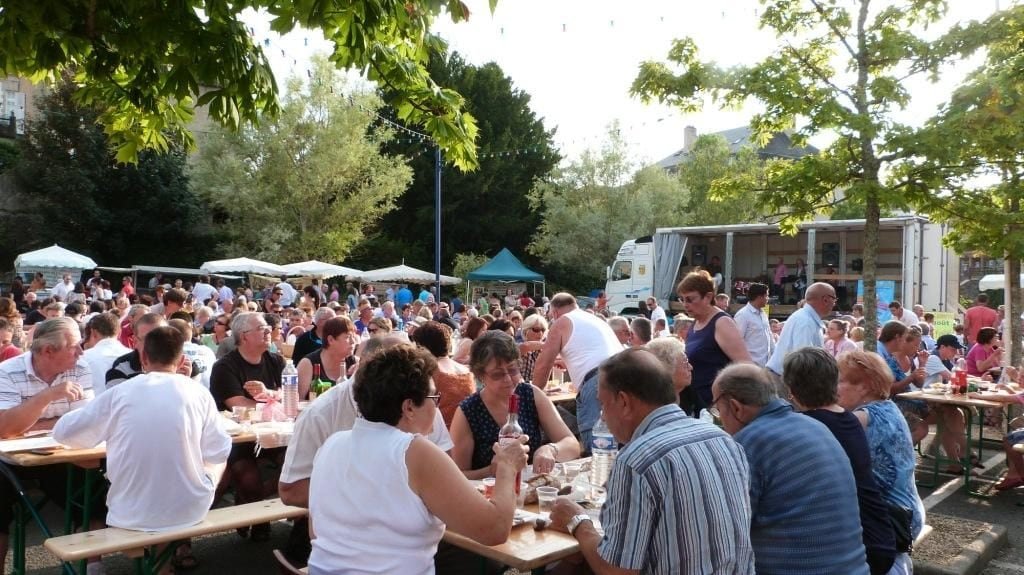 This beautiful area has plenty to offer you, with Dordogne gites with private pools.
There is a public lake called Lac d'Arfueille, which is about 1km north from the centre of St Yrieix. Map here. More information here.
Swim Lake at Rouffiac
Only 25 minutes drive from the gîtes is the beautiful Lac Rouffiac. With ample parking in the forest shade, a restaurant, water sports as well as gorgeous sandy beach (with lifeguard) this lake is great place to visit if you fancy exploring a little.
North of the Gite
To the north of the Gite is Limoges. This is the nearest city with all the amenities of a city, including shops and nightlife.
Limoges city centre is worth a visit and a stroll around. The shops are good and the old section is beautiful. For other ideas and places to go in LImoges try here.
To the west of Limoges is Oradour Sur Glane.
Before you visit Oradour Sur Glane, it would be sensible to read up on the history starting here. You may decide it is not appropriate if you have younger people with you, because it is quite hard hitting and moving, but an interesting historical visit nonetheless.
30 minutes north-west of the gite is the Velo-Rail Bussiere Galant, which is a great day-out activity.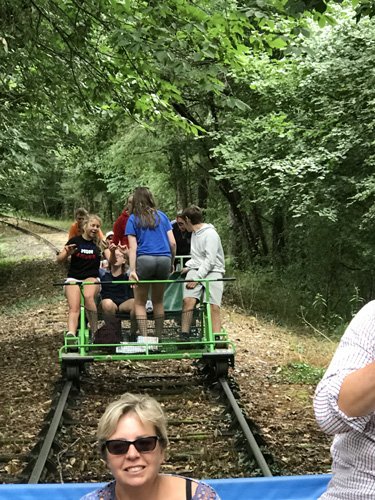 You cycle on a cart along an old disused railway line. We strongly recommend paying the approx. 4 Euros extra for electric-assisted carts! Details here.
If your family might like a day out at the zoo, the Pac Reynou might be worth and day out. Details here. About 30 minutes north of the gite.
South of the Holiday Rental
20 minutes south-east of the gite is Segur Le Chateau, a beautiful French village with a fantastic summer tradition of the outdoors Farmers Market.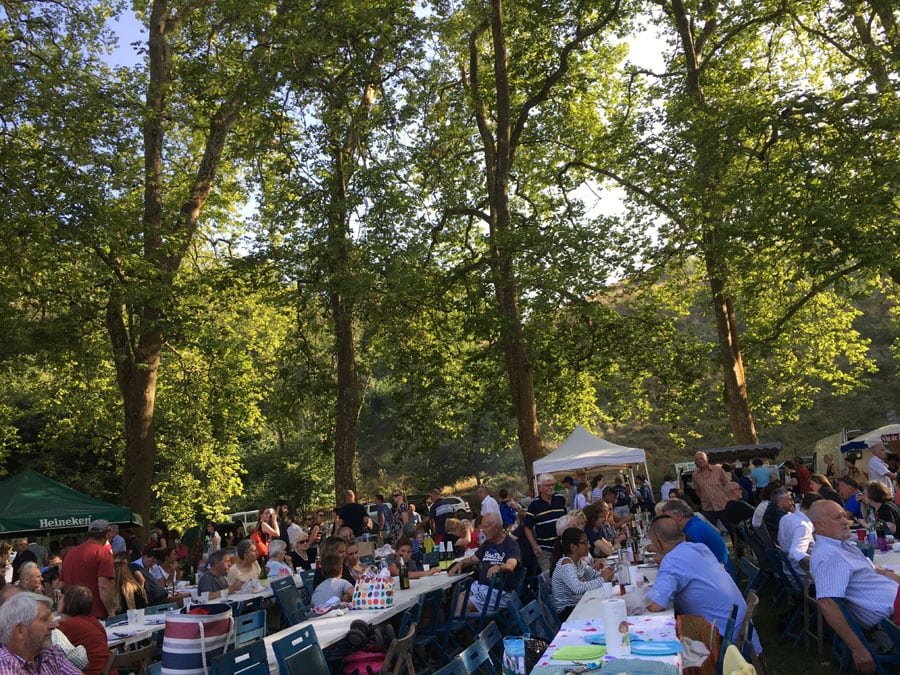 Each Monday evening in July and August the village of Segur le Chateau hold a local Farmers Market with a difference. Next to the winding river and in the dappled shade you can buy meat and produce directly from the farmer, and eat it onsite. Once you have bought your venison steak, Ribeye, sausages etc, you take it to the communal village barbeque where one of the local men will cook it to your taste. There is also local wines and beer on sale. The children entertain themselves either in the river or on the bouncy castle. A very pleasant evening; thoroughly recommended.
1 hour south-west of the gite is the stunning village of Brantome.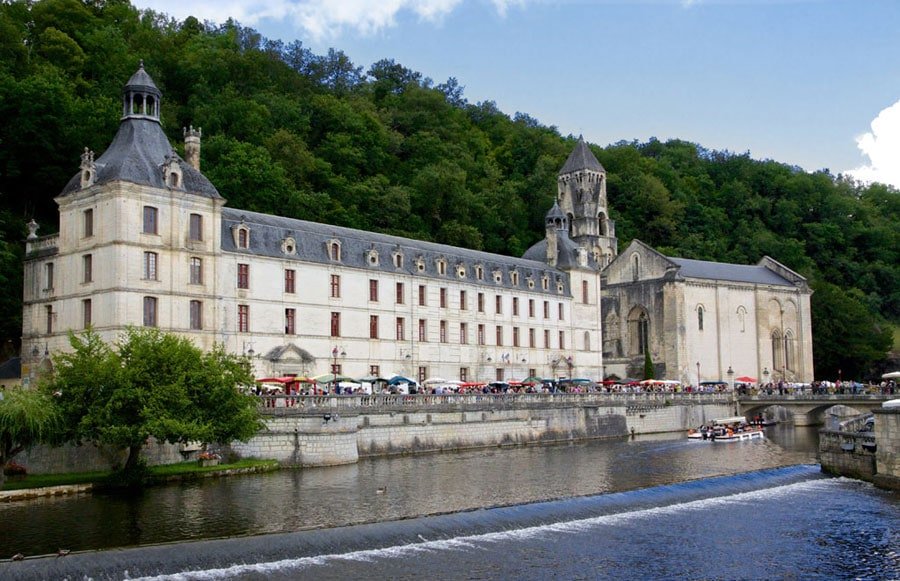 Brantome is a stunning village, worth a visit. You can take the river cruise trip (the cruise boat is just visible in this photo above) for a few hours up and down the river. Or you can go for the canoeing option…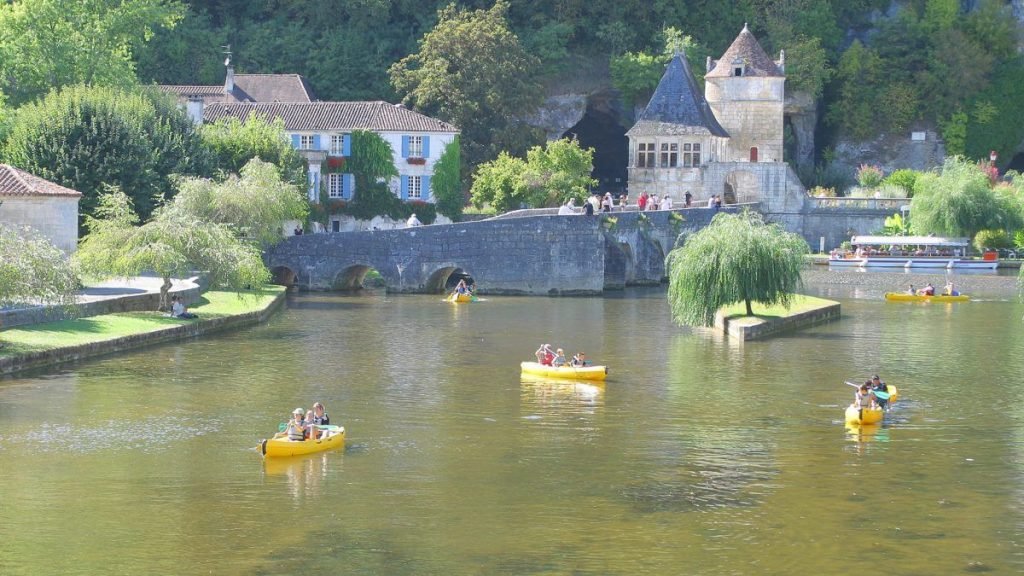 If you are going to canoe, we advise you book before the day, because they do get busy. Kids on holiday love this! There are 2 companies here and here. With either, you should book, and decide if you want to do the short or longer trip. If you have young or older people, or if you want a more relaxed trip, go with the shorter trip!
There are also many fishing lakes in France in this area.
30 minutes south of the gite is the Hautefort Chateau, another stunning old French castle, brimming with history.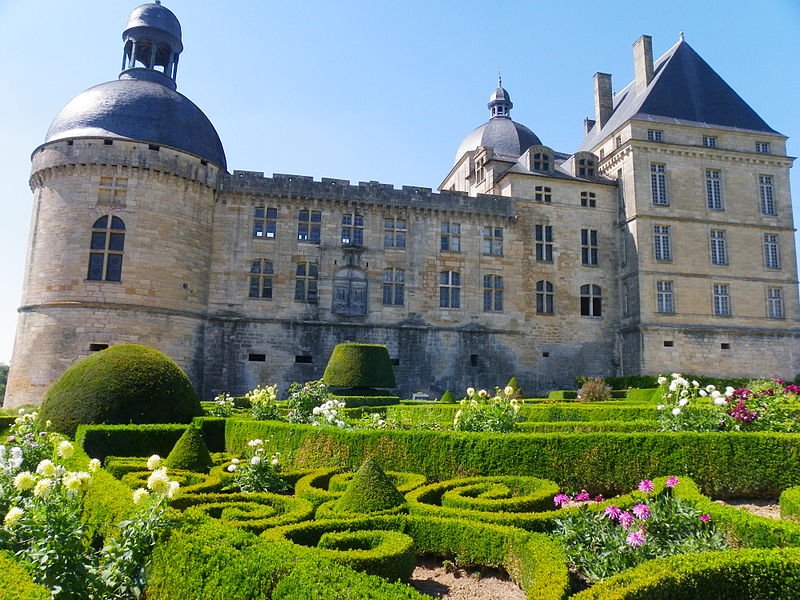 … Which has these beautiful gardens…
Map to Hautefort Chateau is here. More information is here.
2 hours south of the gite is a great day-out combo including Rocamadour village and the monkey santuary "La Foret Des Singes" (website here), and you might squeeze in Padirac.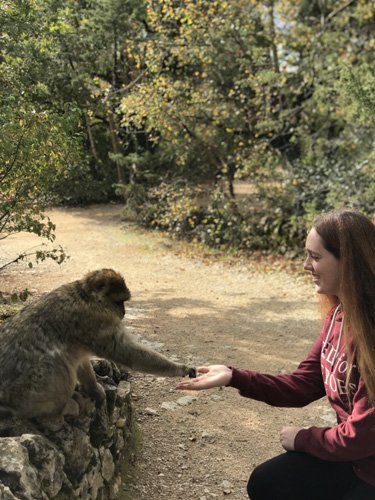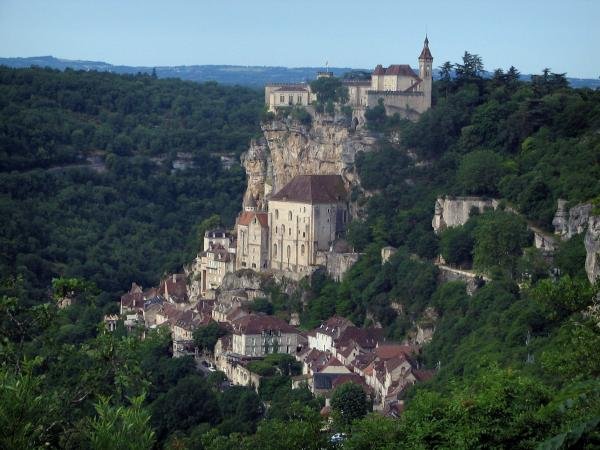 The caves and gondola ride of the Gouffre de Padirac are stunning. Their website is here. Imagine going down 200 metres underground (down steps or elevator lift if you prefer) and then going on this gondola ride, with a guided tour explaining it all…
About a 50 minute drive south from the farmhouse is the Grotte de Lascaux – the Lascaux cave – map here.
This is where, 17,000 years ago, your ancestors painted the cave with ancient art, of the animals they used and revered. It is a fascinating day out if you or any of your kids are into history or caveman times. It is quite exciting and well worth a visit. More information here.
While you are taking a day out at Lascaux, you might as well take a stroll around the pretty town of Montignac as well.
1 hour south of the gite, Perigueux town is beautiful. If you are travelling through either Bergerac or Bordeaux airport, if you can, it is worth taking a detour to visit Perigueux… their street market every Saturday is one of the largest in the Dordogne.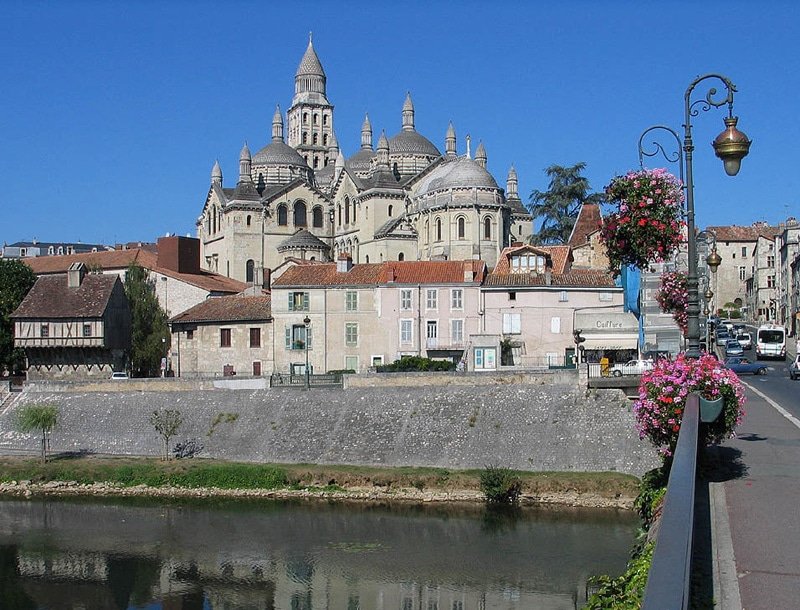 1.5hrs south of the gite is the famously gorgeous town of Sarlat-le-Caneda. A picturesque town filled with alleyways, secret squares and gorgeous medieval buildings (some say the region's best-preserved medieval architecture) it is full of amazing shops and restaurants – a favourite of many film directors,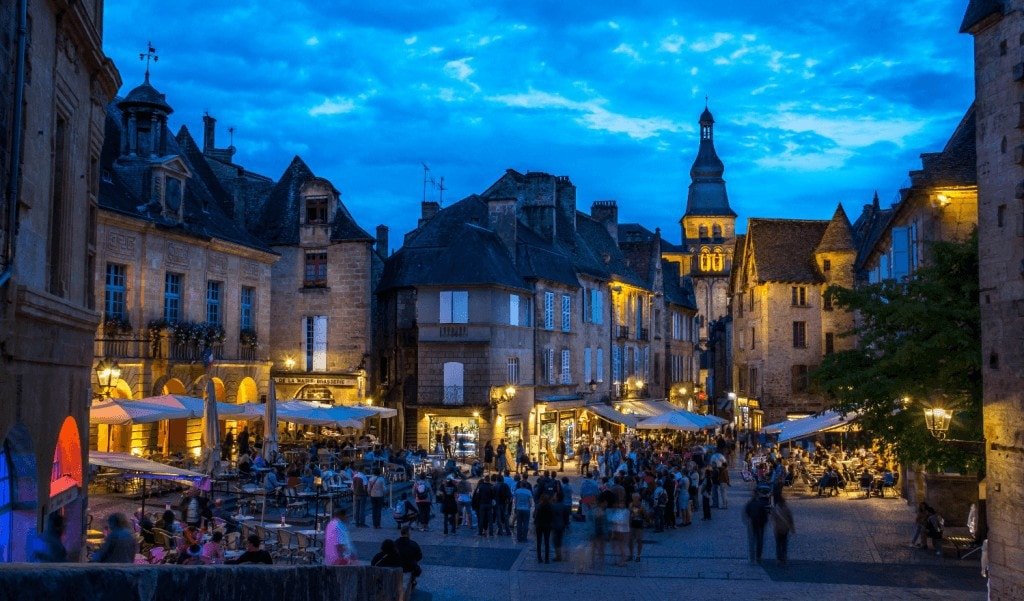 Also near Sarlat, and possibly on the same day out, you might visit the iconic La Roque Gageac, one of the most beautiful villages in France, set between the Dordogne river and a protective cliff face behind.
So find out now if this Dordogne gite rentals is available for you here now.
We are sorry that this page was not useful for you!
Let us improve this page!
Tell us how we can improve this page?