Why Will This Help You?
Going on holiday as a family can be a wonderful experience. You're looking for "family friendly gites" type of holidays and it might seem difficult selecting the perfect gite for children, but we've deliberately catered for you here at Gite Dordogne. See some of the comments from previous guests on our home page (more than half of our guests come back a second time!), but first, read on for more on child friendly French gites.
We have previously arranged many fantastic family holidays at our beautiful farmhouse and gardens for families with young children, toddlers and older children. We make it easy for you. Come for one week, two weeks or three! The sumptuous 5 large double bedrooms sleeps 2, sleeps 10 or sleeps up to 14.
For the best family French gites you need a luxury private swimming pool like this.. (watch the video)
Watch the video above to see the private swimming pool.
This charming family holiday home in France gives you the chance to relax and enjoy being together with your tribe. We are also realists. That's why this villa also gives you space to each go do your own thing; by the lake, by the heated pool, on the terrace, maybe go for a walk through the orchard or rest in the hammocks, indoors in the huge Banquet Hall with lounge-kitchen-dining area – and then come back together.
We have lots of facilities and activities to keep them entertained; the new Games Room (for parents / adults and children), with pool table, ping pong, air hockey, bar, table football, full-screen cinema and more (the range of facilities are outlined here) and outside you have the pool and safe enclosure area, plus badminton, golf, mountain bikes and more toys. Its like having your own kids club! Lots of baby and child activities, plenty to do and enjoy.
We have this fantastic new Games Room, which is 15 metres long, for your children, young and old and you and your family to play and have fun together.
Watch this video to see what is in the Games Room…
You Deserve The Best Summer Family & Friends Holiday In France
When you're looking for luxury holiday cottages in France with private pool, for your ideal French family holiday stay, you need to know that you can relax and enjoy the surroundings. Our heated private swimming pool has a fully enclosed secure-glass fence all around it, so that your baby or toddler (or toddlers!) and young children cannot inadvertently access the pool. Also from the outside of the glass fence, you can see in, to watch. Your little ones are safe and you can relax; maybe you'll find yourself relaxed with a glass of wine, maybe read a book!
In the photo above, you can see behind the children playing on the heated pool steps, beautiful safety-glass enclosure, which means you can watch your little darlings, safe knowing exactly where they are, while also enjoying the stunning views.
Just next to the pool enclosure, is the Terrace, with this jacuzzi hot tub…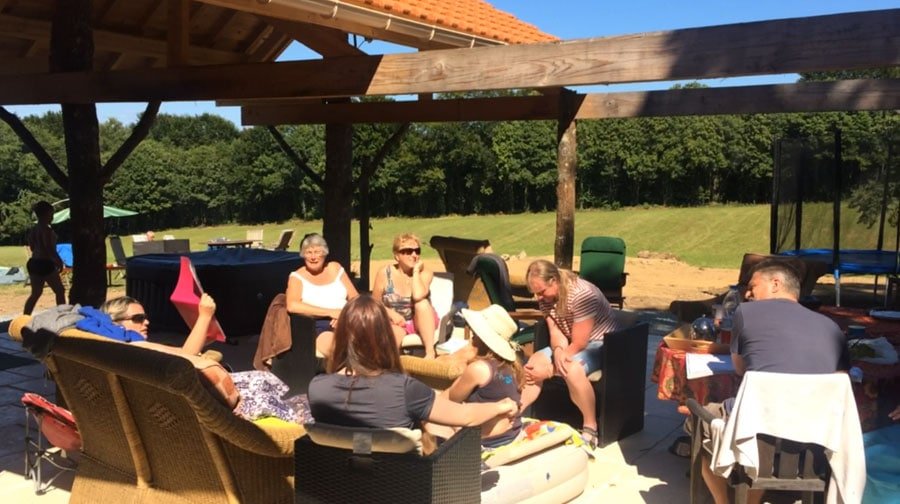 Luxury Self Catering Holiday For Families in France
The lovely French terrace is big enough to support a lot of people as you cook, eat delicious meals and enjoy some local wine together. On the Terrace is the outside kitchen (see the video above), where you can cook (especially fish), prepare your food, and get your cold drinks from the fridge.
The black dining table seats up to 14 people for family get togethers and eating together.
There is also a brick barbecue for sizzling up some steaks for dinner. In the Bakehouse is a much larger BBQ for larger family gatherings.
Indoors, in the Banquet Hall, you have this large country kitchen for your luxury family self catering France holiday…
Watch this video to see the self catering kitchen and inside the Banquet Hall.
Self Catering Luxury Holiday Cottage France
Just down from the terrace patio, away from the house and property, is acres and acres of grassland countryside, where you can play in the grounds or pull up a deck-chair and sun yourself, enjoying the unspoilt views. Then later, you may find you feel like watching the sun go down. You could take a barbecue right down there to eat as a group, or read, with your very own stunning country sunset and take it easy!
Or you might enjoy this sunset dinner spot.
While we are not strictly a gite with kids club south of France, it is almost like having a family resort with kids club, because there is so much for your children and family to do here. We don't have an 'entertainer' but there are so many games, sports equipment and activities to keep your children entertained.
Child Friendly Villas France
A short walk down to the lake, the children can go boating, play or mess about in the lake. The lake has a small spit / promontory, sticking right out into the body of the lake, with tables and log chairs which is a fantastic place for an outdoor country picnic at your luxury villa in France.
Family Holidays in France with Baby and Toddler
You can stroll around the lake to the pine and deciduous forest, explore, and maybe make a hammock camp for the kids to play or even making a den near the lake. You can take the small wooden row boat out across the amazing lake if you are careful and with good supervision.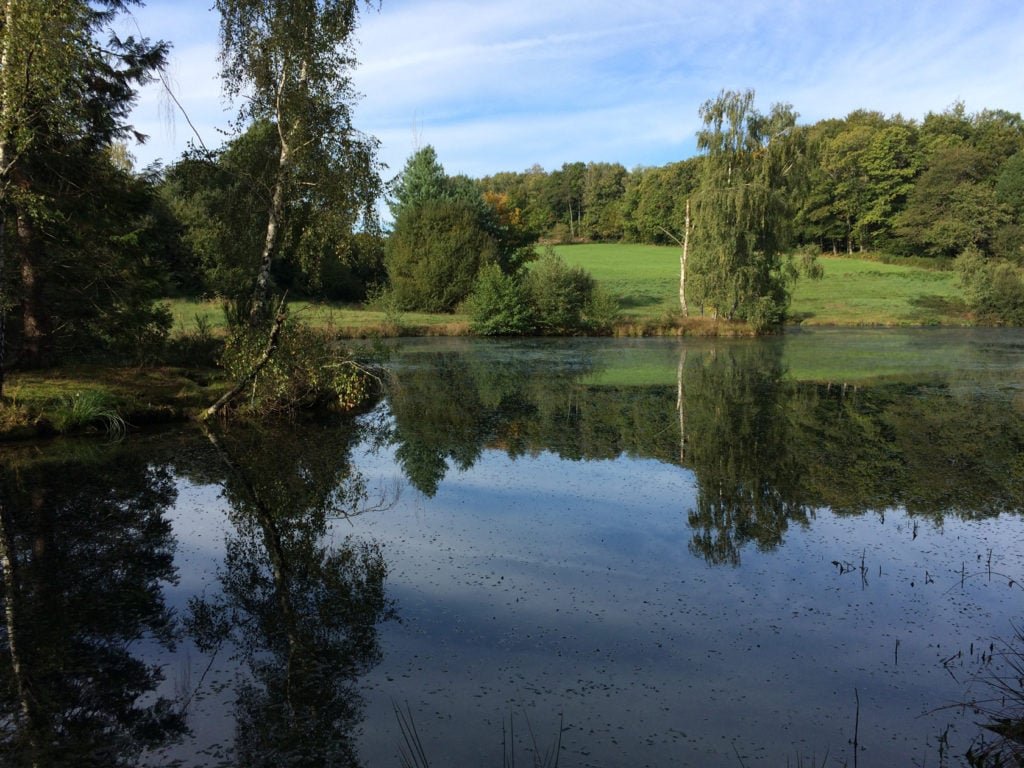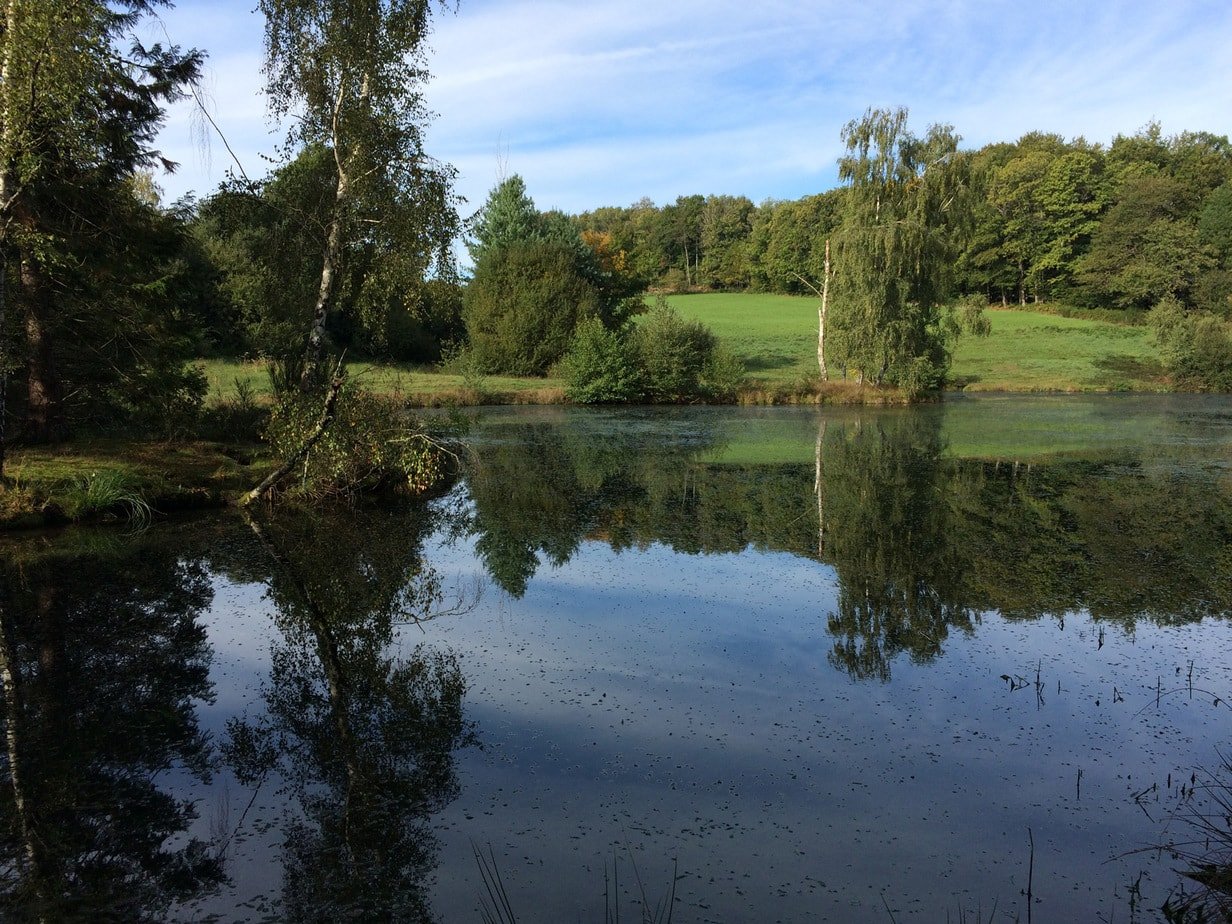 Luxury Family Villa in France
Indoor Accommodation
Indoors the property gives you a lot of space as a group without getting under each other's feet. In the lounge a 12-seater sofa will offer you the expanse for people to get together, kick back and have a few drinks. For really perfect luxury child holidays in France, for your luxury family self catering France holidays, you need a large cottage with a pool and huge self catering kitchen like this.
Luxury Family Self Catering France
The Lounge Living Room Region
Here is one of the 5 double bedrooms…
Feel Like Royalty On Your Summer Holidays, This Year or Next Year
This villa farmhouse is stunning for Christmas, which makes it perfect for a luxury multiple-family get together – maybe your next trip will be with the family of your siblings, adults and children. The bedroom accommodation is 5 large doubles, which offer you all a big indoor quiet zone to relax.
Best Accommodation: Family French Gites
Attractions & Things To Do For Your Week in France
There is also plenty to do with your children in the local region, as a day-trip out with your children, from your child-friendly villa in France. Just ask at the Jumilhac Tourist Information Office, on the square in Jumilhac (6 minute drive, 4 miles away), to book your gold panning trip, for a great French family holiday experience with your children, to find gold (we did) and explore. We have a collection of spare welly boots you can borrow, but it can be done in rough old trainers. We are 2 hours drive to the beaches on the west coast. The beach of Arcachon on the coast is really beautiful.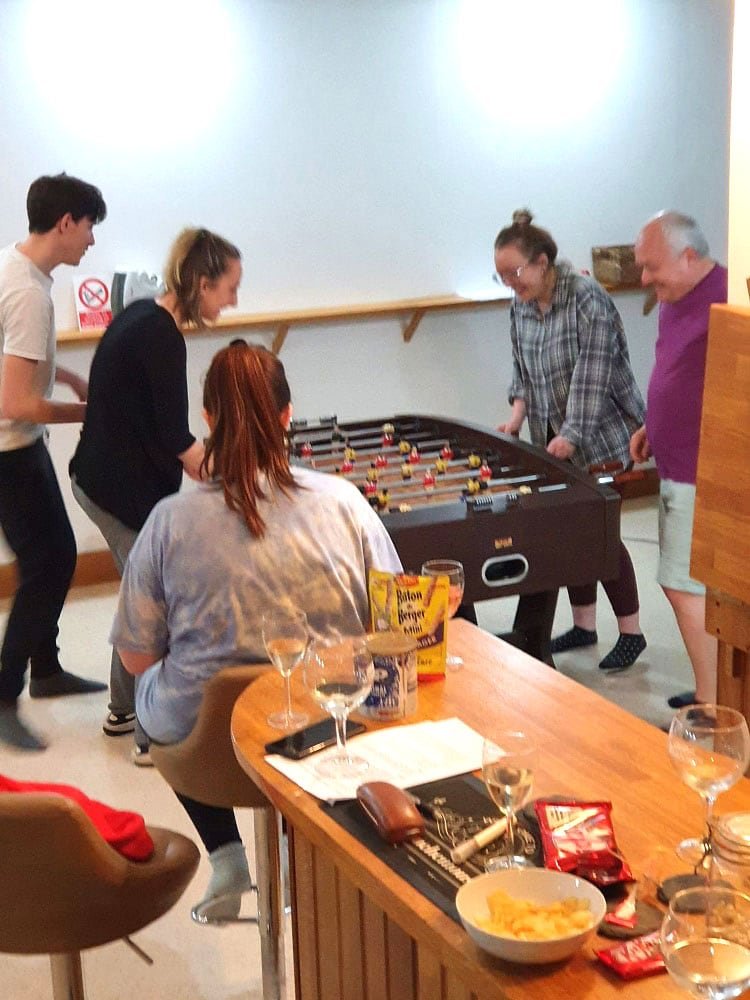 Holiday Home in Dordogne France
Another great break out, which is only a short trip away from the rural villa, is the Velorail at Bussiere Galant, just 20 minutes across the rolling hills. This has great play areas to enjoy – the play areas are a perfect place for picnics too.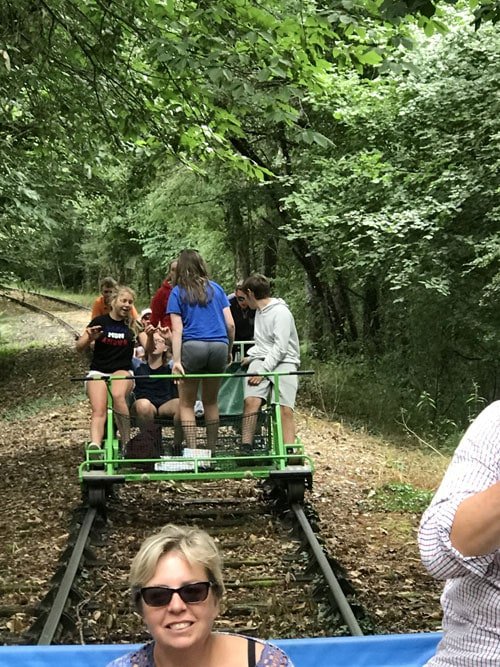 Other ideas, information, different towns for day trips out from the villa are on "The Local Region" page here.
Baby Equipment So You Can Travel Light
We, the hosts, provide a number of facilities for babies and small children, such as 2 travel cots for sleeping, a high chair, babies bath, toilet seat, potty etc so you don't need to travel with them, and get the delightful friendly break you deserve.
Babysitting service is available locally for you
We know a reliable friend who will be welcome babysitting for you if you fancy dinner and a night out at one of the highly rated restaurants nearby.
Kids Holidays Villa France
Of all the self catering holiday gites with heated pools, if you've got young children, this Farmhouse cottage with pool, and free parking is the perfect summer holiday.
For secure bookings at this wonderful children friendly villa in France please book using the Availability page.
If you have any questions at all for your family friendly holidays or want to talk through your requirements in France, please simply call us here.
We are sorry that this page was not useful for you!
Let us improve this page!
Tell us how we can improve this page?