Guide to Autism Friendly Holidays
Full Guide document linked below.
Prepare

Define wants, desires, likes, dislikes
Get Buy-in. Involved in the holiday plan.
Watch Videos & photos of;

Airports, ports, route, destination, days out

Plan Together

Daily events
Food & nutrients

Practice the journey and activities
Control

Autism Awareness. Autism Headphones & Lanyard
Few people. Tranquil & Remote
Environment. Quiet, no sudden noises.

Review

Look ahead

Back to school
Next holiday

Best bits, what to improve
Read the detailed autism family holiday checklist and explanation here
We have autistic children and we fully understand how difficult change and a new environment can be.
Going on holiday with autistic kids can be very challenging.
As adults, we want to go to new, interesting places for holidays.
For an autistic youngster, that might not be quite so pleasant! It might be stressful for them.
A theme park or hotel might be too hectic. Camping in safari tents next to other noisy campers is too uncontrollable. The holiday company probably wont understand your needs.
The Problem with Other Places
If you have autistic kids, maybe you have experience of going away somewhere that you thought would be wonderful, but pretty soon, it was clear – for people with autism, it was stressful and panic-inducing.
Maybe they had a meltdown.
It might be being away from their favourite dog.
It might be the accommodation has too many noisy areas.
Maybe the wind is over-stimulating their senses.
Maybe the neighbours are crashing and banging things.
We understand. When children with special needs go on holiday they need things to go at a relaxed pace, on their terms, in a non judgemental environment.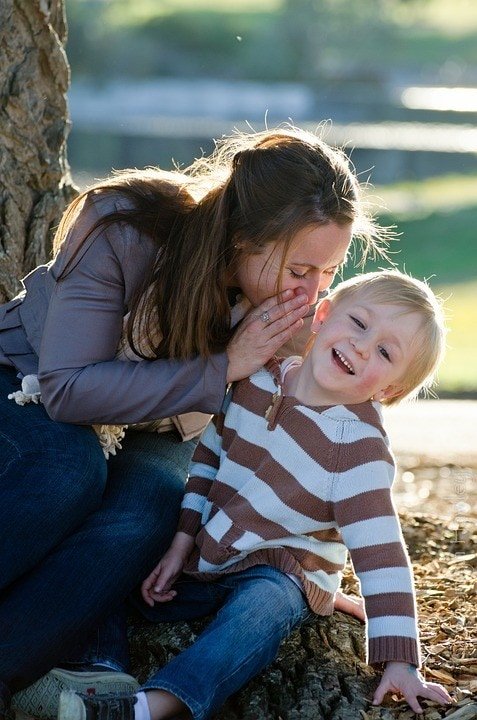 The Ideal Holiday With Your Autistic Child
Ideally, you want a stress free autism friendly holiday…
With self catering facilities so you can decide what you will eat as a whole family…
With plenty of open space, maybe with outstanding natural beauty.
Definitely having your own garden.
That provide outstanding facilities.
With a play area for games
A quieter area for a relaxed pace.
Maybe wheelchair accessible, depending on any other disabilities.
Definitely with Wi-Fi (this helps to self regulate)
Maybe with some provision of a wide range of sensory toys
Maybe with an option to go on holidays with other children and other adults they already know and like.
Will special assistance be needed on the journey?
We provide holidays exactly like this!
We Focus On 3 Key Things…
Safety
2. That there is something for *all* the family to do, and
3. Tranquillity & Privacy. No other people
We are members of the Hidden Disabilities group.
Autism Spectrum Friendly Holidays
We have specifically and carefully thought through what would help you most, as parents of an autistic child – and perhaps as parents of non-autistic children as well. Families with spectrum children are very welcome at this luxury villa in France.
Our aim is to provide holidays that enable autistic people to have a fantastic enjoyable holiday AND that all the family has a great time.
Families have different needs – each family member – adult and children – and you all deserve a relaxing fun holiday together.
That applies to all families; being on the spectrum adds another level of consideration.
And because we've got 26 acres or forests, lakes and grass fields, and a huge house, swimming pool, terrace patio and Games Room, there is plenty of space for each person to go do their own thing for a while, then come back together.
Self Catering Accommodation in France
For perfect autistic friendly holidays, you need decent cooking facilities so you can prepare and cook independently based on all your children's requirements.
We have wi fi throughout the house, which can be vital for autism spectrum disorder children, as well as for the whole family. The wi fi is included in the cost, and is unlimited. (wifi can be rare in the French countryside).
Easy Access
We can adjust a few steps with ramps for easy access for wheelchair users, if necessary. Make sure to give us advance notice of this. We will go the extra mile to be your stress free special needs and autism friendly holidays provider!
Helpful information is available in our manual book inside.
The Banquet Hall gives you a huge space to come together as a whole family for your special needs friendly holiday. This area is double-height up into the vaulted roof with beautiful oak beams throughout. It is 15 metres long by 8 metres wide, so it gives a huge space to cook, eat and relax together.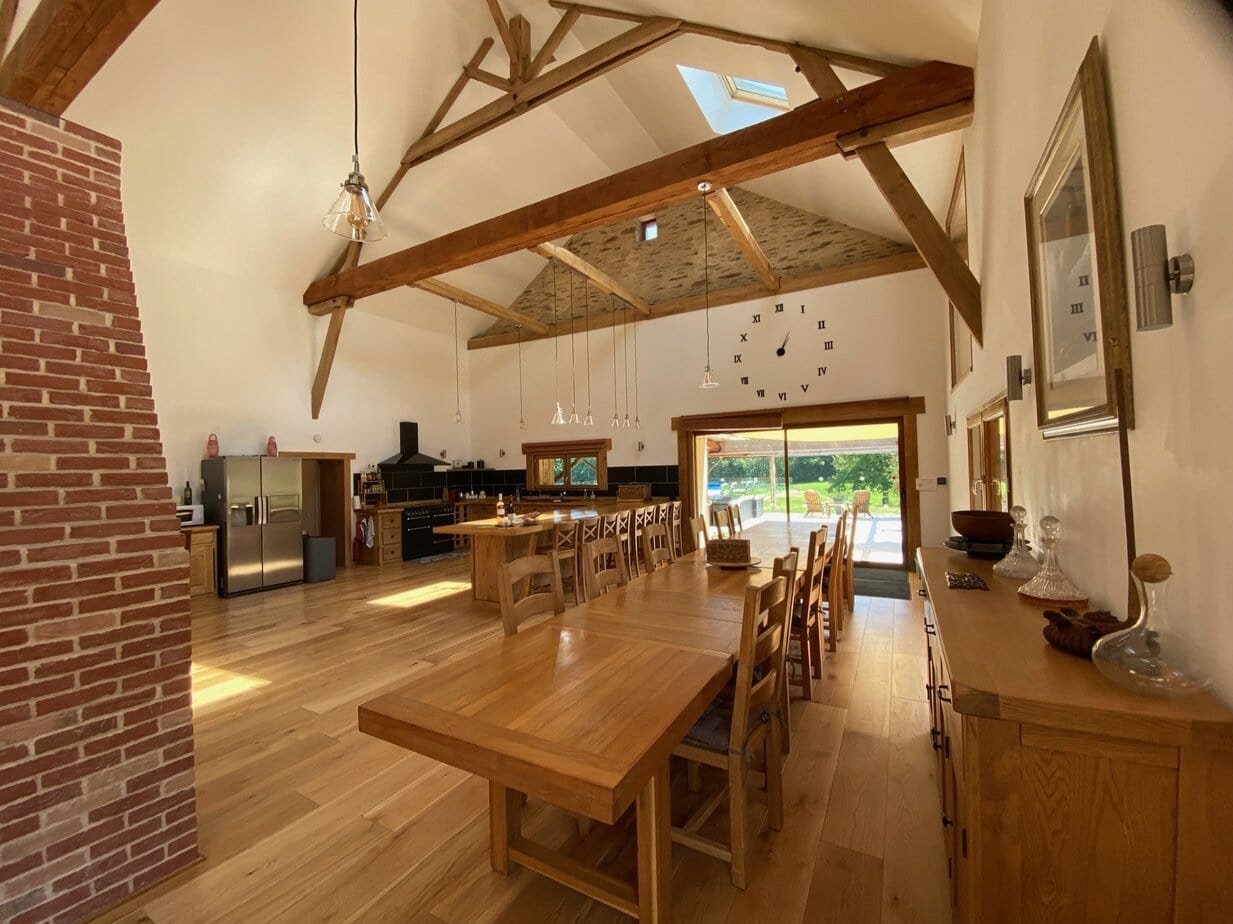 Fun Time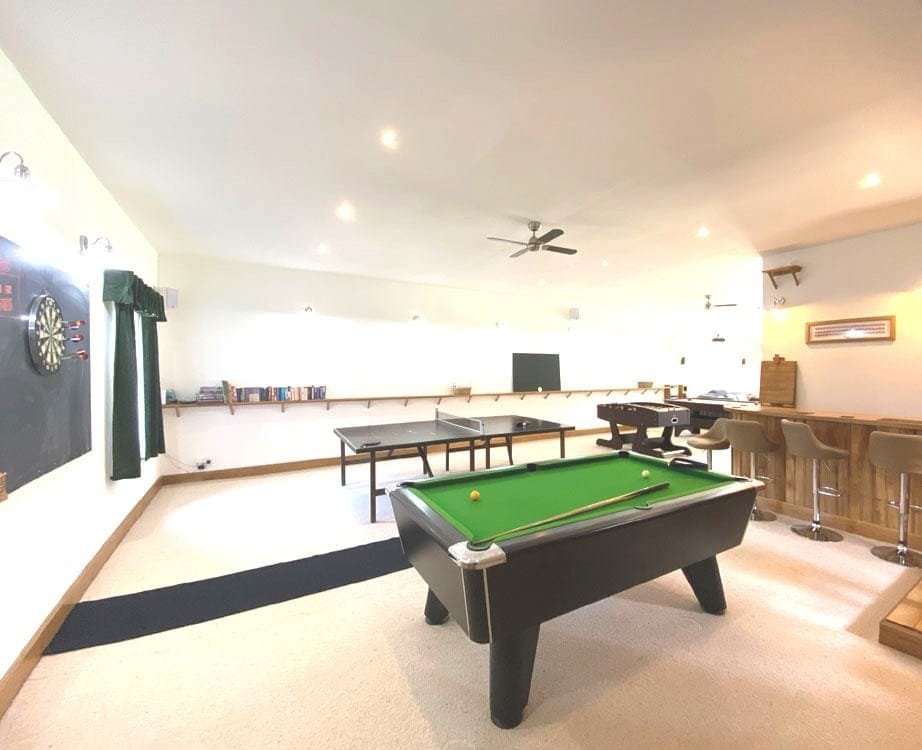 We have this fantastic and huge room for games of all sorts here – a 3-metre wide cinema with amazing surround sound, a pool table, table tennis, air hockey, and table football. You can all enjoy this – parents, all adults and children – for every family member.
Vast Heated Private Swimming Pool
We very much had special needs holiday cottages in mind when we designed and built this swimming pool.
Built in 2019, this huge heated private pool is entirely yours. With a small, sturdy jumping board (many dive in!) your family and kids will have so much fun here.
It is heated and kept at a controlled temperature for comfort.
It is enclosed in a secure, safety-glass fence so you can see through, in to and out of the enclosure. When you're sitting on the terrace, you can see exactly who is in the swimming area – and you can make sure that no children can get in.
You also have an unencumbered view of the stunning countryside around.
There are numerous sun loungers – sun-beds for relaxing in the sun – and a Royal Canopy shade-sail to keep you covered and cool on wonderful hot days.
More on the private pool here.
Energy Burn & De-Stim
We have a large, net-enclosed trampoline specifically for autistic children (and siblings!).
This is great for burning off energy and stim'ing.
You can all enjoy a bounce here!
Luxury Bedrooms, Safe For Disabilities
Secure Bedrooms
The house accommodation is large enough for one family, or for multiple families or like minded people, because it sleeps up to 14 people (more if some are happy in tents, which we have many of).
All bedrooms are large, with king-size double beds and plenty of space.
You can watch the videos to see each bedroom and plan who will sleep where.
You can relax knowing that, if needed, individual bedroom doors are lockable.
Many autistic children have been guests here. All have loved it.
If you want to plan out who will sleep where in the house and in which beds, please get in touch with us here to talk it through. It can often help to go through it all with Duncan in this way. Many people find that this puts their mind at ease before booking their wonderful autistic family holiday here.
More on the the villa's bedrooms here.
Autistic Friendly Holidays With Dogs
It is often the case that children on the autistic spectrum will not want to be on holiday without their favourite dog.
And you might like bringing your dog on holiday here.
We have a dog crate, bowls and everything you will need for your pet, as well as a big cellar under the house which is ideal and cool for pets.
More on the dog friendly holidays here.
Space To Each Have a Wonderful Summer Holiday
This luxury villa is set in the remote countryside of the South West France, in 26 acres of your own land. And we are surrounded by more countryside for miles around.
This is your own Kingdom.
And there is plenty for each of your family to do.
Family holidays are fantastic. But we are realists. We have 4 children ourselves.
Sometimes, people just need to go do their own separate thing, before coming back together later.
Some of you might want to take the boat out on the lake for a bit.
Meanwhile, others can be finding Treasure in the forest.
And some might want to flop into the water for a while.
Maybe others are playing table tennis.
And maybe mum is taking a well earned nap!
Then soon enough, you can all come back together again, to all have a jump in the pool. Or go to a quieter area.
There is enough space here that you can do this!
Autism Friendly Holidays in Europe
It is so important that not only is this autism friendly but that each family member has a fantastic holiday.
Autism doesn't need limit your holiday. We take special requests, so parents and children can relax and have fun. It can be helpful to discuss and talk to us in advance, so we've got everything planned for any additional needs and any assistance for your summer visit.
Local Activities & Destinations to Visit
For a day trip out, there are many places and destinations nearby to go to, in the surrounding area.
There are sandy beaches at our local large lake Arfuille. There is also another local lake called Ruffiac, which has sandy beaches. The nearest sea beaches are 3 hours away at Arcachon.
You can explore around our own lakes on our land, around the forests together for your wonderful autism friendly holiday.
There are a number of famous cities and towns nearby. Limoges, Sarlat and Oradour Sur Glane are interesting places and have many interesting holiday cottages, castles and landscapes to enjoy. See other local places of interest here.
On your autism friendly holidays here, there is a working farm next door with cows and new born lambs in the area, which can be fascinating for the whole family and for children with autism spectrum disorder.
There are fields and fields of cows nearby and a little further away there are sheep farms and new born lambs which you can all enjoy.
Travel Advice, Especially in the School Holidays
Travelling with your autistic son or daughter needs to be planned carefully. It is best to explain everything beforehand.
You may need to seek special assistance at the airport or ferry for your additional needs. Airport staff are usually now trained to recognise autism awareness lanyards and can offer families the appropriate help.
Because an airport can be noisy and stressful for them (London Gatwick airport especially!), it might be helpful to invest in noise cancelling headphones for your trip, ideally with some form of autism awareness on them.
Preparation is also vital. Unanticipated change is difficult for people with autism, so help them to watch videos of everything they might expect to encounter. We offer videos of all around our farmhouse, the bedrooms, the play area, the outside etc, so they have already seen all these things before they arrive to enjoy their holidays. This will also help you check everything is suitable for you.
Book in Advance
What date? We get very busy, especially the summer school holidays. We are usually fully booked by the year before. Book early to avoid disappointment. Also, by booking early, you lock-in the cheaper prices before the price inevitably rises, as it has done considerably over the last few years.
Check availability here then call to make your booking or to enquire.
Or view more around this luxury villa in France, for example, the bedrooms, the swimming area and the terrace patio.
Other Photos From Around This Luxury Villa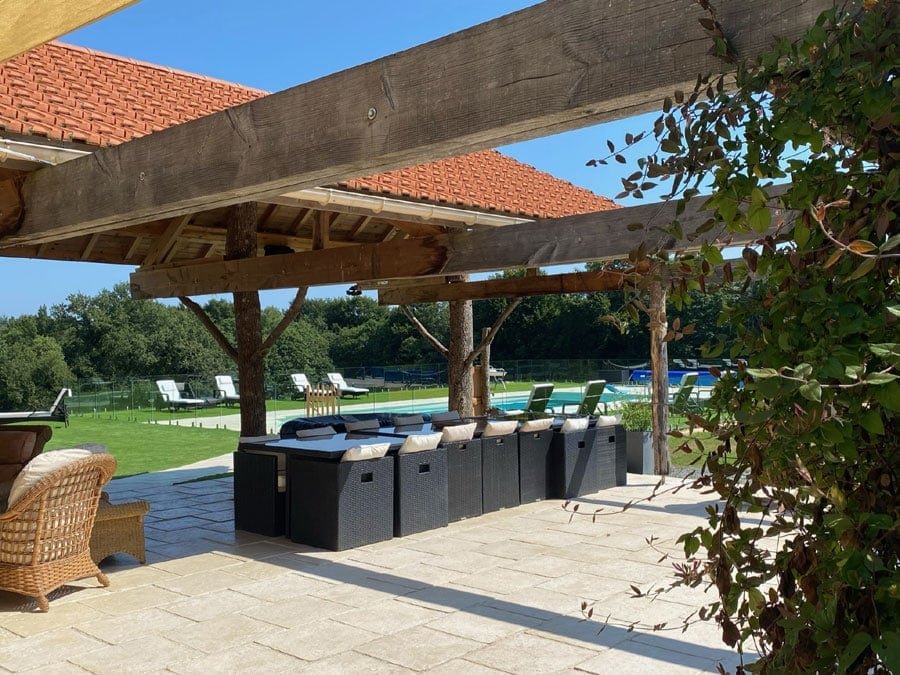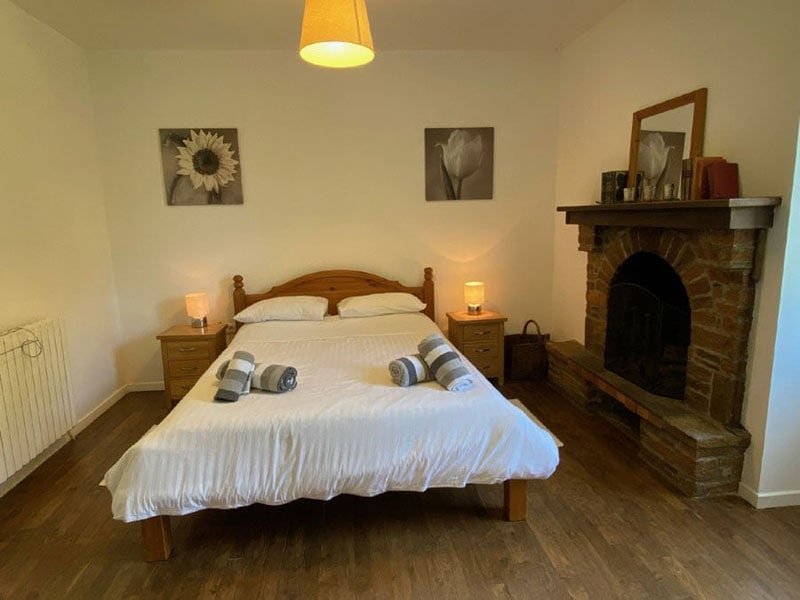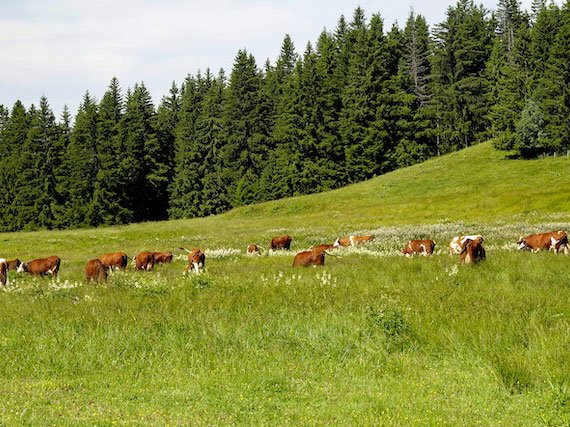 Click to Visit Other Pages…
The Banquet Hall
Games Room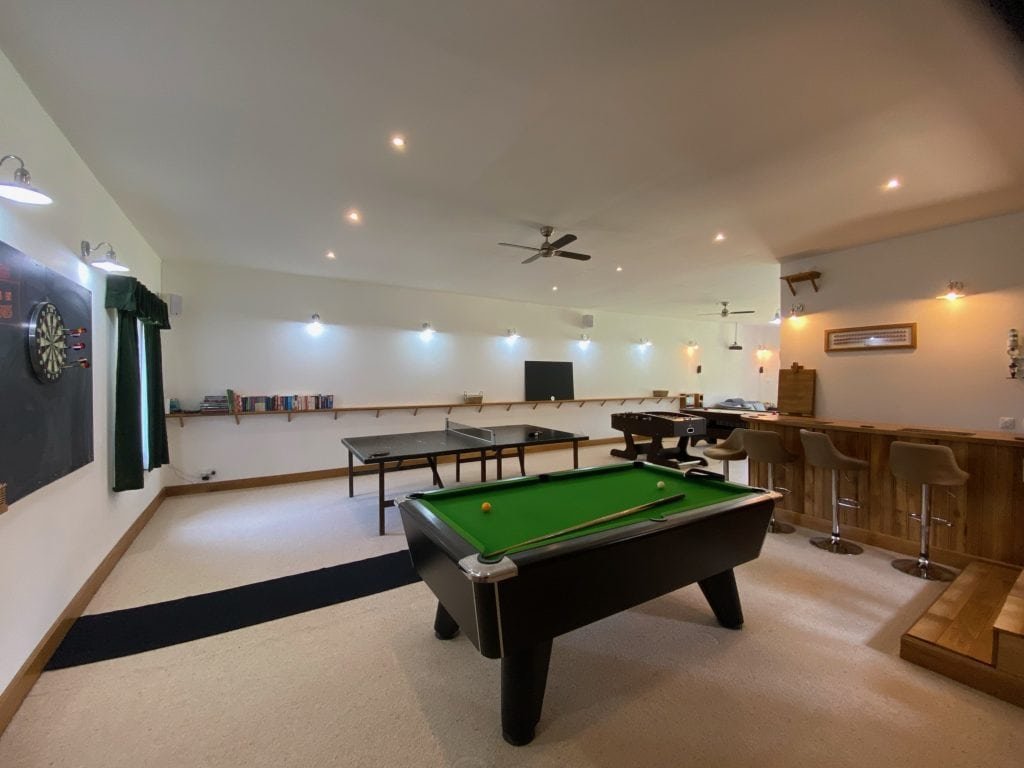 Large Heated Pool
We are sorry that this page was not useful for you!
Let us improve this page!
Tell us how we can improve this page?