Love your dog? Of course you do! You want them to have the best pet friendly holiday possible, in the south West France.
How happy would they be to be on your family holiday with you in France? Running around in big gardens, open space and freedom, having a whole load of fun!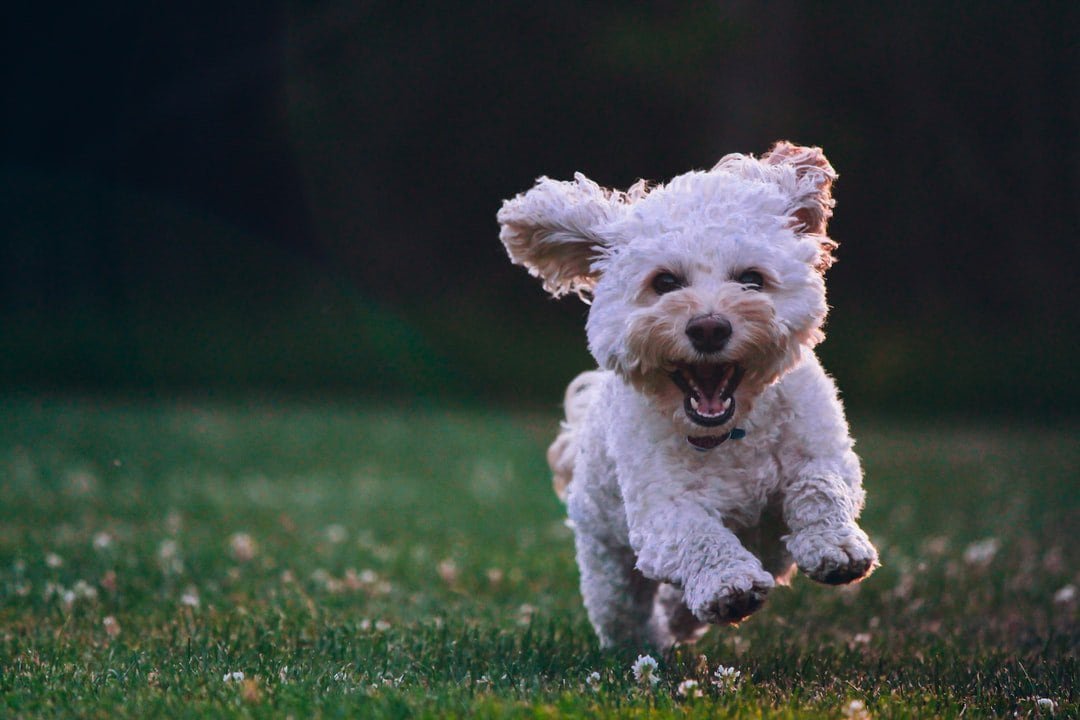 What's Your Criteria For Your Dog Friendly Cottages?
Going on holidays with your dog is a wonderful experience, especially if you are with your children, and for them to experience the joy of running about with pooch together.
Most other France holiday cottages do not have their own space, their own land, their own forests, and their own lakes. You might be limited to cottages in France that say they are a pet friendly holiday home, in that they technically allow pets – but there isn't the provision of dog friendly activities, toys or outdoor games for them.
The Ideal Family Holiday With Pets
You don't want your pooch to be stuck indoors in the holiday cottage because the garden is tiny.
You don't want to book one of the holiday cottages that say they allow pets, but then find their is no land for your pet to run around in and get some exercise.
You don't want 'dog friendly accommodation' only to find they have to sleep in an outhouse!
You want a private garden, to know that your pet dog isn't going to wander into someone else's garden.
And you want other things for the all the family and friends – things like a swimming pool, hot tubs, unlimited wi fi, an outdoors area to enjoy the sun and some of the finest wine, and maybe access to a private tennis court
Get Better Dog Friendly Cottages!
So you need a holiday cottage or farmhouse that has just what your dog and family love.
Remote is good.
For your dog friendly holiday in France, you could take them to dog friendly beaches, to the mountains or just on long lovely walks with pets through the stunning countryside.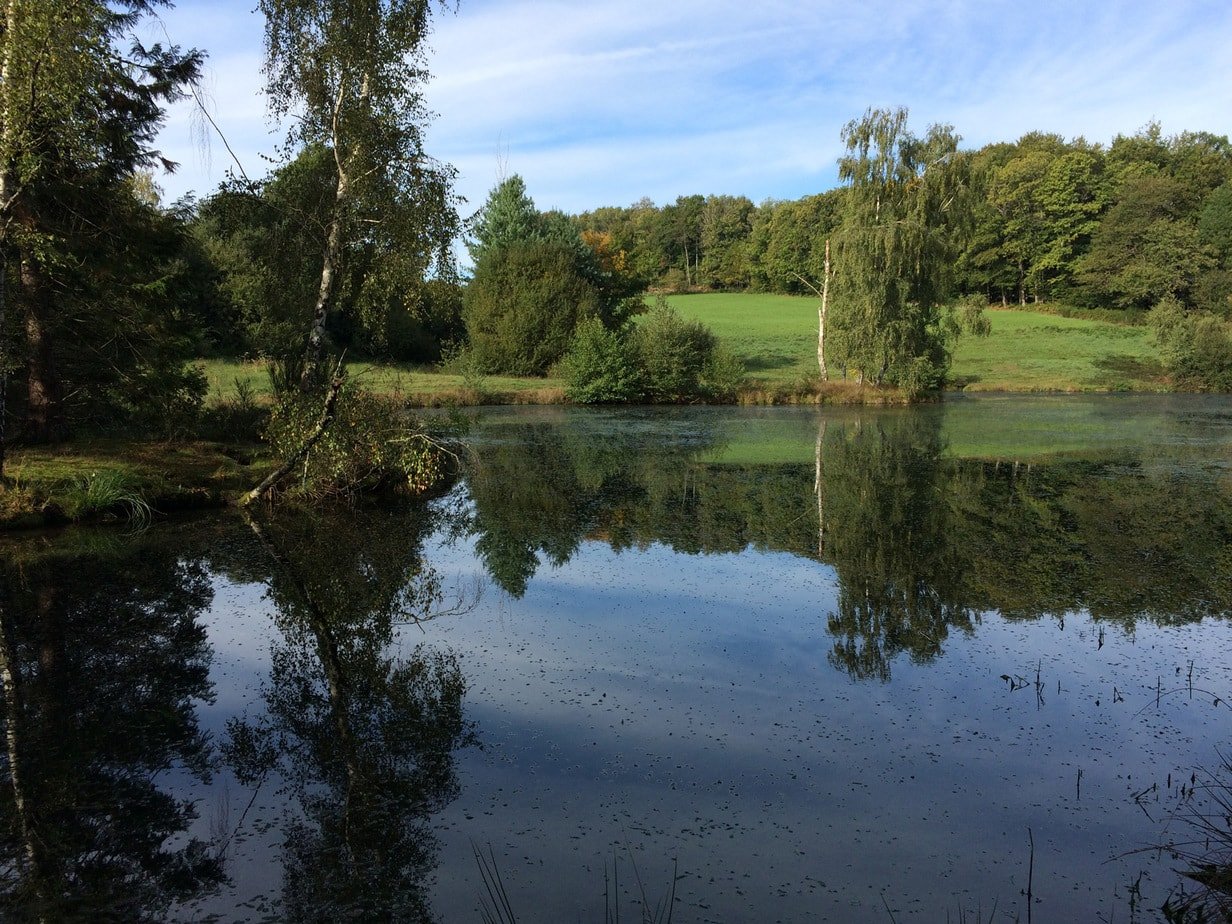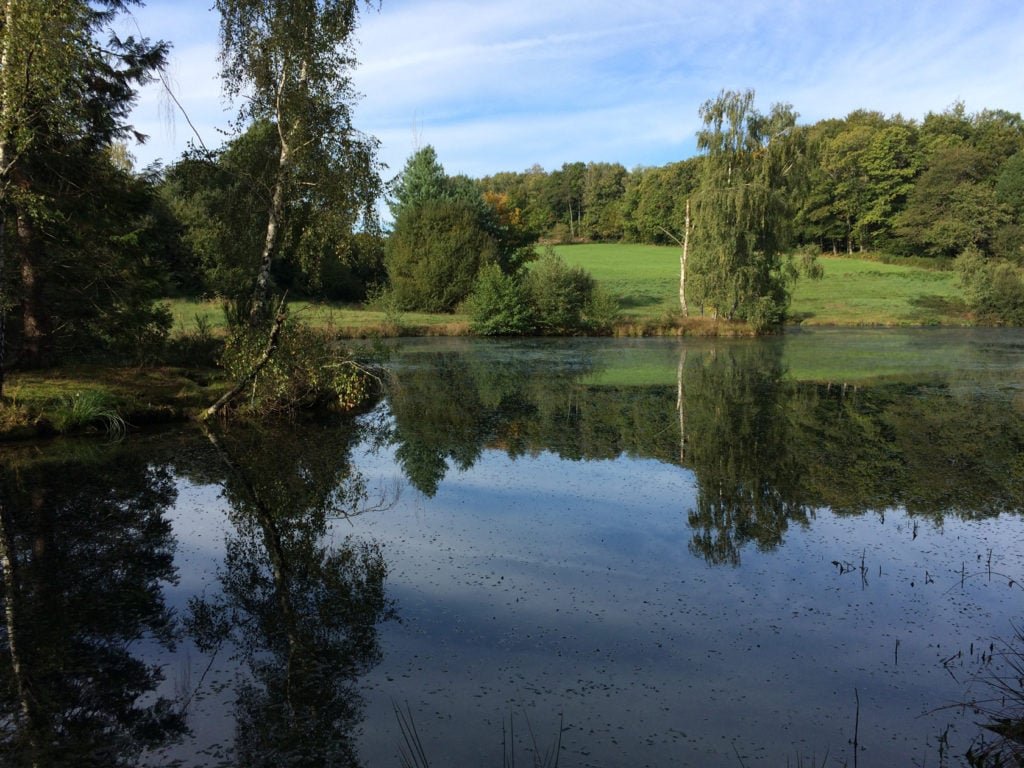 Lake Games For All The Family
At this luxury holiday cottage villa in France we have a large lake that they are very welcome – and very likely – to run and jump into. Go ahead – its what its for!
Most dogs love having a good old swim in an open lake on a hot summers day. Most holiday cottages and holiday rentals do not have their own lakes within walking distance, like ours does.
So here, you can really enjoy the time together as your pooch splashes about – a sure sign they are enjoying their dog friendly holidays!
Kids and Pets Adore The Forests
We have a number of forests that are ours, and others around the property that your dog will itching to explore.
There are also country lanes and tracks that you could cycle on (we have a few mountain bikes you can borrow) while your little darling scampers after you.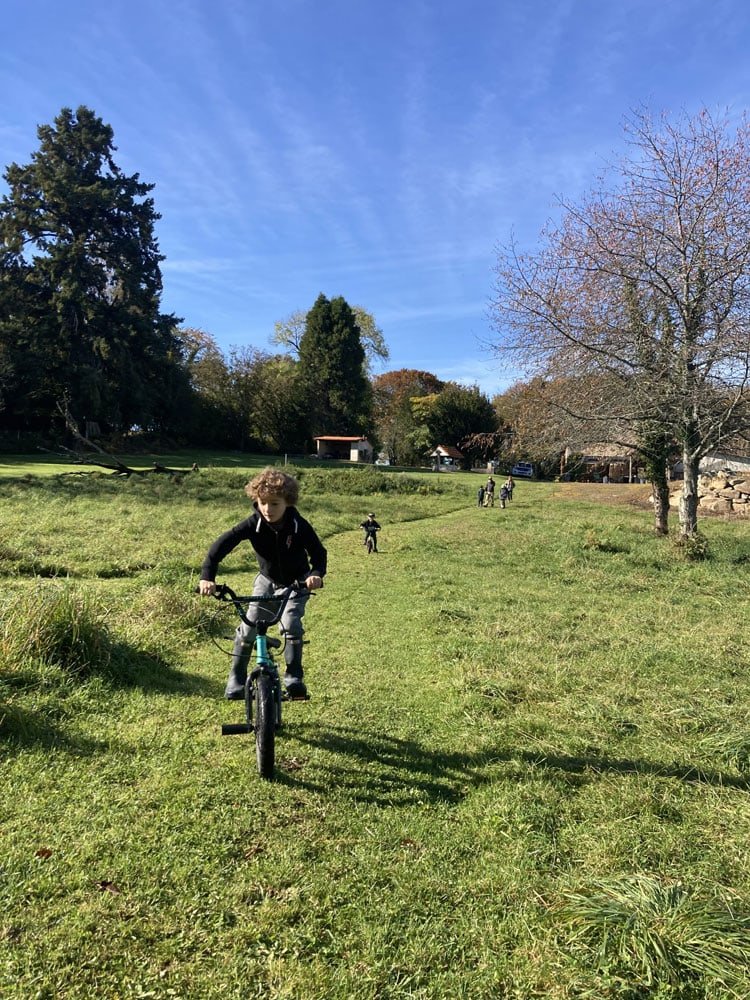 Space To BE Together – And Space To Spread Out
This is a dog friendly holiday you wont forget. Because we are the perfect place for a blend of remote with no near neighbours, with plenty of space to enjoy – yet near enough to shops, amenities, restaurants and activities that you can get everything you need.
The Heated Private Pool – Jump in, Cool Off
This is our all-new, huge private pool…
The swimming pool is totally out of bounds for pets, but don't stress – there is a safety-glass enclosure fence all the way around, so the pool is securely surrounded, and the gate is sprung-closed, so they can not get in. You might need to make sure they don't jump over!
We usually find that within a day or so they have learnt that the pool is out of bounds, and they can unwind on the terrace sofas and watch your swim…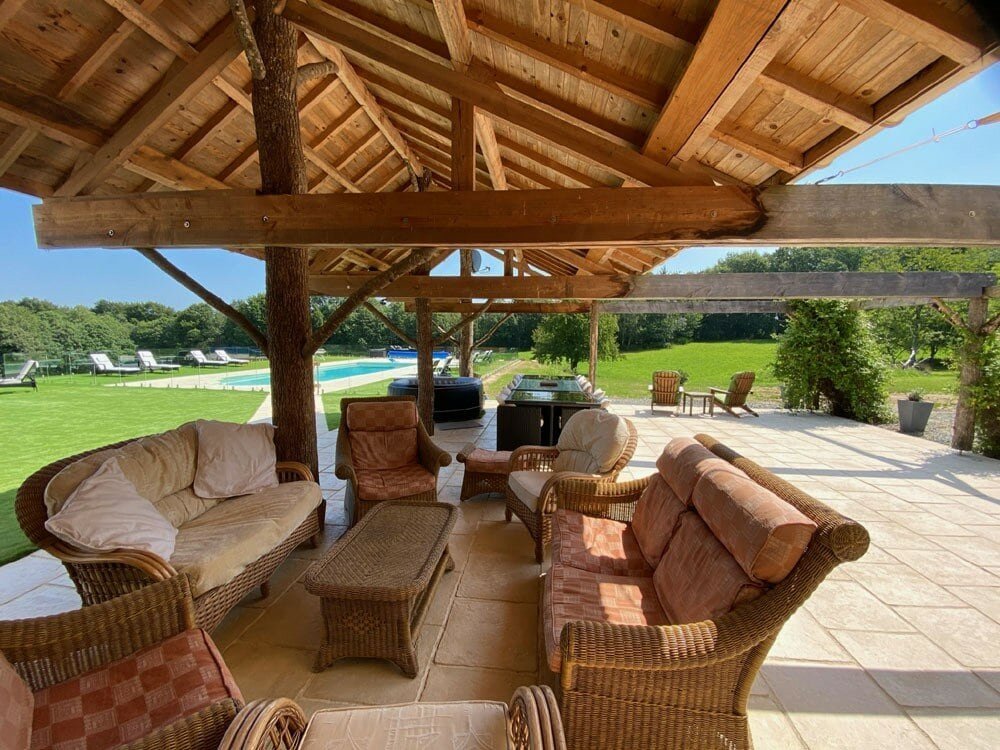 Elsewhere Around This Luxury Villa
The Banquet Hall
Games Room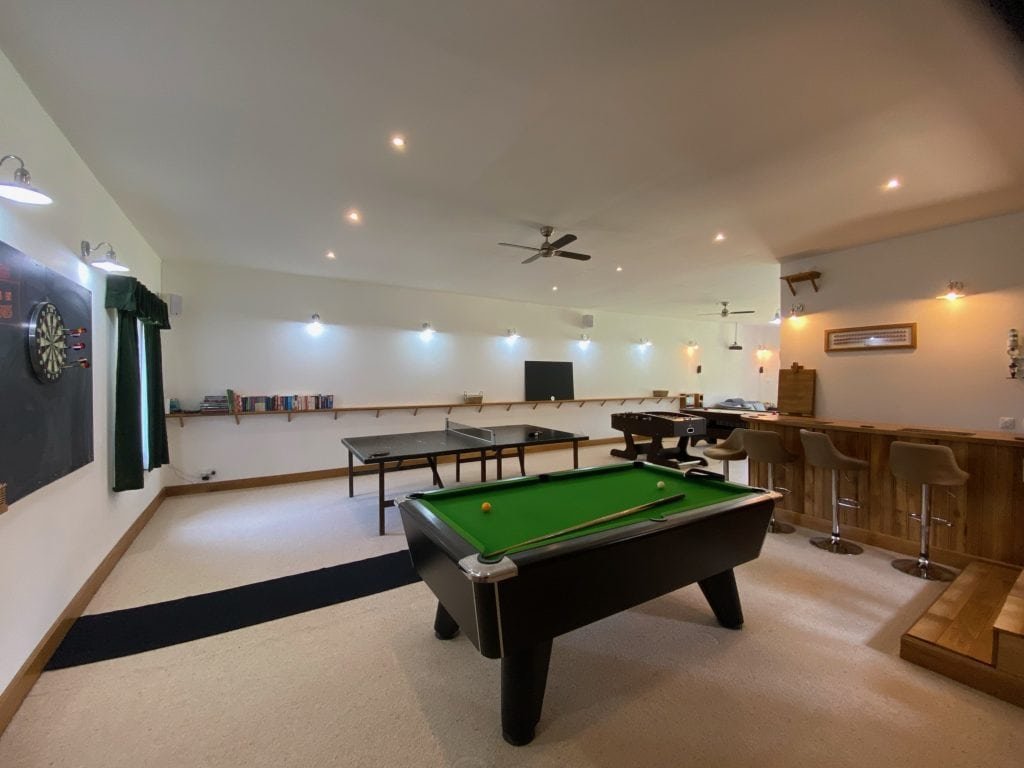 Large Heated Pool
Dog Friendly Holiday Cottage Pet Provisions
We've got you covered for all the essentials of having a dog friendly gite in France. We have food and water bowls in the cellar, and 2 dog crate kennels, plus whatever method you will use when you travel – maybe you've also got your own crate in the car.
https://gitedordogne.co.uk/traveling-abroad-with-a-dog/ travelling with your dog
If you're coming with more than one dog, this gives you the option to separate them. Or you could leave your crate in the car for days out.
If we are going out for a few hours, we leave our dogs sometimes at the house, in the cellar, where it is cool on hot sunny days (thick stone walls, and slightly subterranean), and they are happy.
Dog Friendly Holidays in France
Pet Holidays & The Dreaded Paperwork!
Don't forget, post-Brexit, the old pet passport system is no longer! New restrictions apply getting your dogs to France. You will need an Animal Health Certificate from your UK vet, when you come to this luxury dog friendly villa France.
This will cost you about £100 – £200 (varies from vet to vet – you might like to shop around at other vets for quotes. This gives them free reign within Europe for 4 months. You need to enter Europe within 10 days of getting your AHC.
NOTE – For the future, talk to us about getting a new pet passport whereby your four legged friend is technically French, after your first holiday with us. Get in touch for details.
Self Catering Pet Friendly Accommodation
It is important that you and the whole family have a fantastic summer holiday together. A big part of that is great food together, and luxury accommodation at your holiday in France.
Because this is our own family holiday home, we are constantly improving it based on feedback and our own wish list. So there is lots of ways to cook up a storm with your family.
The modern Banquet Hall indoors (a converted stone barn) has a large, spacious Country Kitchen with Range Master oven, long Breakfast Bar, and even longer Dining Table.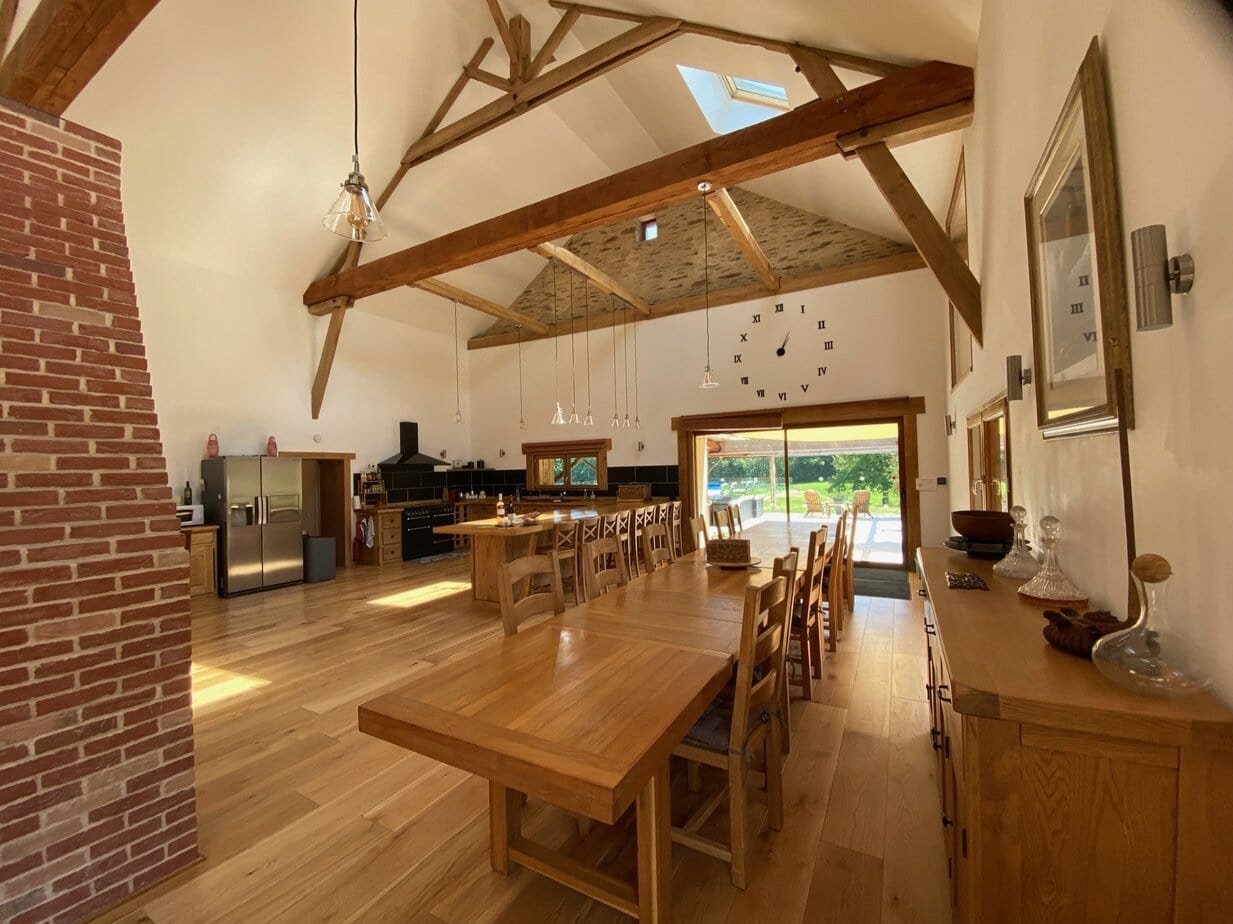 This Dining Table is excellent for family meals together – even meals for multiple families.
The Huge Terrace Patio With Dining Area, Sofas & Kitchen!
The terrace just outside the Banquet Hall has outdoor seating for 14 to eat together. You dogs can be roaming around out here and around the gardens, while adults and children have your meals.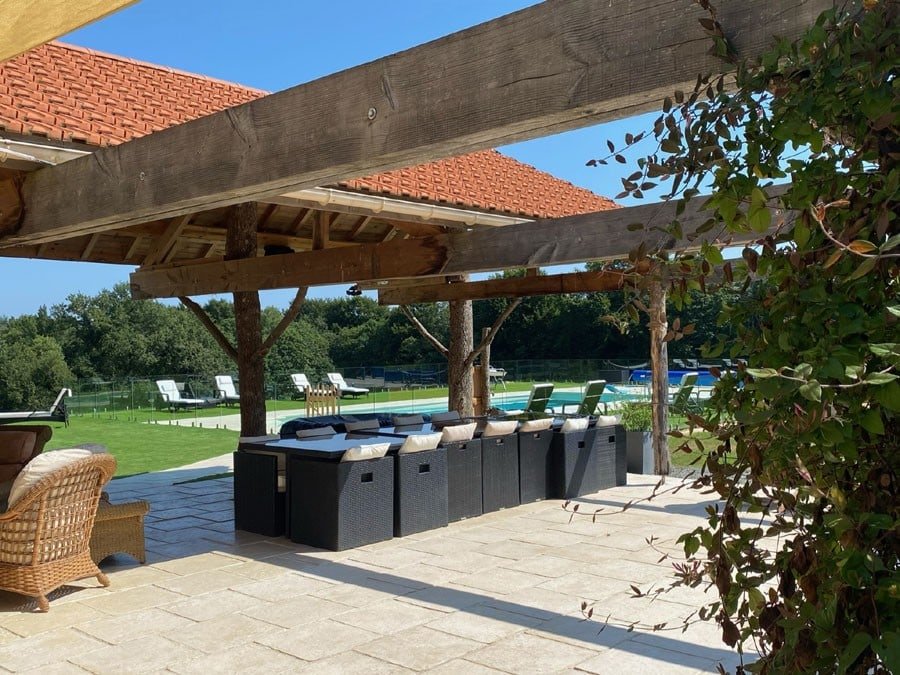 You can eat out here maybe while some are swimming.
Dog Friendly Cottages in France – in Style!
There is also a brick barbecue just next to the terrace, as well as the Terrace Kitchen, which has an outdoor gas-hob cooker to sizzle something up while enjoying the fresh French summer air.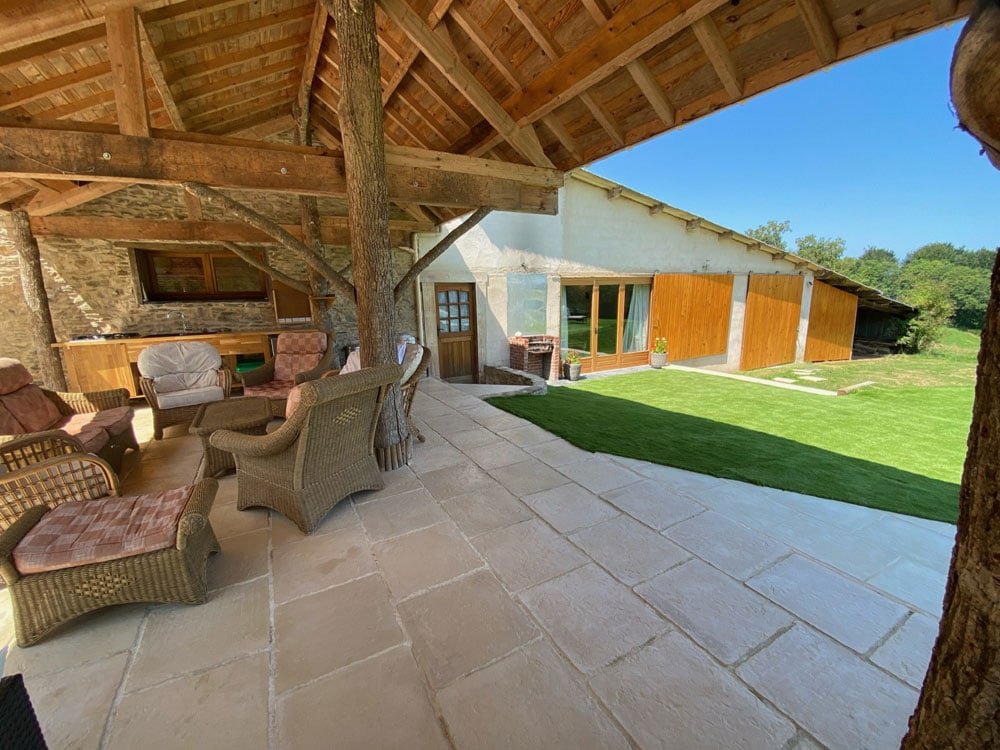 Unlike other cottages in France, we have our own separate Bakehouse building on site, which houses a larger barbeque, which is 2 metres wide – ideal for self catering for more guests. You can even have your own hog roast or half-lamb rotisserie here (ask us for details).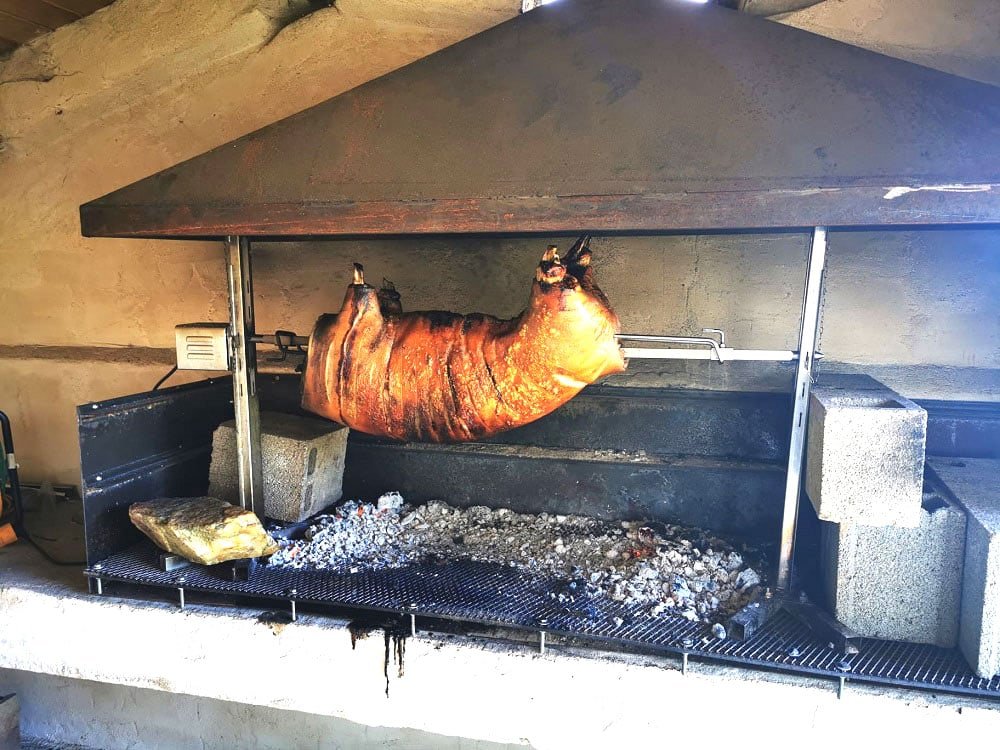 Dog Friendly Accommodation & Bedrooms
There are 5 stunning bedrooms, each with stunning countryside views, at this luxury house property, which in total can sleep up to 14 people. Three of the bedrooms have an ensuite bathroom. The other bedrooms use the family bathroom. All beds are kingsize doubles or super-king sized.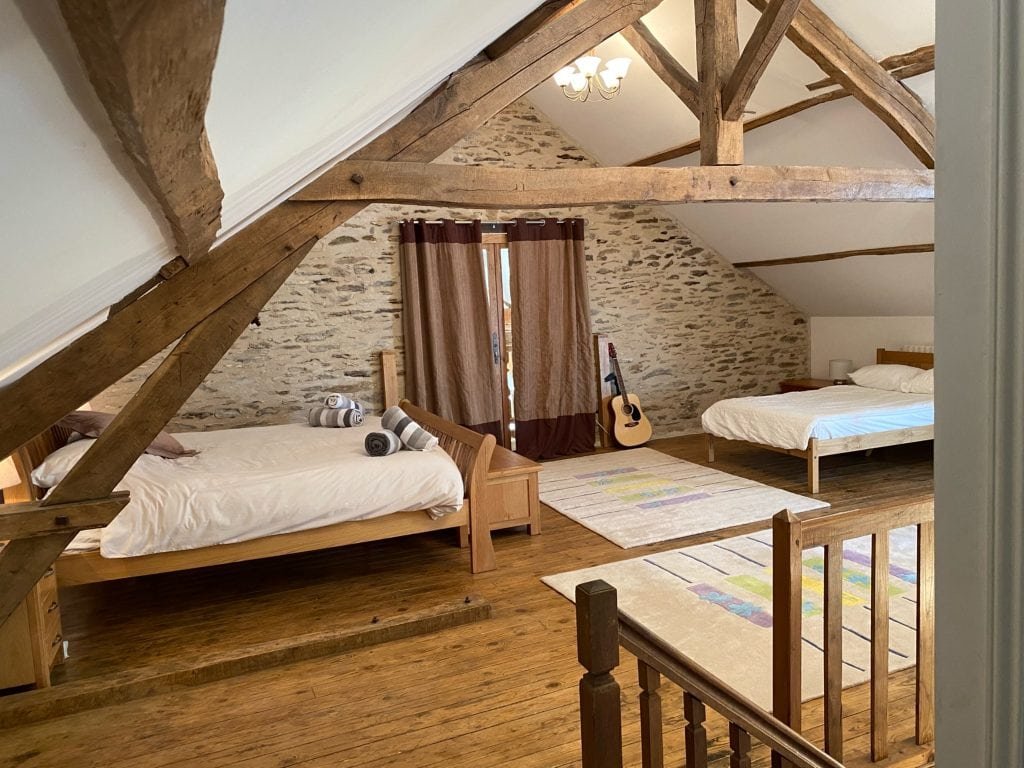 Another of The Beautiful Double Bedrooms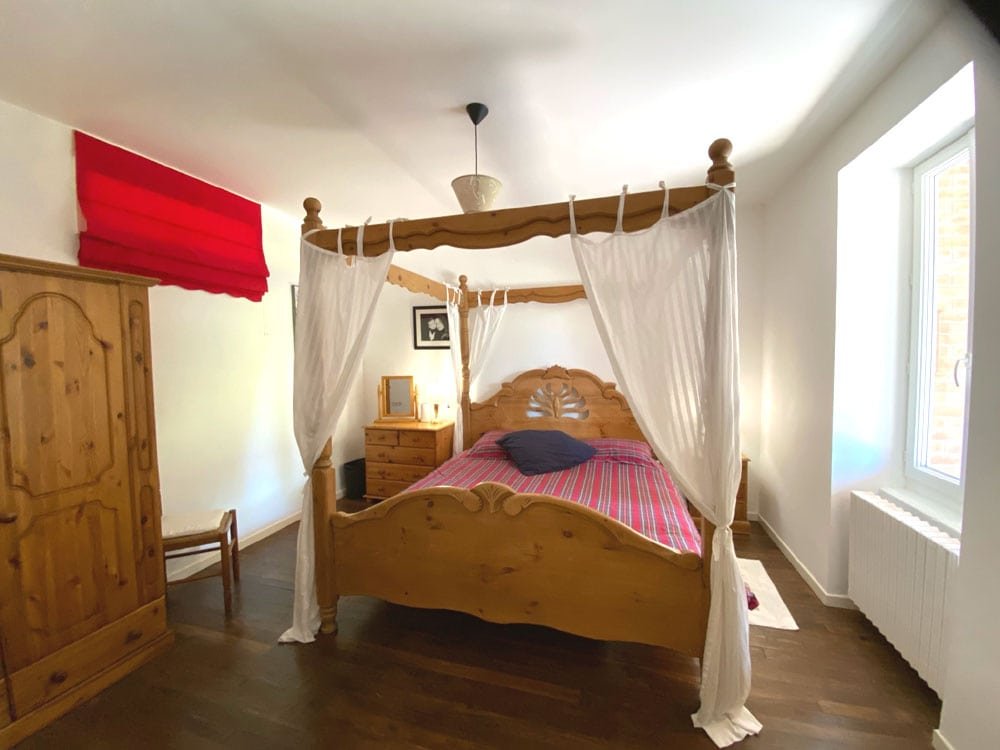 You might consider bringing your dog on a family version of our painting holidays in France.
Destinations & Attractions Nearby
Star gazing is eye opening here because at night, the light pollution is near zero, so you can see thousands of stars, maybe sat outside with your pets.
There are many destinations and attractions nearby to travel out to, in the surrounding country and towns, with the whole family, whether adventurous or tranquil.
A great day out with the kids is the lake at Ruffiac, located 20 minutes from the house, which has sandy pet friendly beaches (please be aware and double check the latest info on this before you go with your pets) and a cafe restaurant. Similarly the St Yrieix lake of Arfeuille has sandy pet friendly beaches to relax at (although Ruffiac is arguably better).
Days & Nights Out
In and around St Yrieix there are a number of properties that are generally worth seeing, especially around the Medieval quarter. You can take your pet out with you on a lead through town. Other properties worth seeing; the Mayor's town Hall, the church in town, and in Limoges, 50 minutes north, there is plenty to do. The Chateau at Jumilhac le Grand is nothing short of incredible, and is a beautiful spot to enjoy the restaurant on the square there, overlooking the chateau, for a night out. All customers who visited have rated it highly.
Depending on the date you arrive, there are wonderful summer farmer's markets in St Yrieix and Segur le Chateau, which are worth an night out.
Cycling and Drinking Fine Wines – The National Pastimes of France
If you want to do one of the wine tours, Saint Emilion is a day trip out, where you can visit the vineyards and sample world-famous wines.
The area is great for cycling (as is most of France). Bring your own bikes if you're keen. We have 4 you can borrow, for off-road or smaller distances.
There is a Tourist Information office in both St Yrieix and Jumilhac.
The Gouffre de Padirac and Sarlat de Caneda, for the hustle and bustle, are worth a mention.
An outline of some seriously good local restaurants is here, for nights out.
More details on properties and places to visit off site are here.
More Detail Around This Property
For more pet friendly holiday inspiration, have a look around the rest of this website to discover more on this luxury villa in France for family and pets. This is the Right Place – Holiday homes don't come better than this!
Explore This Luxury Villa Property
The Banquet Hall
Games Room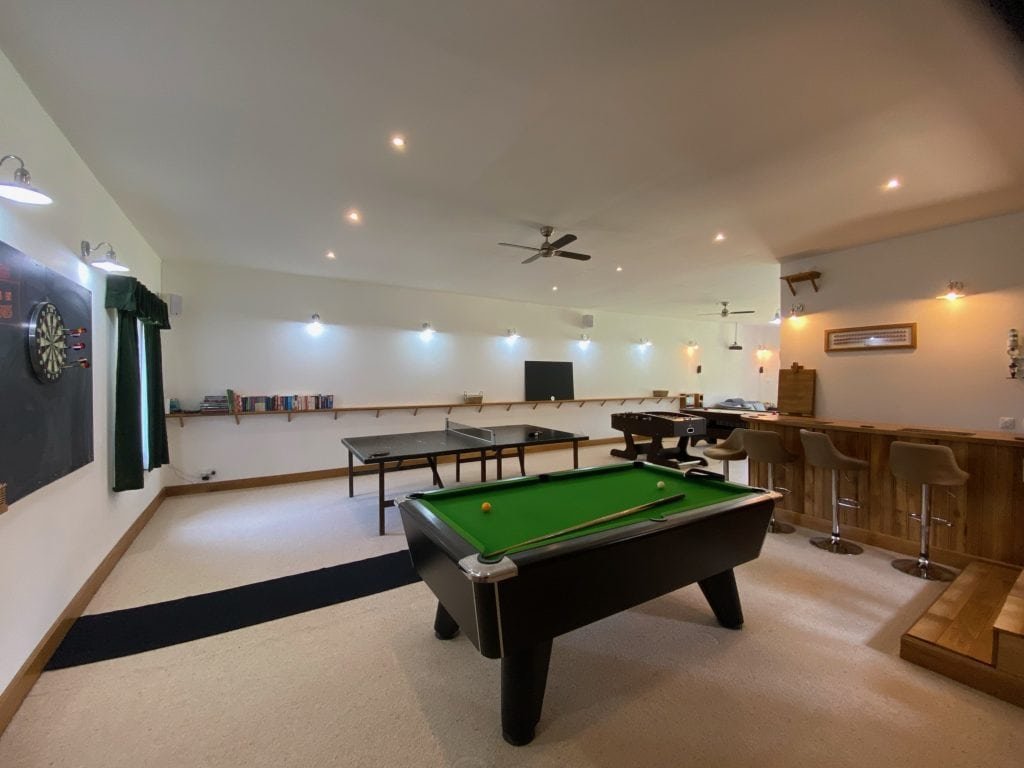 Large Heated Pool
We are accessible from all across the continent, Spain, Scotland, Italy, Wales coast, Ireland, Portugal, Netherlands, and within France, from Brittany, Paris, Pyrenees, Normandy, Cannes, Carcassonne, Bordeaux, Toulouse, Nice, Limousin region, Savoie, Languedoc, Tarn, and Burgundy.
Bookings, Availability and Price
Check availability and prices here for your holidays because, being a popular and reasonably priced luxury villa, we do get booked up quite early. Prices are shown on a per week basis, not per night. If you want to book for weeks let us know for a slight discount on the additional week.
We are very popular and already booked for almost all of this summer (July and August). Book your week (or weeks) early to avoid disappointment. Contact us (the owners) here to book, tell us your holiday dates, get advice, help with your route planning or ask any questions at all.
We are sorry that this page was not useful for you!
Let us improve this page!
Tell us how we can improve this page?