You want to learn French, faster than the tedious 'school' method, and in a beautiful, peaceful enjoyable environment?
What if you could learn quickly, in a large, luxury villa in France?
For the quickest and easiest way, nothing beats immersion learning for rapidly picking up the french language in a short time.
And it should be a fun and luxurious holiday!
What is Immersion Learning?
Immersion learning means only speaking the language you are learning – French – and hopefully interacting with local people.
One of the great things about intensive courses in France is that you pick up the real French.
After you learn French on your holiday in France, you will find that your skills are far superior to boring old classroom-taught French.
You'll speak the real French like the locals do!
Who is Your Teacher? More on this soon…
Learn French Language Holidays – In Style
We offer you much more than just a fast, easy way to learn French.
This is your 'vacances' – your holidays.
Complete Immersion… in Luxury
This luxury villa in south west France is fully equipped for your high-end French language holiday.
French language lessons can be had on the terrace patio, as seen in the photo above, overlooking the heated private swimming pool.
Perfect Destination
Now imagine taking your French language course in this stunning, modern Banquet Hall…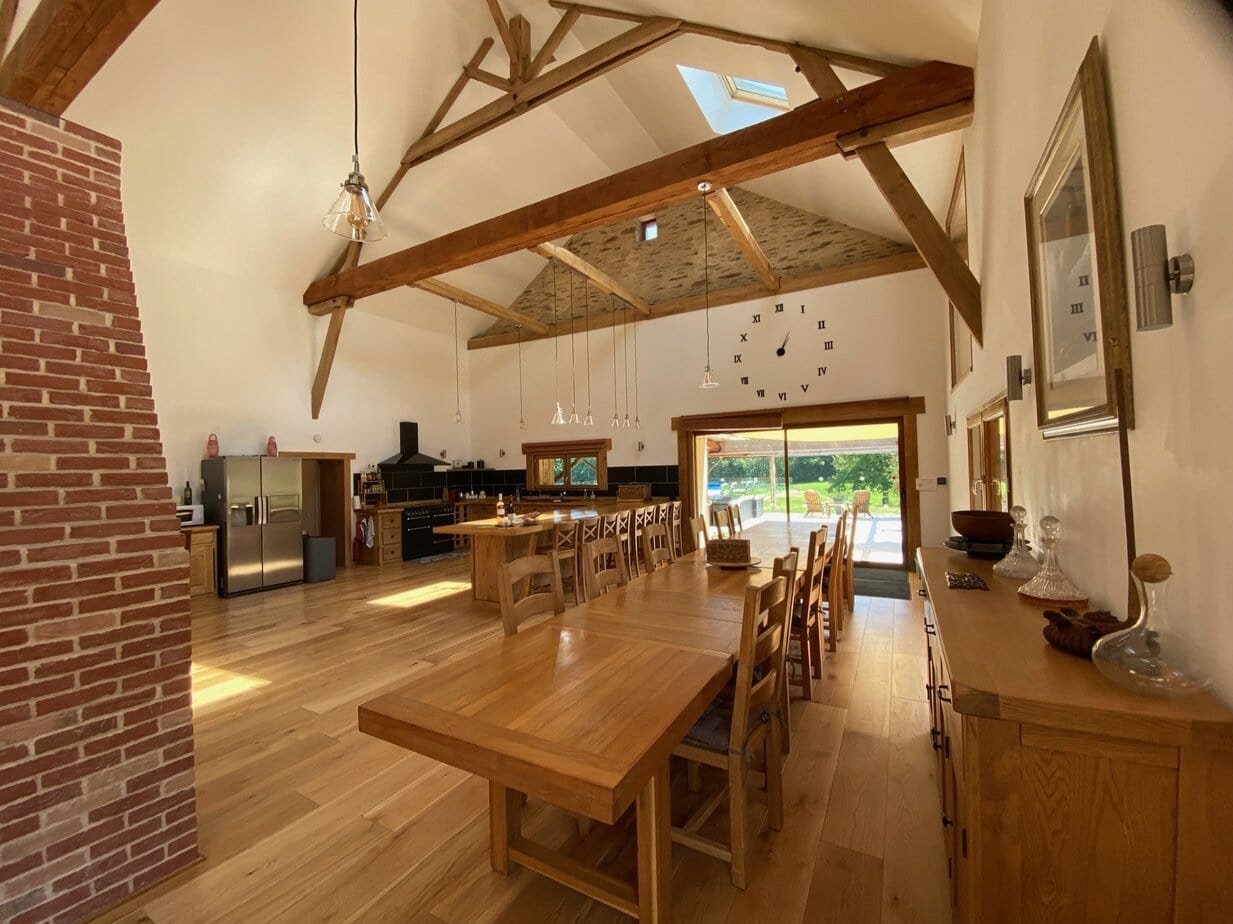 And after your French lessons, you can unwind in this Games Room…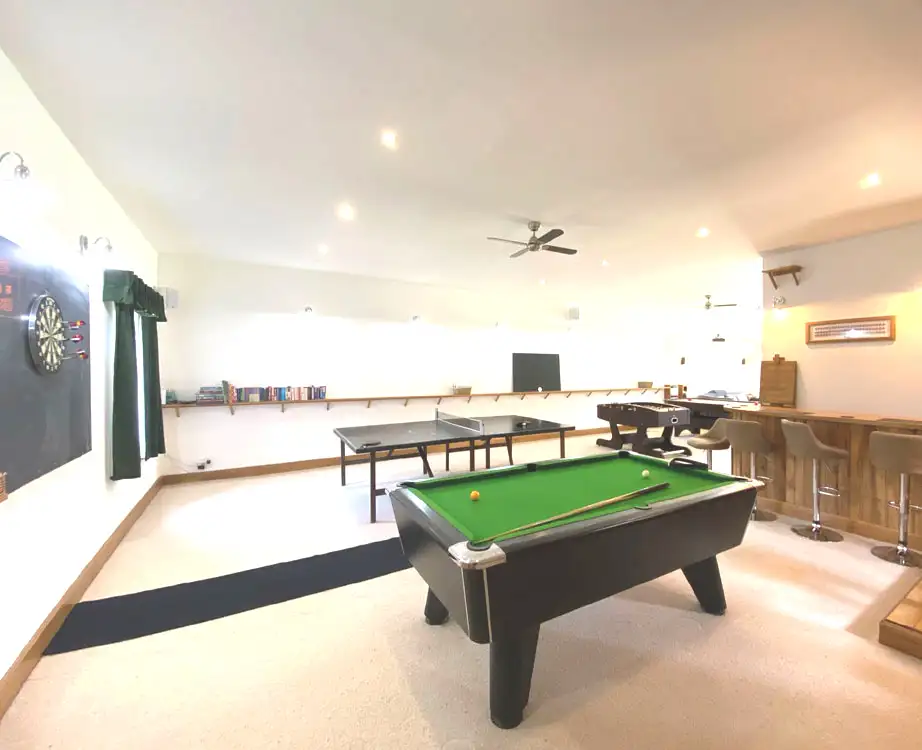 Benefits Of This French Language Holiday
Firstly, this is an immersive learning environment.
You will be staying in the teacher's home, with a small number of other students, who will become your language friends. There are structured lessons in the morning and sometimes in the afternoons, but usually with afternoons free.
This means you have your teacher nearby, on tap, if you suddenly have a question or to talk through any thoughts.
We will practice repeatedly, but there is little to no writing. It is all about a flow. A chat, a conversational flow.
The objective is to get your oral skills up to 'conversational' – to be speaking French.
Who is your tutor, to teach you fast, easy French?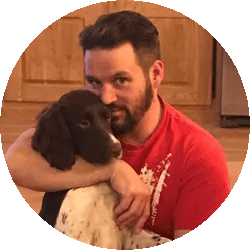 I am Duncan Ritson-Elliott, owner of this luxury Gite villa in the south of France, and I figured out a better way for you to get to chatty-level French within 1 week, and enjoy the process.
And do it in style!
You see, I did the boring French lessons at school, at GCSE.
One teacher was great – my other teacher was a snore-a-minute. I didn't join the dots at that age and figure out why and what worked.
Ever hopeful, I then did A-level French (I'm a glutton for punishment). And that didn't exactly stick either.
Fast forward a few years and I was in a position where I *had* to learn fast.
I was renovating a lovely ramshackle old farmhouse in the south of France. I had to talk to French suppliers, French builders, French plasters.
And French taxation civil servants!
So I needed to learn quickly.
I also wanted to talk with my new french neighbours, more than the basic "Bonjour" each day.
SIDENOTE:
On the whole, the French are a friendly bunch. Ignore the old stereotypes. If you show willing to talk French with them, not English, they will undoubtedly be willing to talk happily with you.
By chatting as much as I could with my neighbours, a few good teachers, and the blind panic of having to talk French to get the house renovation progressing, I boosted my French massively in a very short time.
And more importantly for you, I figured out how to learn French the easy way AND the fast way, by using a number of shortcuts, a number of patterns.
Mostly by using the language you've already got – English – and learning how to twist it into a likely French word. To 'Frenchify' your English.
Free Lesson: A simple example;
How do you figure out the French word for "reserved", as in the past tense of reserve eg "I've reserved the restaurant table"?
Pretty much all English words that end in ation have a French equivalent quite similar. And you can get the French word by 'Frenchifying' this English word.
For words like "reserved" that have an ation ending equivalent in English ie "reservation", to get the French past tense, chop off the "ation" and add an é to the end (like at the end of café).
This gives us reservé.
Bingo!
So reservé is the French for the past tense of "reserve".
Also, I will also teach you a few tricks to take the easy route to say what you want to say, rather than the complicated, convoluted or literal way.
Like the equivalent in English of saying "Right, I'm off", rather than "I will be leaving soon".
Or, coming back to the restaurant reservation example, rather than saying "Did you reserve the table at the restaurant?" – conversationally, it is easier to say "the table – it is reserved?"
Let's not reinvent the wheel. Let's take the easy route to get talking french.
——-
And yes, the farmhouse I mentioned renovating – this is now the luxury villa where you will learn these tricks and shortcuts to talking French.
Many French language schools teach in a boring rote-learning pattern, which is very tedious and not what you want to be doing on your hols!
I believe French courses should be fun, easy and fast.
Language tuition is done in a very relaxed way, almost entirely spoken, as a conversation. And most is outdoors, where possible, when the summer weather is lovely and warm.
We will take regular breaks, for a dip in the pool.
How It Works
I speak French to a high conversational level and will teach you how to get to the same level of French conversation.
This is done by starting to understand how the French language works and is structured.
You won't learn from textbooks or French grammar books.
We simply talk through and help you boost your French skills by understanding how to 'hack' your English language.
'Frenchify' Your English
We have a shortcut method to get to conversation level French…
*Cheat*
Cheat, by twisting your own English words, to make them French.
The easy way to learning French is to adapt what you've already got. As part of this French language holiday, you will learn some specific techniques to 'Frenchify' English words, or to spot how to adapt English words.
It is NOT about learning vocabulary again and again, practicing grammar and vocabulary to force and squeeze it into your head. No!
With these skills, you can start with a relatively small vocab, but keep growing it, even mid-sentence or mid-conversation.
I will show you how to reach into your own existing 'language toolbox' and bring out the appropriate 'tool' word.
Who I Can Help
I cant help anyone who isn't English. Sorry.
If English is your mother tongue, your native, natural language, then I can help you.
I teach how to go from the English language to French. So I cannot help a German person. Or a Chinese person. Sorry. Nothing against anyone else, but that's not my journey.
If you're English, I can help you to talk French.
French Classes For Complete Beginners
It doesn't matter how much French you've already got, if any at all. This is a non-standard French school where you can start with near-zero French, and by the end of the week (not 2 weeks or three weeks!) you will be able to talk with your local restaurant owner about how the vegetables were grown.
We teach students of all ages. Age is just a number. If you want to learn, this is the course for you. The only ages we don't take is less than 18 years of age (unless the whole property is booked out as a family language holiday).
What matters is that you have motivation to learn French in France. As a language school, we start with where you are, not some assumed level of French.
French Language Course For Beginner Students
Motivation, and being at least moderately intelligent, are all that is required to get the benefit of this summer course in France.
Students just need to focus and think through the words and concepts as we talk them through during the week course.
You wont need a big notepad or textbooks. In fact, it will be ok if you don't write a thing. You may want to make occasional notes, maybe of the very few 'rules' (there really aren't many) but zero writing is ok.
Pronunciation and 'Being' French
Its all about speaking French in France like French people do. The biggest compliment for your French language skills is to be talking with a French person, and only after a while do they realise that you're not French.
Do you want to learn how to speak like the French?
* Insert Gallic Shrug *
Part of what you will learn at our summer courses in France is the way the French speak, so you can converse more realistically with them.
Think back to when you spoke with someone not English, who had a really thick, foreign, strong accent from their home country. It was a lot harder for you to understand them and to talk lots with them, right?
Now think of someone else you've met who wasn't English, but only had a slightly perceptible accent. It was a lot easier to understand them and have a good conversation, right?
Their accent and how they sounded helped you understand them.
In this French holiday course, you're going to come out as the second person. Sounding French!
I've got a handful of tips and methods for how to sound French, so they can understand you better, and you can have a better conversation. So you don't sound like a struggling foreigner!
French Language Courses in France, Europe
'You' Time
I don't just want you to learn French on this holiday French course.
It is a get-away. A fun time away from home, to get away from the stresses and pressures of everyday life.
There is lots here to help you relax and unwind, both on site and locally.
Adults Only
Leave the two children – or however many – at home. There will not be any children at this holiday school !
While this is our own family holiday home, this will be an adults-only environment, so everyone can learn and have fun, without thinking about any children or family.
In order to learn optimally, this is suitable for adults and no kids will be around to distract.
(Exception to this rule: If you book the whole property as a family. See below)
Afternoon Free
For most afternoons, you will have time to unwind and explore, whether at the luxury villa, or out and about.
You will get to spend time unwinding by the pool, maybe cooking food on the barbecue or going out for activities or hiking locally.
While this isn't exactly in the 'activity holidays' category, you can certainly enjoy the activities and amenities locally, from fine wine culture to underground gondolas!
Accommodation
At other times of the year, this property is available as a luxury rental for the whole family summer hols. So everything is very high quality.
The whole house was fully renovated in 2017 throughout to the very highest standard, with super-thick insulation so it is cool inside in summer and warm in winter.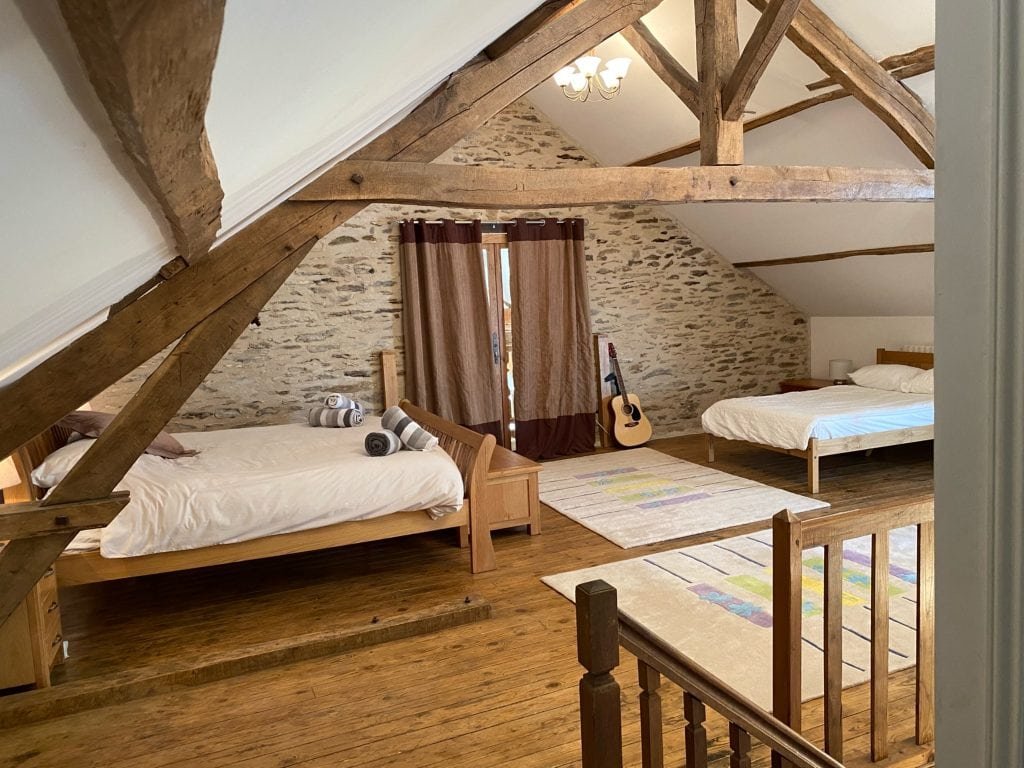 5 Spacious Double Bedrooms
We have 5 large double bedrooms, each with either 1 or 2 double beds. Three of the bedrooms have ensuite bathrooms; the other 2 bedrooms use the family bathroom.
The house has exposed oak beams throughout, and is finished to a very high standard.
Discover more about each room here.
Meals
All meals at the house are included in the price. If you have any specific dietary requirements, let me know when you book. Breakfast, lunch and dinner will all be good, healthy meals. You are welcome to cook or prepare your own meals separately if you prefer.
About half of the lunches and dinners will be eaten out, at cafes and restaurants. The cost of these will not be included in the price, for one simple reason;
You will be ordering your own meal and your own drinks, speaking in French. And you will then be speaking French to pay for your own meal. This language immersion course enables you to practice and immerse yourself in the French language.
Questions?
If you have any questions at all, or want to talk through when you want to learn French on holiday, just get in touch.
Pricing
These type of "learn french immersive language holiday" for 1 week or 2 weeks, at other venues, are normally about £1,500 per person per week. And that would be in a fairly basic house with basic amenities.
Other french courses and language immersion holidays with a such a luxury countryside property and swimming pool etc are priced at around £4,000.
Even with all the fabulous space and tranquillity outlined above, we simply don't charge anything like that.
Not August or July
This French language learning holiday in France course does not run in July or August, because that is when the family school breaks are, and we are usually fully booked with families then. The only French language booking we do take for July and August is a whole-house family booking.
Prices
Room
Name
(Click room name to view)
Has Ensuite
Bathroom
Price Per Person
(Sharing, full room)
Price For 1st
Person
Per Additional
Person
Max Per
Room
Cabernet (Master)
Yes
£563
£1,499
£250
4
Malbec
Yes
£488
£1199
£250
4
Merlot
Yes
£725
£1199
£250
2
Syrah
No
£625
£999
£250
2
Pinot
No
£625
£999
£250
2
French Language Holidays for Families – Family Whole-House Bookings
You can book this whole property for your family holidays, and have it all to yourself, and have it as a French language learning holiday. In this event, I will not be staying at the house overnight, so you have the place 100% to yourself and your family, other than during the French lessons.
To book the whole property, with everything it comes with (see throughout the rest of this website here), with your French language lessons all week, prices are simply an extra £1,500 in addition to the standard booking prices (as outlined here) including all French lessons for all your holiday group. This can include adults and children, up to 12 people. Due to the changing needs of so many people within a family/families, home-based meals are not included in this price.
To find out more, on prices and dates please simply contact us here or use the messaging system at the bottom right of ever page – or call Duncan on 07930 338555.
I really look forward to speaking with you to discuss your French language holidays for adults.
We are sorry that this page was not useful for you!
Let us improve this page!
Tell us how we can improve this page?