Gites in France with pool in south west France is a popular demand. Can you find the right one for you? What is the right swimming pool for you? Your own private heated pool? (yes!). A shared swimming pool with other guests? (not here!). Should it be self catering so you're in full control? Maybe with a private tennis court, or at least access to a tennis court? With a private garden (who doesn't love beautiful gardens?). Maybe near a picturesque village.
Yes!
If you are a group of family or friends, maybe between 6 and 12 people (max 14) then this is a fantastic option for you.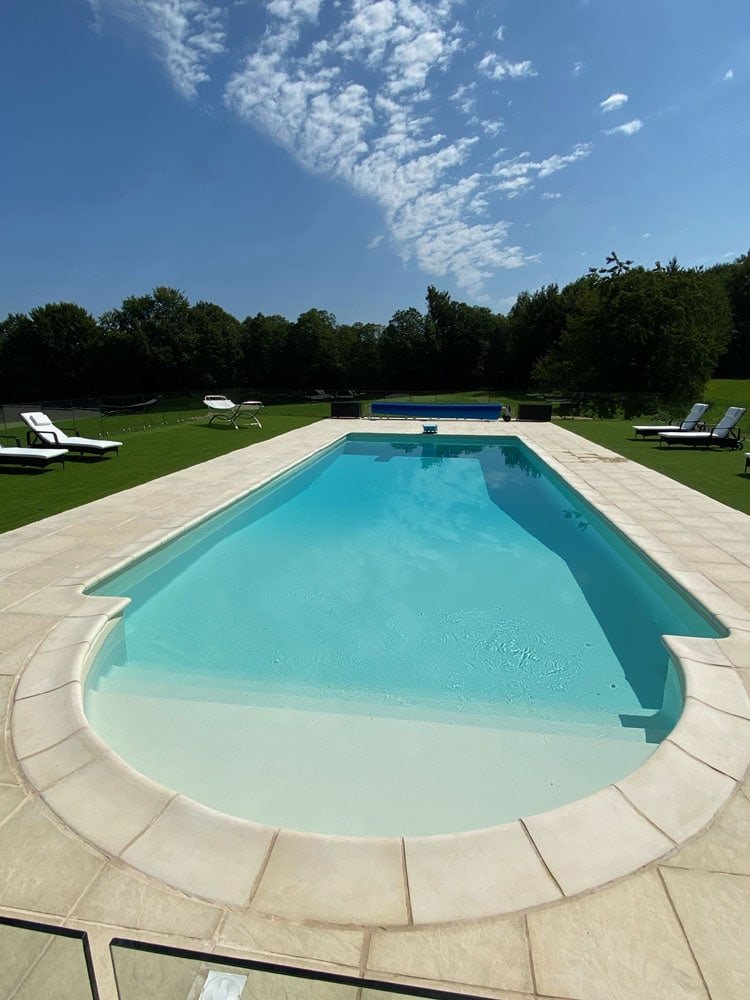 When you soak up the holiday sun, luxuriating by the private pool, you will feel the cares of the world just falling away.
At 14 metres long, there is plenty of room to play or swim lengths.
The short, strong diving board allows some fun splash time.
This heated pool gives you countryside views while you swim – fabulous views across the fields and forests. We are at the end of a quiet lane, at the end of a peaceful hamlet, so you can enjoy the panoramic views as you enter the property and large gardens.
We have a huge range of pool toys too, with goggles, snorkels etc. Private pools like this need to be savoured and enjoyed.
Holiday Homes in France With Pool
Self Catering Holiday Properties With Pools in Dordogne
Finished in 2021 to very high specifications, this private heated pool has a toughened glass enclosure, so you can
See the surrounding natural beauty all around
Watch your fellow holiday goers without obstruction. Sitting on the terrace, you can see into the enclosure to watch the swimmers.
Keep small children safe and outside of the enclosure. The gate has a self-closing hinge and self-locking latch so the gate automatically closes behind you, keeping small children safe if unattended.
This is not a shared swimming pool, in the usual 'shared holiday home' sense – it is only a shared pool with your own people!
On the semi-circle Roman End steps, the top step – the 'Social Step' – is enlarged for you all to enjoy sitting together, semi-submerged, enjoying a cool drink.
French Villas With Pools
At this secluded gite holiday home, there are 10 brand new sun loungers so you can soak up the rays while lounging around the swimming area, hanging out with your people.
Either side of the pool are small lavender fields.
Naturally, this fabulous luxury villa in France isn't only about the swimming… The villa or 'gite' itself is very spacious – 5 bedrooms and sleeps up to 14 people so it is ideal for luxury family togetherness.
No need to search for your gite in France with pool – click right here for details.
In the photo above, you can see the large pool and area outside. To the right of this photo is the games room, which has a table tennis, pool table, table football, a drinks bar and your own cinema. It doesn't need air conditioning due to fantastic insulation and 2 large ceiling fans.
Family Friendly Holiday Home in France With Pool
At this peaceful countryside holiday home in south west France with amazing views, you can benefit from self catering and comfortable accommodation as well as this beautiful swimming pool.
Where is your holiday home in south west France?
3 hours north of Lot et Garonne, and Tarn et Garonne, and about 4 hours south of the Loire valley . Charente Maritime and Poitou Charentes is 2.5 hours north west (Poitou Charentes is a difficult drive). The Dordogne river is 1 hour away. The French Riviera is 8 hours drive.
There is a wide choice of local attractions. A short walk takes you to the lake. 40 minutes away there is canoe hire at Brantome for a fun day out. The cave paintings at Lascaux is a great option for your holiday in France (it is a copy of the original features).
While a Saturday changeover is possible, we don't insist on a Saturday changeover. Contact us to talk through your personal requirements.
We don't believe in booking fees. Book now direct to avoid booking fees.
Tell Me More About This Holiday Home
This is a stunning, large and luxury villa in France for families and friends, with or without children. The rooms are spacious, with large double beds in every room. One of the rooms has two double beds, and its own ensuite bathroom, which makes it perfect for a small family.
We can add child holiday beds if necessary. We also have travel cots for toddlers and babies.
Three of the five bedrooms have ensuite bathrooms. The master bedroom has a beautiful Victorian bath with views out out the orchard. Two of the bedrooms use the family bathroom at the end of the hall.
All of the bedding on all of the beds are thick, luxurious Egyptian cotton.
Between all guests' holidays, the house is Covid-cleaned from top to bottom, so you can rest assured that your loved ones are safe.
The Banquet Hall
Walking along the hall, you pass into the cavernous Banquet Hall, which is a double-height (no upper floor) roofed stone barn conversion with solid oak beams throughout. This Banquet Hall includes an open-plan Country Kitchen, a 6 metre long dining table and a 4 metre long Breakfast Bar that separates the dining table from the kitchen. This area is perfect for your family get togethers and your family friendly self catering villa in France. The lounge is also in this same space, the other side of the large brick chimney.
The Games Room For Fun Time Together
Just next to the Banquet Hall is this brand new room full of playthings! It is a recent barn conversion, giving a 15 metre long room, 6 metres wide, so plenty of space to play!
This gives you a handmade solid oak drinks bar to socialise together at as you watch your people enjoy the games, maybe get a bit competitive together.
The table tennis is probably to best for increasing levels of competitiveness. Often what starts off as a casual knock-about, without a care in the world, then progresses into a jumpers-off faster game as it gets more competitive. Sometimes – lets be honest, it's the dads – end up pulling their T-shirt off in an effort to play harder to win. All good fun.
You've got a full size professional pool table to enjoy, too. We have got a set of snooker balls you can use instead, although most people enjoy a game of pool, and maybe a tournament.
There is a proper darts board and chalkboard to keep score. Maybe a game of 501 or 301, or killer or round-the-clock.
There is a table football 'babyfoot' table if that is more your thing.
You've also got an air hockey table, which is another game that gets you warm quickly!
Your Own Cinema!
There is also a cinema with 3-metre wide screen and full surround sound system, which is awesome for watching films, episodes or the match.
Outside On The Terrace
Between the Banquet Hall and the swimming pool, is the large terrace patio, giving you 10 metres by 11 metres of relaxing space to chill. This area is partly covered with a tiled roof, on oak tree beams, with the bark still attached. This roof gives you shade when it is super-sunny and hot. You've also got the open area to sunbath and get your tan.
Your Hot tub Jacuzzi
On the terrace is a large hot tub jacuzzi which you can enjoy end relax in the bubbles. Maybe with a glass of bubbles too!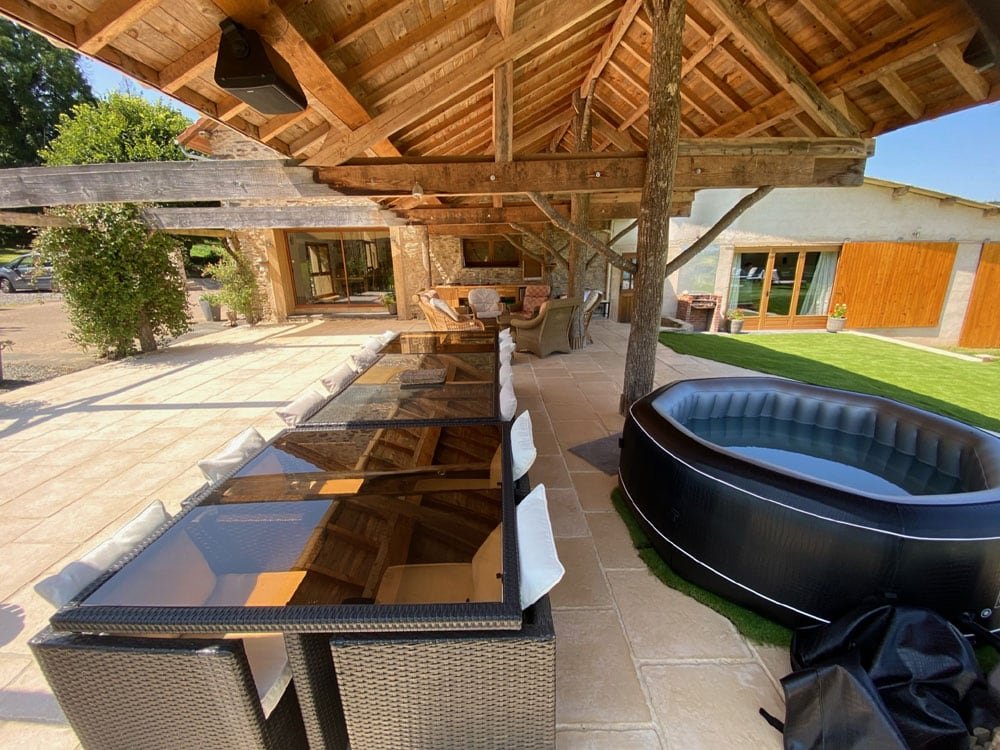 The terrace also has a 14-seat dining table, for eating self catering dinners outdoors. This is under the roof area, so you don't get too hot.
Against the stone wall, on the terrace, is also our outdoors kitchen, with gas stoves, sink and prep work space, for more of your self catering holiday in France. So you can with in style, with amazing views over the swimming pool.
Also on this large terrace are outdoor sofas for maybe 10 people. These sofas are a very sociable way to sit around together with a drink of something nice and maybe some nibbles.
Beyond This Gite – Into The Countryside
In the surrounding area there is plenty to do. This is a stunning area in Dordogne, south France, in the Perigord Vert. That means that it is green and peaceful. There are rolling hills and rivers. You can even go gold panning int he local rivers. The river Dordogne has gold! The word "D'or" means 'of gold'.
Nearby there are numerous stunning chateaux to visit. The nearest is Jumilhac, which has a very pleasant restaurant on the square overlooking the chateau.
The local town of St Yrieix La Perche has wonderful old medieval houses and a church to gently wander through.
In the summer months, St Yrieix has a producers market once a week in the evening, where you can buy a locally reared steak, have it cooked to your liking on the town barbecue and eat it together with the rest of the town, with a nice glass of red wine.
Enjoy Luxury Gites With Swimming Pool In France
Book now and avoid all booking fees.
We are sorry that this page was not useful for you!
Let us improve this page!
Tell us how we can improve this page?