This is our family-owned and operated gite in the Dordogne region of South West France.
Watch this video above, of the Banquet Hall. Is this the right luxury villa in France for you?
We love our home. We use this beautiful, big farmhouse as our second home for our own holidays (for our 4 children and us). We love the space the 26 acres of grassland, forest and lake – and sumptuous villa swimming pool – gives us; it is our happy place.
We have been operating this holiday-home villa gite since 2016 and we are constantly working to improve it.
Address: GiteDordogne.co.uk, Jumilhac Le Grand, Dordogne, 24630, France.
We, and our kids, smile constantly here.
And we want you to be able to smile here too.
We only rent our wonderful home to friends and family – and the lucky few!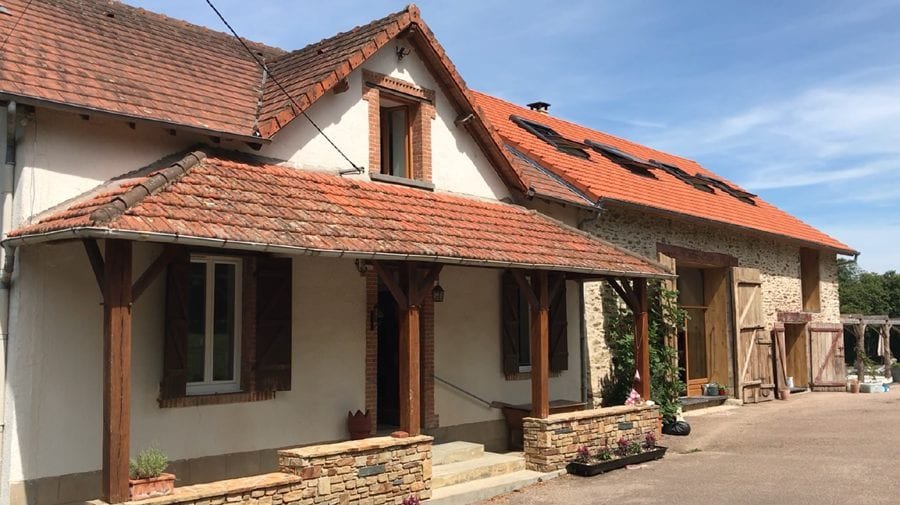 Luxury Dodogne Villa
Want to find out more about different sections of this luxury family villa in France? Click the image to choose
The Banquet Hall
Games Room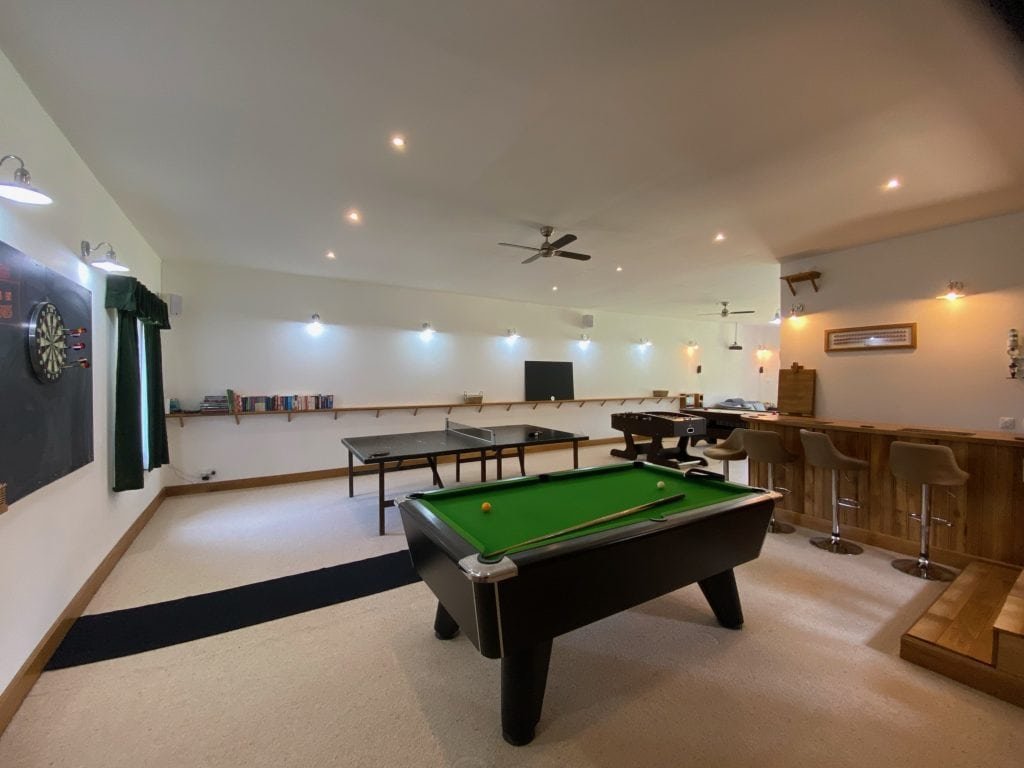 Large Heated Pool
Having a farmhouse in France with lots of land was our 10-year dream. And now it is our reality and we have worked hard to make it our home. We are happy to share it with you.
You may want to have the place all to yourself – or share your holiday with some of your friends or extended family. Our gite works either way.
Watch the videos here for more detail.
About This Luxury Villa in France
There are 5 double bedrooms. The Master bedroom is the whole of the upstairs space, with large en-suite bathroom (including a large shower and free-standing bath). This master bedroom has the beautiful internal balcony, looking out over the double-height Banquet Hall kitchen and dining area.
All the bedrooms are large double rooms – and some are huge!
3 of the 5 bedrooms have en-suite bathrooms.
There is also a large family bathroom (plus another large bathroom off the Banquet Hall next to the kitchen and terrace).
The brand new large Farmhouse kitchen is fully equipped and forms part of the extensive, modern Banquet Hall. With an American style fridge, Rangemaster cooker and dishwasher, it is designed to ensure you will be able to easily cook for everyone (or simply enjoy some local fresh bread and cheese with a glass of local red wine!). The kitchen Breakfast Bar / peninsula is 4m long allowing for socialising while you are cooking.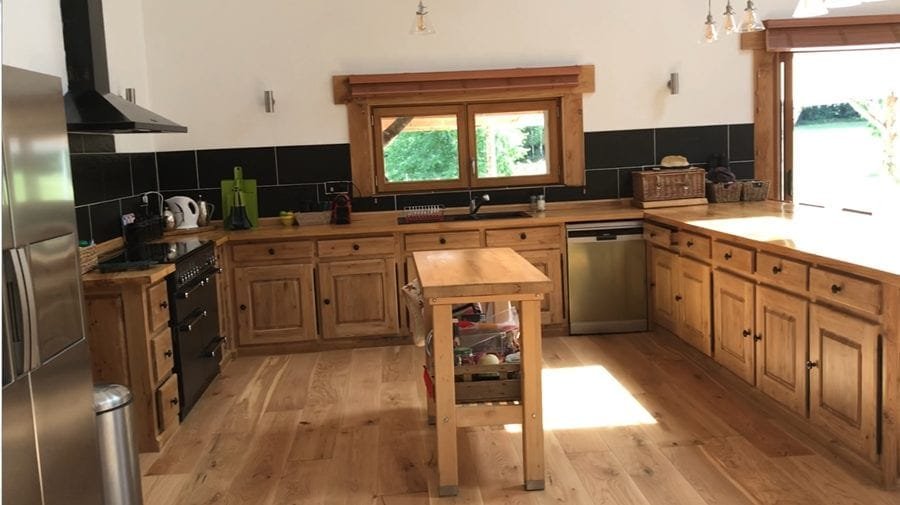 Outside, the land slopes gently down and around the house such that the views are spectacular, whether you are sitting on the veranda, on the patio terrace, or walking around the house.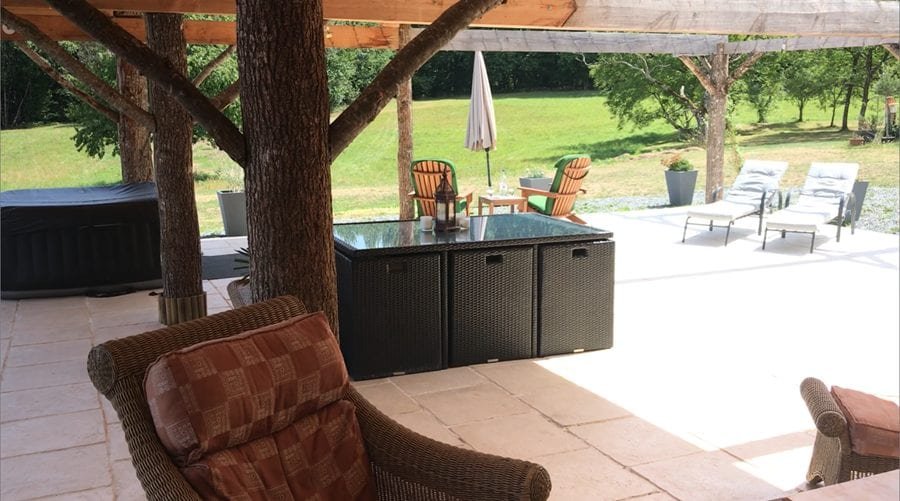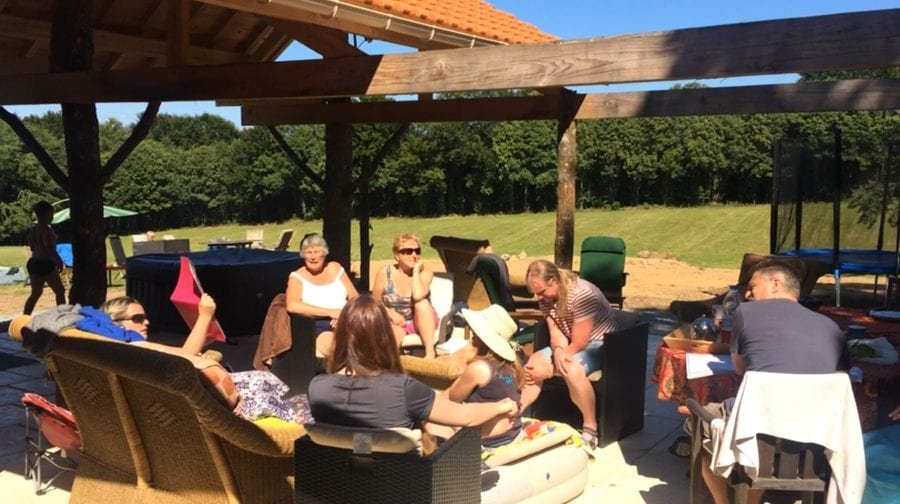 If you are looking for large family friendly gites in Dordogne, this is what you need.
The large lake is found a short walk through the small forest and out into the open space the other side. The lake is about 150 metres by 100 metres and we also have a couple of small ponds of about 15 metres square. All are home to many species of fish, frogs and beautiful flowers!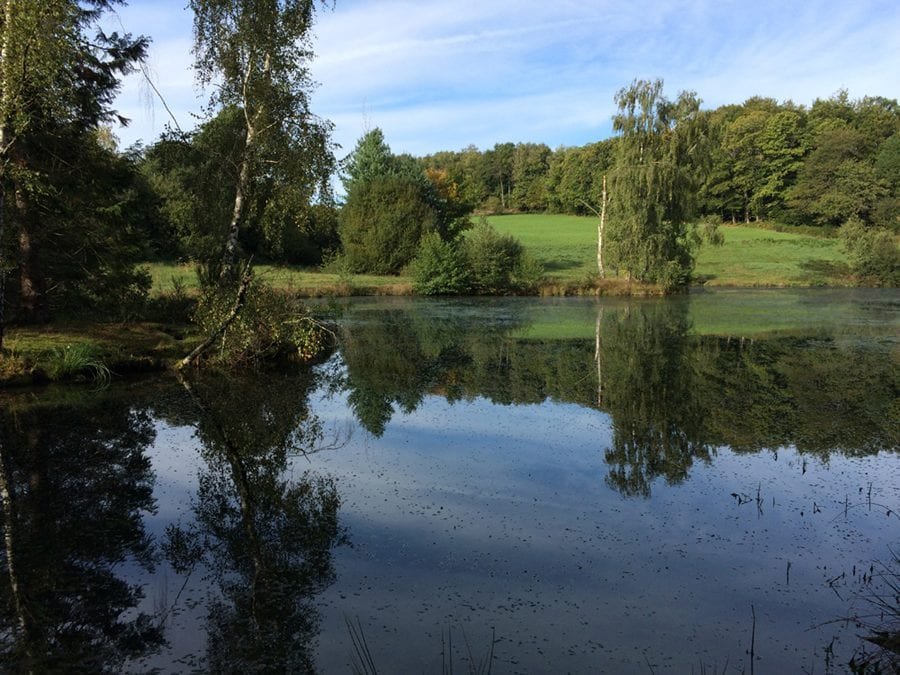 There are 2 small boats, for rowing or sailing, should you choose to do so.
Find out more about other areas of the gite…
The Banquet Hall
Games Room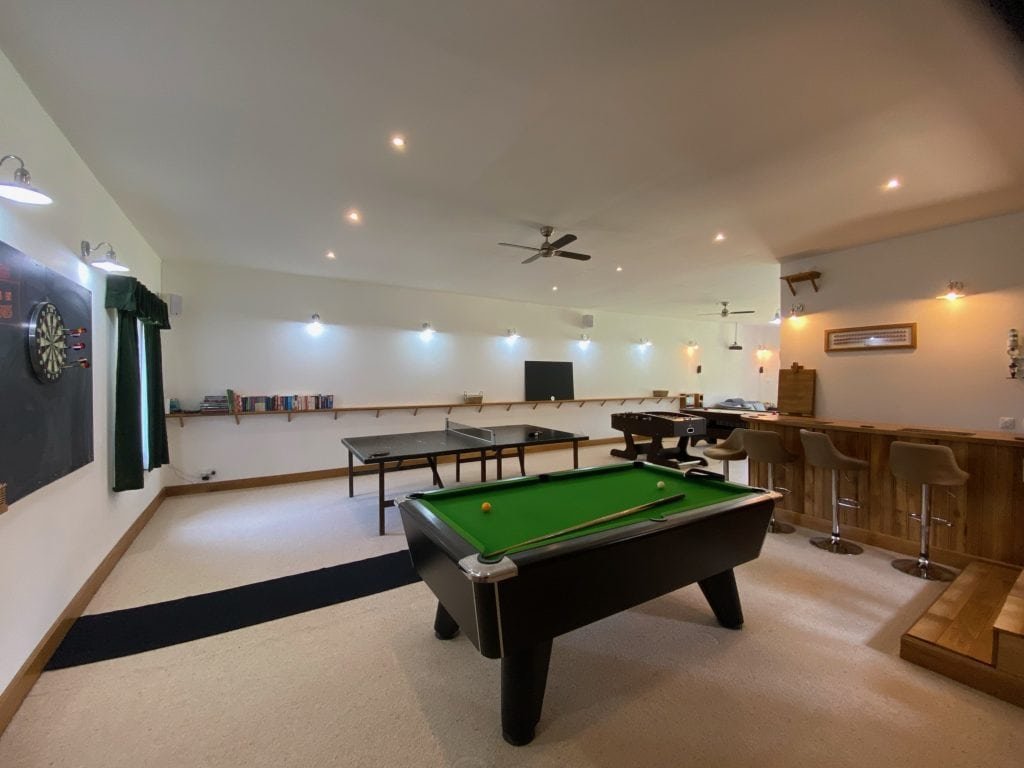 Large Heated Pool
If you would like to talk with us about renting this large villa gite with private pool, please simply contact us here.
We are sorry that this page was not useful for you!
Let us improve this page!
Tell us how we can improve this page?