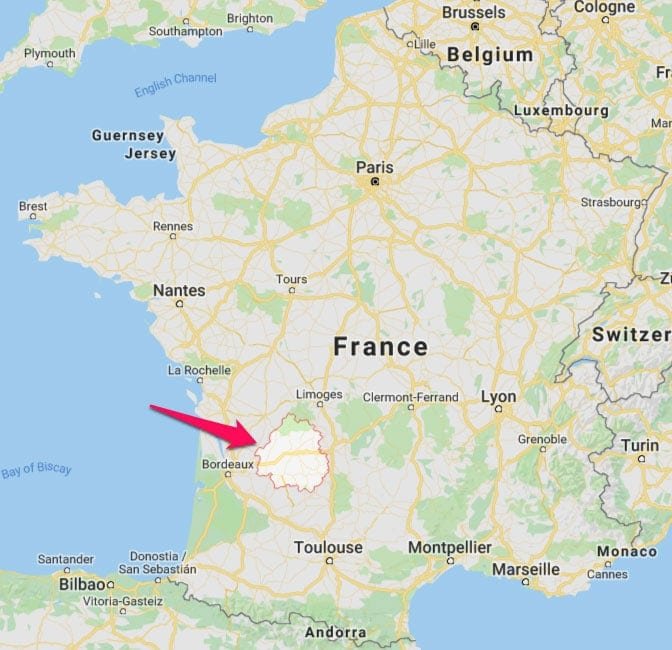 The Dordogne France is a stunningly beautiful area in the south west Nouvelle Aquitaine region, perfect for joyful family holidays and exploring (see family friendly gites here). The Dordogne region – pronounced Dordoyne – is named after the Dordogne river which runs through it, from east to west, through Carsac, Beynac, Saint Cyprien, Bergerac, towards Bordeaux, through Libourne and on to the west coast of France.
The region of Dordogne in the south of France roughly corresponds to the ancient county of Perigord, from when the area was populated by the Gauls. The Gauls fought against the Romans, hiding in the many man-made caves, above ground and below ground.
Perigord, France
Perigord is considered as having 4 areas, which approximate to physical characteristics. The word Perigord comes from the Gaul language "petrocore" meaning "4 tribes". The Perigord Vert (green) in the northern section, mostly covered by streams and forests. The Perigord Blanc (white) is the central area, which is a limestone and more level area. The Perigord Pourpre (purple) is area around Bergerac, to the south west of the region and is the wine growing area, with roasting hot dry summers, with brown, dry grass. The Perigord Noir (black) is the eastern section around the beautiful Sarlat, with its forests of pine and oak.
Castles in Dordogne France
Dordogne has over 1000 castles or chateaux. You will spot many simply driving around. Here are a handful of the best.
About 60km east of Bergerac are the paired rival chateaux of Beynac and Castelnaud-la-Chapelle. They sit facing each other, 2 km apart, like two scowling angry siblings. During the 100 years war, the people of Castelnaud swore allegiance to the Plantagentets (a derivative of the royal family), whereas the people of Beynac swore allegiance to the king of France, hence the ongoing rivalry.
Chateau Hauteforte is a newer, smarter castle, with well-kempt gardens-a-la-Francaise. As you stroll around the Hautefort castle, you might expect a 17th century footman or count to step out from behind a wall or hedge. It used to be a medieval fortress which was reconstructed and rebuilt in the 17th century to its current splendour. The gardens are listed as one of the Notable Gardens of France. Well worth a visit on your holidays in France.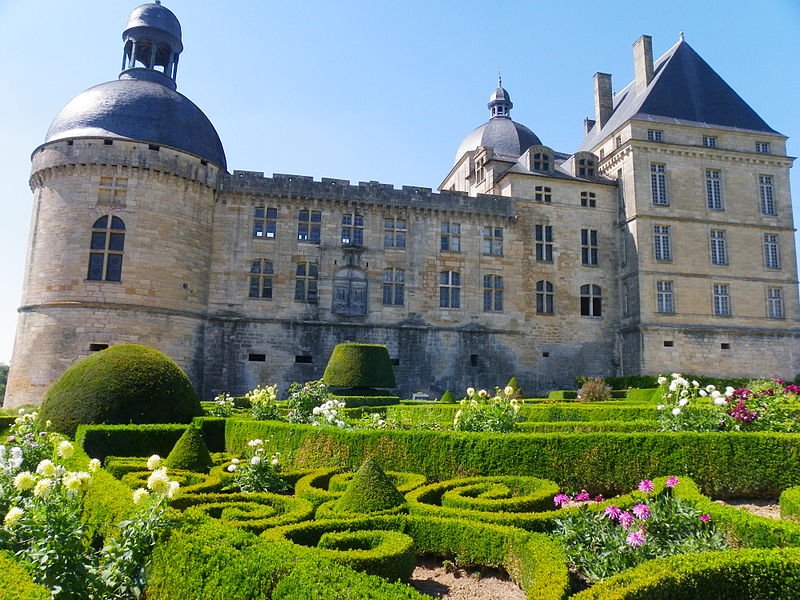 Other chateaux worth considering are La Roche, Puymartin and Bourdeilles.
Things to do on Your Holidays in Dordogne France
Besides visiting some outstanding chateau in Dordogne France, there are many other things you can do. The weather itself is conducive to doing absolutely nothing if you wish, and simply lounging by your gite in Dordogne with swimming pool and land. The best for child friendly holidays in France. Summers are wonderfully warm, often to the point of not wanting to travel more than 10 metres away from the swimming pool.
Or you can go do many family activities.
Canoeing is a favourite for many families, particularly along the river at Brantome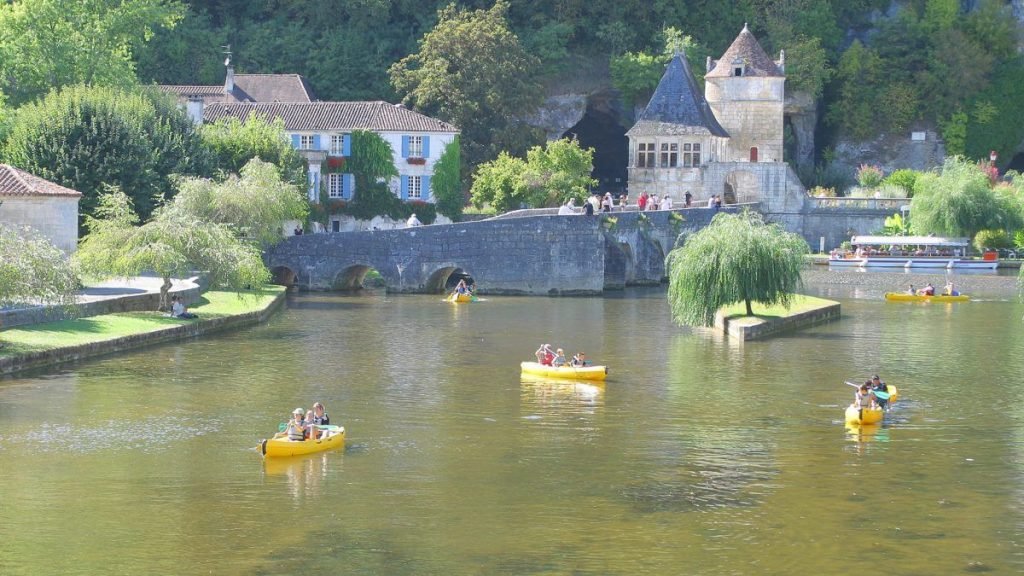 There are also great canoeing sites at Vezeres, La Roque Gageac, Pessac-sur-Dordogne and Groléjac.
Cycling is a popular pastime of French people and holiday goers too. You can hire a bike in your local town and ride around the local Dordogne area to really explore.
Le gouffre de Padirac is worth mentioning, although it is technically just outside of Dordogne and into the Lot region. This is a stunning underground cave system with river, which you ride along in a gondola boat.
The Lascaux caves and Thot are a journey into Cro-Magnon prehistory. The Lascaux caves contain paintings which are 17,000 years old. You get a real feeling of zooming back in time.
(Incidentally, painting holidays in France are very popular)
There are a few waterparks around the Dordogne for family fun, including Aquacap Aquatic Centre, at Champcevinel, Aqua Park at Saint-Laurent-des-Vignes and Parc Le Bournat, at Le Bugue.
At Busiere Gallant there is a "VeloRail" where you can hire a buggy/cart which is like 2 bikes welded together side by side and placed on traintrack rails. You then cycle the 6km along the track to the end. This is a great family adventure for a few hours on your holiday, and a bit of exercise. You can change and rotate who is doing the cycling and who is relaxing.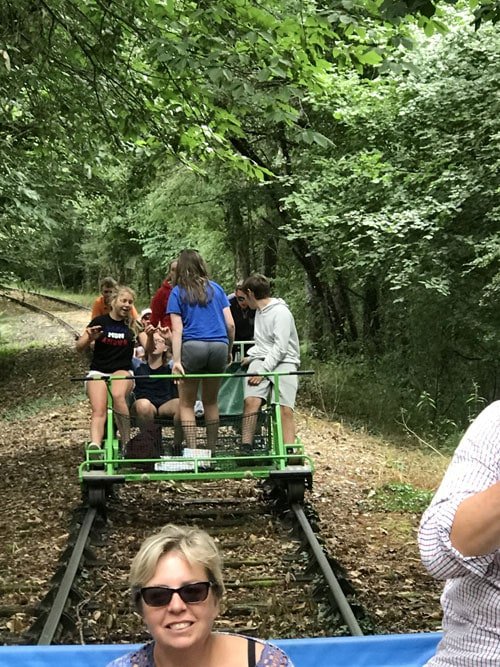 Great Places in Dordogne France
Bergerac is a beautiful medieval town with houses of half-timber that will take you back in time. This is a great town to spend a few days getting to know the local wines. The Maison des Vins in the cloistre will help you with this! You can also take a barge down the river for a 1-hour trip. There is also a tobacco museum in town. The old Roman-era church of Saint Jacques is a resting stop on the pilgrims Santiago di Compostella route.
Brantome (mentioned above for canoeing) is a beautiful town in Dordogne France. The first thing to do is just walk. Walk around for 2 hours and you will see most of its old beauty. The grottes de Abbaye de Brantome is the ancient caves which have bas-relief sculptures etched in the rock. Stunning. The canoeing is a must, if you can, and the Brantome market and Jardin Tranquilles are a must-see also.
Rocamadour is a small village that looks like it is glued onto a cliff-side, defying gravity. It is known for its cité religeuese, but mostly for the stunning fact that the village is thriving despite clinging to the cliff edge!
La Roque-Gageac is one of the "Plus Belle Villages de France" (most beautiful villages in France) and it is well deserved. It sits along the Dordogne river edge and there are plenty of watersports to do along the river. Or just sit, drink the wine and soak up the sunshine.
Le Bugue is another stunning small town in Dordogne France well worth a visit with caves, fine wines and great atmosphere.
Riberac is another nice Dordogne village with a good swimming pool and interesting markets.
Great Food & Wine in Dordogne France
Most regional foods and traditions of food and drink are based around the geography and its effect on agriculture
The Perigord Pourpre (Purple Perigord) is dry and warm for much of the year hence its wines are fantastic, with Bergerac and St Emillion chief amongst many. If you find yourself in the area, make sure to locate almost any wine vinyard which offers tours ("visite des vignobles"). If they have a sign saying they offer tours, they are usually happy and helpful to do so. Most 'vignerons' are proud of their wonderful wines and will let you sample a few while they show you around their work. Before you start, you might want to decide who is the designated driver, or make sure you're not driving afterwards! Also, be warned – after a few sample glasses you might be somewhat overzealous and buy a crate of Dordogne wine or two.
The walnuts of Dordogne are a key part of the local agriculture and food culture. Brought to France by the Romans for their nutritional and medicinal benefits (rich in omega 3, omega 6, fibre, vitamins, magnesium, manganese and phosphorous), they flourish in the Dordogne region. The walnut adds a distinct flavour to delicate cheeses and also to salads. Also the local walnut wine, vin de noix, is a regional speciality.
Truffles are a world famous mushroom delicacy and the Dordogne valley is the 'world capital' for truffles. The little black fungi nuggets grow underground and are incredibly expensive, fetching up to 6,000 euros per kilo. This is why they are often known as 'black diamonds'. They are very difficult to farm because they only grow in very specific soil and under and between the roots of certain trees. They are highly sought-after and minimally supplied so the price is high. Trained dogs are used to sniff out the truffle underground (pigs can be used but they tend to eat the produce if they can!)
Foie Gras is a food topic that divides opinion. Tasting like a buttery, chocolate meat, it is deliciously sumptuous on crisp toast. But it is made from the liver of force-fed geese and ducks. Not particularly pleasant, when you think about it. But then again, most delicious foods don't bear too much scrutiny.
The concept of foi gras (literally meaning "fat liver") originally came from ancient Egyptians, who realised that geese who ate rapidly before the winter to put on weight through the winter months, had enlarged and healthy livers, which were in fact quite delicious. The rest of the birds does not go to waste and it all gets used, from the 'magrets' (breasts) to the legs and wings.
Foie gras is a protected farming method in France and the farmers take great pride in the health of their birds. You can often visit the foie gras farms where you will see healthy geese and ducks roaming free, not like the battery-farm setup you will see outside of France. 79% of the world's foie gras is made in France and 90% of the producers are based in Dordogne, France.
If you say the words "France" and "food" to anyone, most will probably mention cheese. The French are very proud of their cheese. There are some great cheese from the Dordogne region such as Rocamadour, a velvety goats cheese best served on toasted walnut bread, or on toasted bread sprinkled with crushed walnuts. The Bleu des Causses is a cows milk blue cheese made in the limestone plateau of the Dordogne valley.
The Trappe d'Echourgnac is a fantastic rich flavoursome cheese made with walnut liqueur. Originally made by monks who wanted to help the local people be employed, they purchased in milk from the local area and made their cheeses. In the 19th century the monastery was taken over as a nunnery which it is to this day.
Farmers Markets in Dordogne France
Many local villages put on farmers markets during the summer months, which are very sociable evenings for your holidays. Usually these are based in the village square or large space, with market stalls around the edges, where local farmers sell their steaks, sausages, venison, fish, wine and cheeses. The village team run a barbeque where you can take the produce you've just purchased direct from the farmer, to be cooked to your liking ("saignant" is rare, "A point" is medium rare, "bien cuit" is well done). In addition, the village team usually fry up chips which you can have with your dinner.
In the middle of the village square are lines of tables and benches where the villagers and guests all sit to eat and drink over their freshly cooked local produce.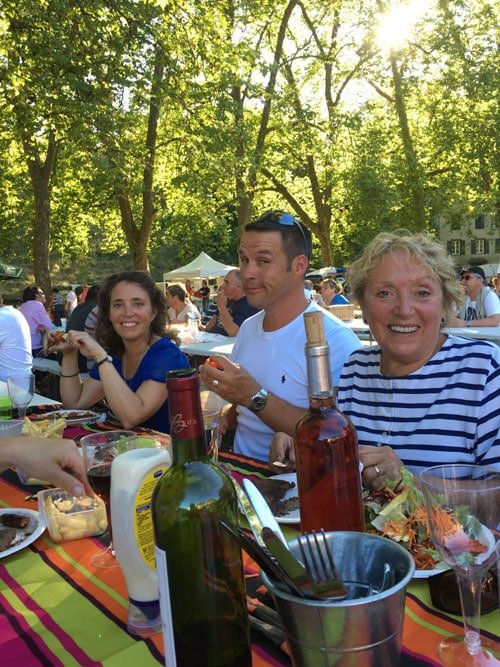 British Expats in Dordogne France
The Dordogne region is often known as "Dordogneshire" because it is one of the most popular regions of France for British expats to settle. According to French Government figures, there are 148,000 British living in France, and Dordogne has the largest British population. There are also plenty of Dutch and a few Germans. So if you don't speak French, for your holidays, you might get by without much French language. If you're staying longer you will need to learn French.
That Dordogne is heavily populated by British people is self-perpetuating. There is a lot to be said for immersing yourself in culture of the local Perigordine nature, to talking to locals, befriending the French. There is also a lot to be said for a brain-rest of chatting in English, so even for the hardiest of French-immersing English, it is a pleasant break from a hard day talking French to then have a glass of local red wine and some rapid-fire quick chat in English and to be able to joke and reference British culture, while soaking up the sun and beautiful weather of the Dordogne, but also making sure not to isolate oneself away from the French as much as possible. It is all about balance.
What is a Gite in France?
The word Gite comes from the old French word 'giste' meaning to lie, to lay or to be located. Its modern usage has come to mean a holiday home or villa, a tourist cottage for hire on a short term basis. A gite in France is usually fully furnished and ready to use, fully independent with self-catered accommodation for your holiday, with kitchen and beds available.
A gite is distinctly different as an arrangement to the Chambre d'Hôtes, which is more akin to Bed and Breakfast, as a room in someone else's house. With a gite you rent the whole house to yourself and your friends and family. There are many family friendly gites in the Dordogne, many gites with a private swimming pool.
The 'Gites De France' is something similar to the tourist board or accreditation for gites in France, whether as a luxury villa with a pool or a private gite cottage.
You can have a Gîte Rural, which is a self-contained countryside retreat, or perhaps a gite d'Etape, which is a remote stopover more like a bothy or break stop for walkers or cyclists for more short-term stays. A Chalets-Loisirs is more similar to the Centre Parks arrangement in the UK, with a chalet in close proximity to leisure activities such as horse riding, archery, fishing or biking. A Gîte Equestre is what it sounds like – a holiday villa near equestrian horse facilities.
Find out more about the Gite local area in Dordogne France here <<
Find out more about this large gite in Dordogne here <<
What do YOU love about the Dordogne?
We are sorry that this page was not useful for you!
Let us improve this page!
Tell us how we can improve this page?