First, one quick question…
On your Dog Friendly holiday here, Dogs can…
… relax with you on the terrace,
… run in the open fields,
… and join you on family walks
You want to take your beloved pet on holiday AND still have a luxury villa in stunning tranquility?
Looking for dog friendly villas in Southern France with private pools? Need the best holiday cottage for you and doggo in the south west France for summer family fun?
Picture all the family running with your dog over the grass, maybe a short walk down to the lake. That is what we offer here.
Your search for a holiday cottage with private garden that is safe for your dog, with large private pool – that search ends here!
Watch this video to see why…
(All the land and space you see in the video will be yours, and only yours)
This quick video was filmed, stood next to the private swimming pool, as the sun went down, and our 2 dogs, Springer Spaniels, ran around and enjoyed the space.
Dordogne Dog Friendly Gites France
What Do Dogs Love?
Wide open space, a forest to rummage around in, and maybe a big lake to jump in!
We have…
☑ Wide open space – acres and acres
☑ Forests (plural) to rummage – acres and acres
☑ A big lake to jump into
From our large garden with fruit trees and grass fields, you can go for wonderful long walks – or a short walk to our lakes – then down the tracks and lanes around the French countryside, and into our forests around the property.
This luxury spacious villa allows you to bring your pet dog on holiday as a family, just like south west France holiday cottages should.
In the evening you can have a BBQ and some fine wines with character, overlooking the beautiful garden and swimming pool. Maybe drink a perfect wine as a couple – only the finest wine, of course – on the terrace patio with your dog (they can drink something else!).
Luxury Secure Private Pool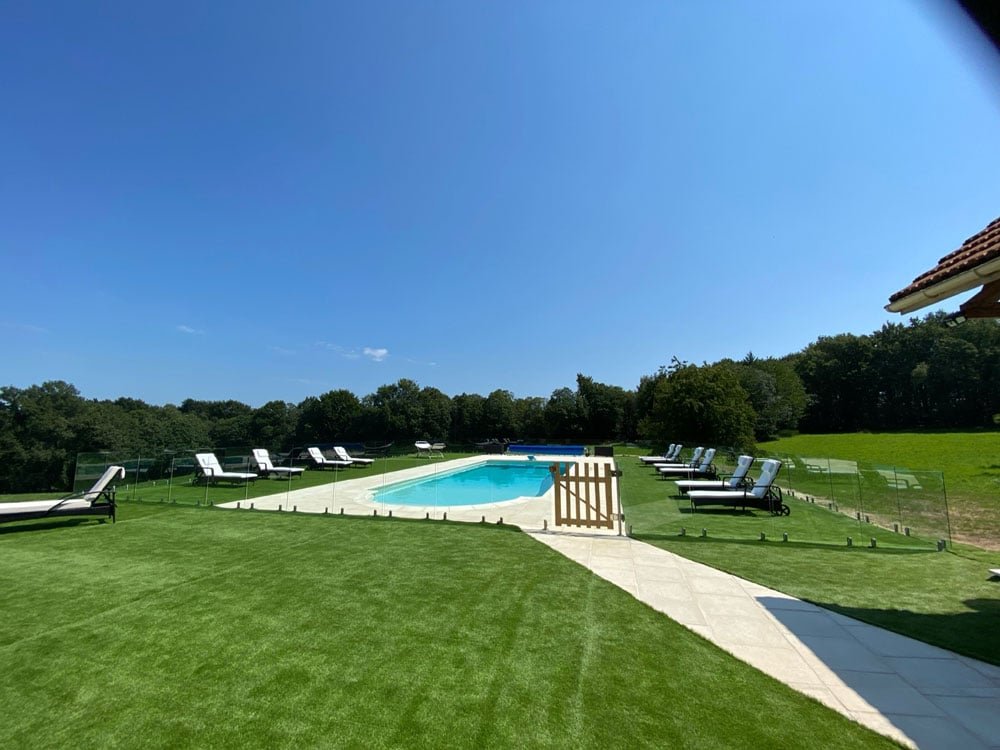 Imagine your own pet friendly villas with your own private pool you can jump into at any time – a private pool that is heated, a private pool that is securely enclosed with solid safety-glass that you can see the pool and surrounding area without spoiling the amazing views, a private pool that you can all lounge around together.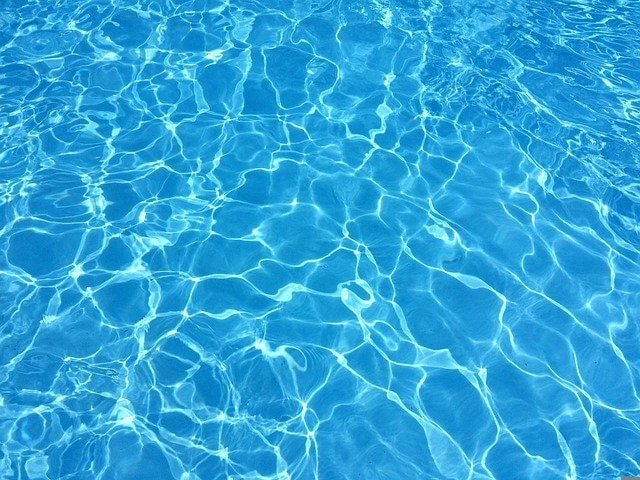 Perfect For You & Your Dog
Doggo cant go in the private pool or hot tubs, but they can have memorable family holidays in France with you all. They can lounge on your own terrace sofas (we have dog rugs to protect the sofas) so that is allowed and comfy for them.
Pet Friendly Villas
We accept pets but we cannot let a dog into the swimming pool enclosure, because the pool liner is not stronger than canine claws! But they can be running around the beautiful enclosed gardens outside the private pool enclosure, while you all swim, splash and enjoy glorious views on your holidays.
Built in 2020, this pet friendly holiday home with luxury private pool gives you a stunning chance to relax in style. The property owners Duncan & Esther worked tirelessly to design and build this to the highest specifications, within the enclosed gardens and stunning security glass enclosure.
Holiday Cottage With Remote Beautiful Garden
Explore over 26 acres for you and your pet to roam free, plus you can stroll along lovely country lanes and tracks directly from the villa. This holiday cottage is a perfect spot for a family friendly relax-time with your loved ones – 2-legged and 4-legged.
On site, we have many acres of grassland fields, gardens with stunning views, and forests, in the beautiful countryside. There are 2 lakes, one large, one small. On hot summer days it is very likely that your pet might 'accidently' fall in and enjoy a good swim. A holiday cottage in France like this is rare.
Love the freedom and peace in the forest.
The Holiday Cottage Outside
Between the house and the pool is a spacious terrace patio (11m x 10m), partly covered in a solid tiled roof on beautiful 'tree' beams (a whole oak tree with the bark still on, used as the vertical beams). This roof gives you shade in the hot summer days, and protection from any passing rain later in the year.
Your Own Terrace Patio
Under this roof is a 14-seater dining table for luxurious self catering eating outdoors. Also on this terrace is the outdoors summer kitchen, where you can cook up your fried fish or other delights. This summer kitchen was built in 2020. To the side is the brick barbecue (we also have a larger BBQ in the Bakehouse, for bigger groups).
You also have a jacuzzi hot tub for relaxing bubbles, overlooking the pool and olive trees.
Most importantly for your dog friendly 'vacances' in France – the patio sofas are ideal for dog and family – comfortable and strong, so you can enjoy cosy up cuddle time with your pet on or by the sofas, while you holiday together.
A number of happy customers often mention stargazing at night out with their dog on the grass in a deckchair. The light pollution here is near-zero, so you can see thousands of stars.
This Beautiful Pet Friendly Holiday Home
Given that this stunning country farmhouse spacious villa sleeps up to 14 people, across the 5 bedrooms, you can holiday in style with your pet. You might like to holiday as a few families together, each with your own dog.
Large Bedrooms
This is a very adaptable farmhouse property – it sleeps 4, sleeps 6, sleeps 8, sleeps 12, sleeps 14 – perfect for your partner, couples, singles, friends, babies, kids, children, adults and young families – it depends on the criteria for your stay.
Luxury Dog Friendly Villas in France with Private Pool
This is not some pokey small apartment; this is a sizable holiday rental rady for your pets. There are 5 bedrooms, all of which have large double beds. 2 of the bedrooms have 2 double beds for an extra guest or 2. Three of the 5 large bedrooms have ensuite bathrooms.
All bedrooms were fully renovated in 2016 throughout with new walls, windows – a full modern update, while keeping the stunning features such as the oak beams. There is even a brick chimney fireplace in one of the bedrooms situated bedside the bed.
We have free unlimited wifi internet, so you can hop on and use this wi fi for whatever you need. We also have Netflix, UK satellite TV (this UK satellite tv is all pre-programmed for you, and you can record your own shows) and Amazon Prime Video, situated in the lounge and cinema TV systems which use this, so you can chill together and watch whatever you want..
Luxury Self Catering Holiday Villa
No Air Conditioning Necessary
Air conditioning might be wanted in other places; here, the thick stone walls keep it cool so air conditioning is not necessary (like with air con, keep the doors and windows closed).
The self catering kitchen is large and open plan (self catering is important for your flexibility). You have access to a Range Master oven with 2 ovens and 5 gas hob stoves (in the outside kitchen there are also 4 more gas hob stoves, so there is plenty of space to cook).
The self catering kitchen also has many solid oak cupboards ready-stocked with all manner of crockery, bowls, plates, pans and everything you will need. You do not need to bring anything for cooking or dining. There is a large American fridge/freezer in the kitchen.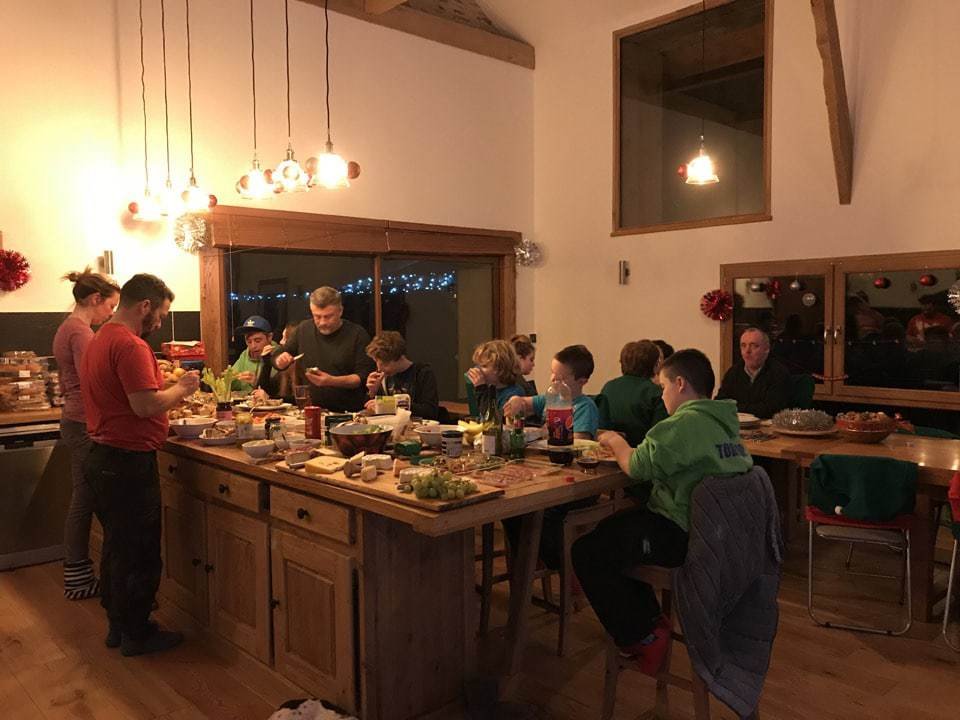 You can benefit from the large walk-in pantry area (3 metres by 2 metres), just off the kitchen, where you can store or prepare food.
Know Anyone With Autism?
We also specialise in Autism friendly family holidays.
If you or anyone you know has an autistic child within the family, please talk to them and to us about a family holiday specifically catered for families with an autistic child, for a fun, safe break abroad.
The Games Room has table tennis and pool table, a drinks bar, table football, air hockey and a cinema. The cinema is fully kitted with surround sound for an amazing experience watching films.
The Cinema has Netflix and Amazon Prime so you can watch whatever you want together.
More about the Games Room here.
The Cellar – For Dogs, Laundry & Storage
In the cellar you have a pet crate den and sleeping cushions which you can use, so you do not need to bring that. Always a good sign – travel light. Equally, in the cellar is the utility area, with washing machine and tumble dryer you can use to clean your clothes. There is also a twin-washing line outside for drying. Clothes dry quickly in the French summer sun!
Dogs sleep in the cellar and enter the house via the cellar door, to control any mess.
We also have all the pet bowls and towels you will need to have a great vacation at this luxury dog friendly villa France.
The Bakehouse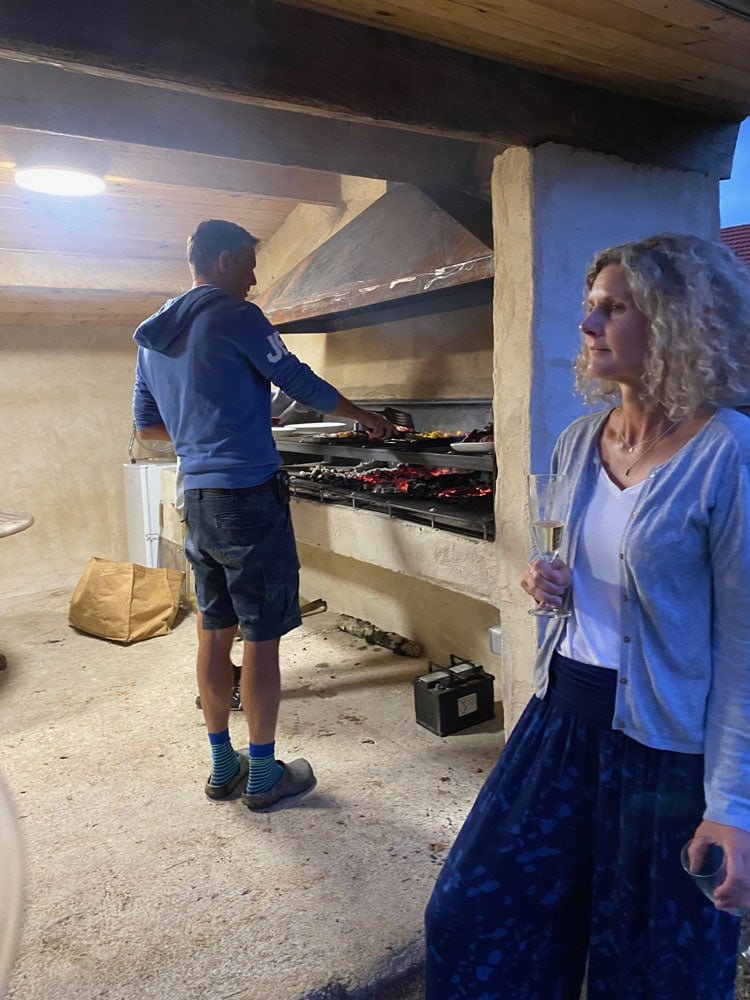 In addition to the brick BBQ on the patio, we also have The Bakehouse, a separate barbecue building with a 2-metre wide grill for hosting more people, and the rotisserie for a full hog roast experience is a great choice. This can be seen in the photo above.
Dog Care
Naturally, as is the case in much of the south of France, there are ticks and fleas in the area, from the grass and forest, so please make sure your dog is fully up to date with their medication, and maybe also wear a flea and tick collar. We do have tick forks in the house which you can use, should you need them. Our dog occasionally gets them and we simply use the fork.
Our neighbour is a veterinary surgeon, so if she is available, you can call on her for any help should you need it. There are also other vets in the area.
We have free private parking for as many cars as you're likely to come in (no space limit in 26 acres of land!)
Find Out More
To find out if this stunning dog-friendly luxury holiday Farmhouse, check availability now here.
Book Your Holiday Villa Now – Check Availability Here
If you have any questions, you want to find out more and you want to talk through what you need, please contact Duncan now here.
Duncan says:
"I travel to France very often with our dogs – I've done it many, many times, so if you want to ask me for any advice on the best ways to do it, please feel free to ask me on the Contact page".

Duncan Ritson-Elliott
Discover More At This Holiday Villa
The Banquet Hall
Games Room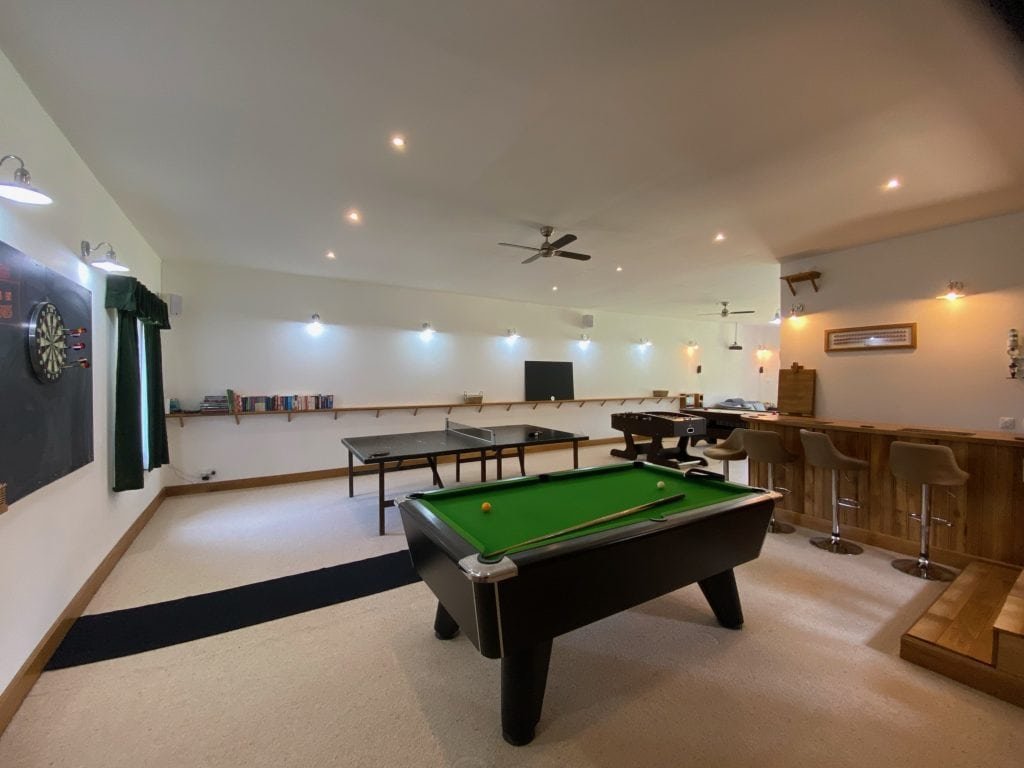 Large Heated Pool
Further General Info on Dog Friendly Cottages In South of France
Where to Find Such Friendly Accommodation?
Where in the world are we? One of the travel favourites, we are in Dordogne, located next to Limousin, near St Yrieix La Perche. You'll find this French villa holidays with flights nearby at Limoges, Bergerac or Bourdeaux.
To the north of us is the Loire valley, Normandy, and Brittany (the Loire valley does great wines). To the west is Charente maritime, Tours and St Emilion vineyards for fantastic wines. Further south is Provence, the French Riviera, Tarn, Cote D'Azur, Lot et Garonne, Languedoc region, Toulouse, Carcassonne, Cannes, St Tropez and Bordeaux (for a beach walk) as well as Alpes Maritimes. Further north east is the Burgundy region
Although it isn't too close to holiday in France from, people have visited from destinations such as Dorset, England UK, Wales, Ireland, Belgium, Corsica, Netherlands, Portugal, Spain, Scotland, Brittany and Italy.
From here, you can go skiing in a ski resort chalet in the Pyrenees or Mont D'or.
Dog Friendly Villas Amenities
From this spacious villa, amenities, activities and shops are nearby. There is a private tennis court in the nearby pretty village at Jumilhac, and others at St Yrieix. There are numerous chateau in the region, other popular village churches and rivers to explore locally for the hearty traveller and worth a visit. Look for the odd tower on each chateau. Often they are built with one tower different to the others, depending on the region. You may have to pay to enter.
There is a golf course near the holiday villa at La Desendieras.
There is a tennis court nearby which is free to use.
Dog Friendly Holidays France
Search results for Holiday homes should give your favourite properties easily – this one!
To come to this luxury pet friendly villa France from the UK, you will need to have your Animal Health Certificate, which is a requirement post-Brexit. Please be aware that this is not cheap but we have found costs vary from vet to vet. Our 2 local UK vets charged £95 and £150 respectively, so be prepared to shop around if you wish.
If you have any questions or enquiries whatsoever about bringing your pet on holiday here, please simply call us to talk it through to check your dates.
For Bookings and Contact
To book your perfect holiday and check availability, see the link at the top or click here for availability or contact Duncan to talk it through.
>> Dog friendly holidays France here
Check availability and price for your dog friendly cottages – Contact us to make bookings personally to apply <<
Luxury Dog Friendly Villas in France with Private Pool
Book your dog friendly holiday cottage now to avoid book fees and disappointment. Check your dates. If you have any enquiries or questions, we are happy to give advice, to answer you and take account of all your requirements, quickly by phone or email.
Contact us here. Check availability here. No need to get registered for your member account or login. You can also contact us by Facebook messenger from our Facebook here but contact form here is quicker usually. Expereince all the France offers.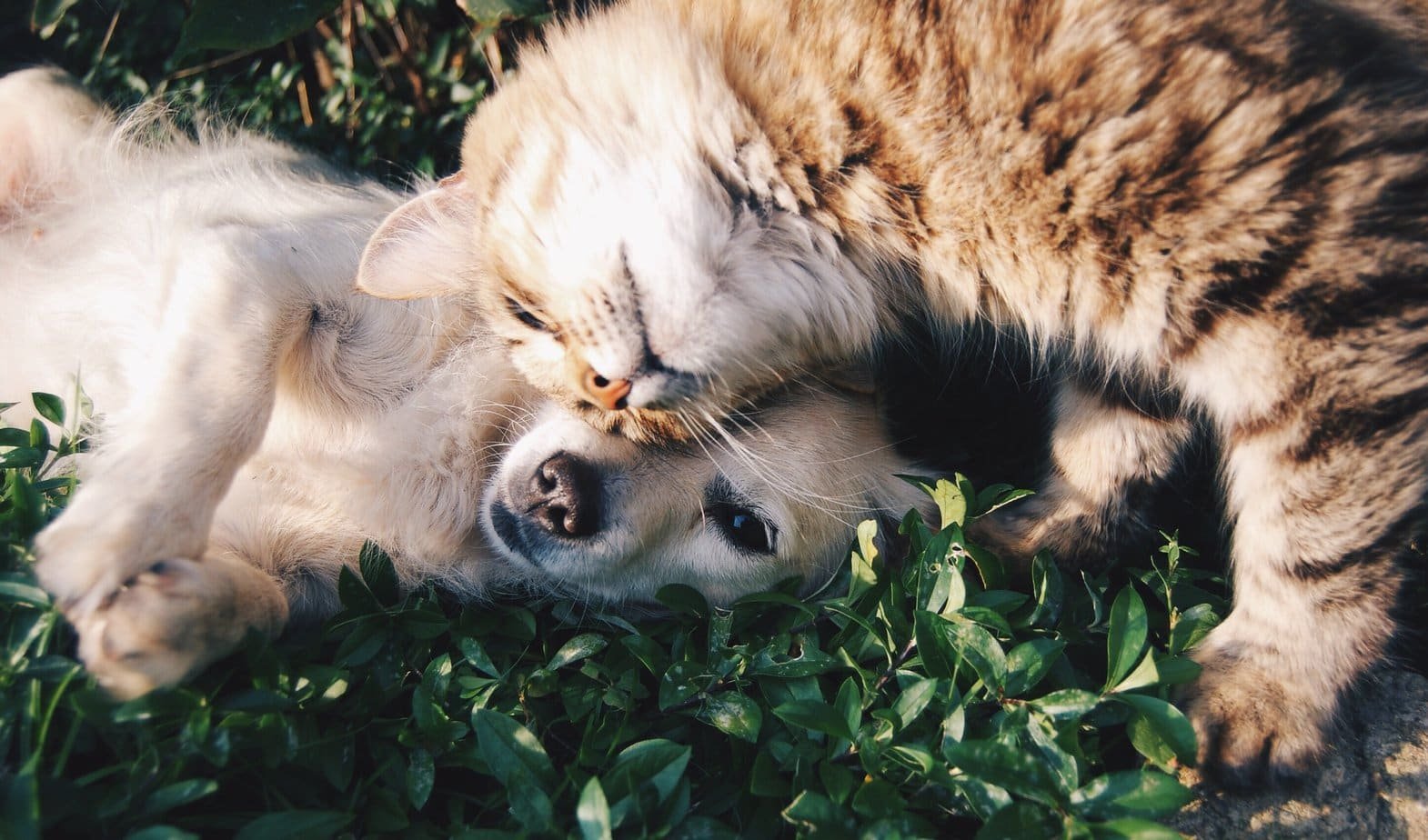 We are sorry that this page was not useful for you!
Let us improve this page!
Tell us how we can improve this page?