Completed in 2021, this beautiful private swimming pool and toughened-glass enclosure provides a stunning vista while you swim and sun yourself with your friends and family at the luxury Gite Dordogne. To find out more about the house and bedrooms at this luxury villa in South West France, read on down the page…
As you look at these photos you can imagine plunging into the refreshing water, swimming and relaxing with your friends and family.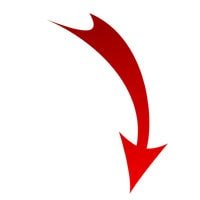 Click to watch this video…
You have the benefit of a safe, stable 'diving block' which gives a little spring, without too much, which means that everyone can enjoy it, without parents worrying too much!
It is 2.5 metres deep to safely allow diving to happen.
Gite in South West France With Private Heated Pool
This is not a share swimming pool – it is all yours, set in a large private garden, near the picturesque village of Jumilhac Le Grand.
The swimming pool is heated with a heat-exchange pump, which can get the water temperature to a very comfortable, warm 30 degree C.
The 4-metre wide Roman End steps allow you to gracefully enter and exit, and with the broad 'Social Step' at the top, you and your friends and family can sit on the top step together, enjoying the sun and relaxing.
We have 10 quality sun loungers plus hammocks for you all to relax and enjoy the sun and settings.
Want to learn about other areas of this beautiful family holiday villa in France?
(Scroll down to learn more about the pool)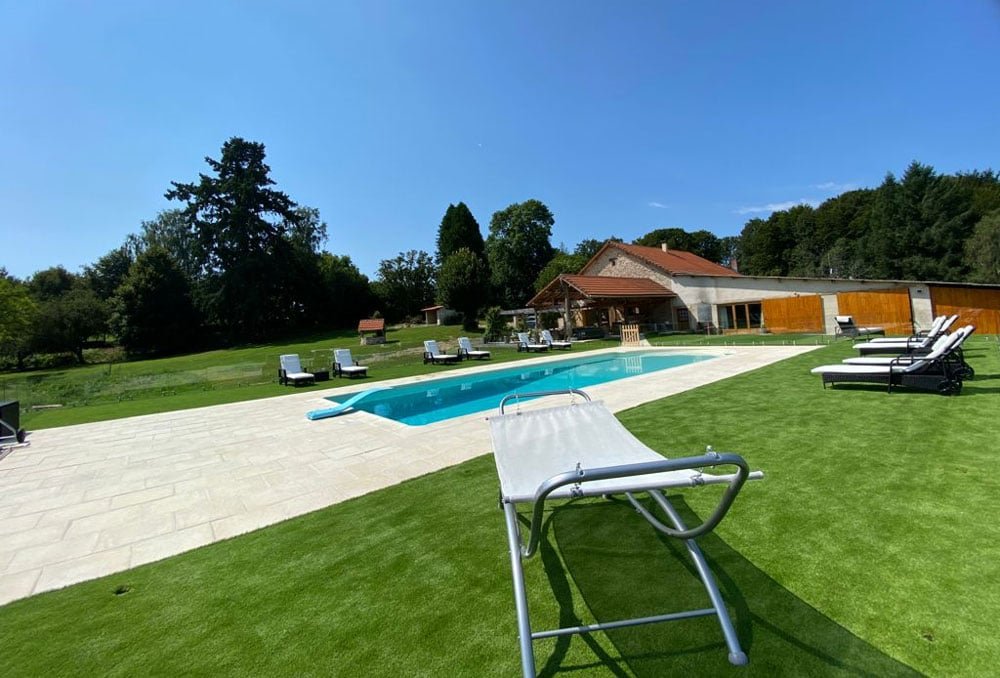 Dordogne Villas With Private Pools
This new sail shade area gives you a gentle shade, with some heat coming through, but without getting so hot.
Pool Safety & Relaxation
Because the whole area is fully enclosed in a toughened-glass perimeter enclosure, and the gate is self-closing and has a child-proof latch, you can fully relax, knowing your young children cannot access the pool unless an adult lets them into the area.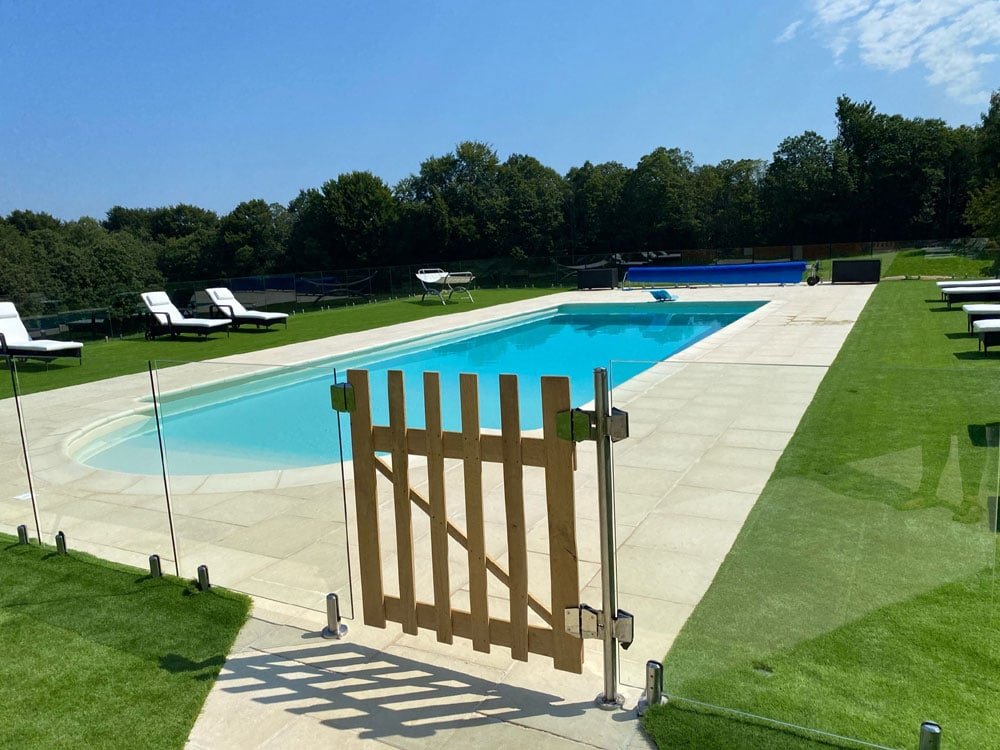 French Villas With Pools in South West France
In the photo above, you can see the enlarged top step, the 'Social Step' that is designed for sitting together, relaxing, while others swim and play.
Luxury Holiday Home In France With Heated Pool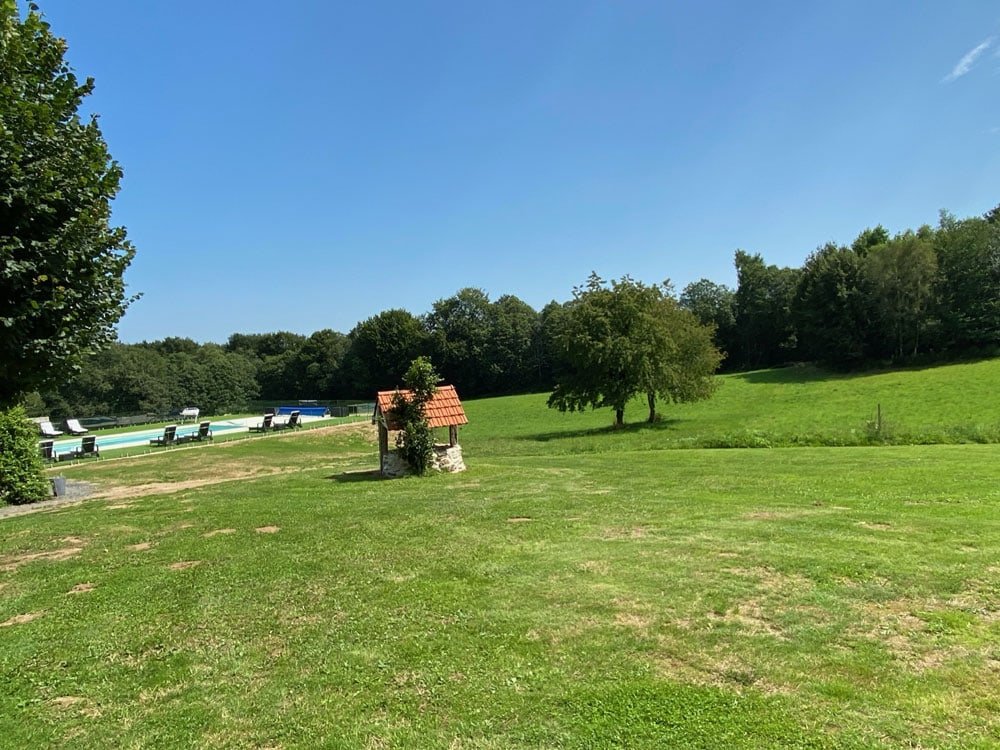 Holiday cottages in France with heated pool
Swimming Pools in France
South west France gets warm! Holiday goers are increasingly looking for French villas with pools in the south of France. Not just for tourists looking for Dordogne villas with heated pools, local residents having a swimming pool in France is very popular for residents, and also for property owners who rent out their house a gite or rental villa property for holidays, whether for families or groups. Summers in France can reach the late 30's and even 40 degrees in heat, so plunging into the water to cool off is delightful.
If you fly into your destination, look out of the plane window, and tell your mind to look for blue rectangles; you will suddenly be seeing many, many swimming pools from above. And the more you travel south into France, the more you will see French villas with pools, as the weather gets hotter and hotter, the further south you go in France, for your French gite with pool.
The Laws for French Pools
We discovered as we moved forward with designing our own luxury swimming pool originally for ourselves, that to rent out a property with a pool, to be one of the french gites with pools, there is a legal requirement that it has 1 of 4 security mechanisms in place to avoid drowning dangers. It must either have;
A drowning alarm. This is a device that sits at the side of the pool that detects water-level change
A walk-on-able cover. This means a normal thermal pool cover with metal bars side-to-side
A shelter. Think of a movable greenhouse over a pool
A border enclosure. A fence, secure to a certain standard.
Our Heated Swimming Pool in South France
We thought long and heard about which legal requirement we would use, if we were to become one of the French villas with pools. The safety alarm is the quickest and cheapest option to install, but people would either turn them off, out of irritation at the alarm going off with every person jumping in, not remember to turn it back on, or worst case, be too far away from the pool when the alarm goes off and cannot get to the child who fell in quick enough. We didn't like that idea.
A solid walk-on cover is only a safety feature when it is on, and would be hard work to take off and on when people are not in the pool, so would not offer much safety if its is not on the pool.
The shelter option was a valid option. Not only does it make the pool safe when not in use, the pool can be used with the cover still on, or slid away from the pool, and it would keep the pool warm so could add maybe a month or 2 to the swimming season. However, they are ridiculously expensive – you wont get much change out of 50,000 euros for a shelter cover for the size of our pool, and they take up a lot o ground space where the shelter slides to, off the end of the pool; we wanted a large terrace at the end for relaxing and playing.
We did a survey of our friends and family and other people looking for villas for large groups, talking through the requirements and options and asked "which would you be most relaxed for your holidays?"
The only answer that people looking for French villas with pools in south west France felt they would relax properly and for parents to have a nice relaxing holiday outside of the pool area, was a border enclosure, because toddlers physically could not get to the pool, so mum and dad could relax on the terrace outside of the pool area, and not worry about little ones falling in the pool.
So we opted for a border enclosure. After considering a white picket fence option, we looked at a stunning option – a secure glass enclosure. Held up off the ground with stainless steel strong brackets called spigots, there are 86 glass panels around this stunning swimming pool, keeping your children safely away from the pool if you want, or you can watch the pool antics, which you relax outside the pool area.
Pool Structure
When we first thought about what sort of pool we wanted to install, we talked through the ideas and options with our family. There is a type of pool called a coque, which is a fibreglass basin which gets delivered and lowered into a dugout hole in the ground; very easy and quick to install, but they only get build at a depth of about 1.3 metres deep, which is about chest high to an adult. It means you cannot safely five and certainly cannot have a diving board. So we did a family survey. Did we want a pool you could play water polo in, because you can easily stand up? Or do we want a large and deep pool where you can swim and dive, and maybe even have a diving board to jump and dive in from?
The results of our small survey was almost unanimous; everyone wanted the diving option.
So we needed a diving board, and a pool that is 2.5 metres deep. To help you visualise 2.5 metres in height, that is about the height of an upstairs window, from the ground outside. So there is a lot of water to dive into without the risk of hitting your head on the bottom of the swimming pool.
Our pool is built with polystyrene hollow blocks, a bit like hollow Lego made of polystyrene, which gives it some serious insulation to keep it warm. The hollow section is then poured with liquid concrete to give it super strength. We then have a flexible liner to make it all water proof.
The pool is heated with an exchange pump to bring the water to a delicious warm temperature.
The end result is a very large luxury heated private swimming in the south of France for you and your family and friends to love and enjoy for your holidays.
Click here to book or check availability
The History of Swimming Pools
While we love to have a good swim nowadays, and look at the modern marvel of a new swimming pool as very much a thing of today, swimming pools date back many centuries. In ancient Mohenjaro, India, now Pakistan, they built the earliest known one. Who knows how much older they might be that we haven't yet discovered?
Olden Private Heated Pools
The earliest known heated pool dates back to the 3rd century BC – which is 2,300 years ago. Imagine the people of the time, with their children, mucking about in the water, taking some vigorous exercise and enjoying life.
The Romans popularised swimming pools and are believed to have had the first heated swimming pools, with underfloor heating ducts and recirculating heated water. Picture someone throwing off their toga and diving in. They used their pools for water sports and general family villa fun, much like most French villas with pools. In time, they provided municipal pools as well as public baths. They did not have the modern liner in their pools but were stone bricks, made fully waterproof with hot tar to 'line' them. Private pools were a rarity.
Origin of a Shared Swimming Pool
If you think of the Latin word for fish – piscis – you can see soon figure why pools are still known in many European languages, including in French; their pools had fish swimming in them too. An interesting aside, the spoken Latin word for "piscis" sounds very similar to 'fishes', with a soft 'p' at the start.
When we think of an Italian saying 'take a swim with the fishes' we might be picturing Tony Soprano, the mafia character in our heads. You will be pleased to know there are no fishes in our heated swimming pool in France, not in many holiday cottages in France with private heated pool.
In the Victorian era and the British Empire, Britain had its first indoor municipal shared swimming pool, and the idea became popularised of 'taking the waters' which often meant swimming in natural springs, as well as using a swimming pool.
This was when the competitive swimming strokes were mostly developed and honed, as indoor swimming pools became more available. Swimming as a competitive sport was added to the 1896 Olympics in Athens, Greece.
The outdoor municipal swimming pool became popular, known as the Lido. Sadly these had their heyday and fell into ill-repair, but recently have seen a resurge in funding and popularity. The Peterborough Lido is a fantastic and popular resource, being a very large open air pool open to the public, great for families on a sunny day out. Chile in South America has the largest known lido, at over 1 kilometre long! Who wants to be that cleaner person?
Since World War 2, due predominantly to Hollywood movies and actors' aspiration, the swimming pool as a personal symbol status grew. To have your own, on your property became seen as the height of success. Now they are the default in a good holiday home.
Your French Villas With Pools
Nowadays, pools have been put in increasingly daft and interesting places. A heated swimming pool on a cruise ship liner is now common place. The first was in early 1900. Pools have been installed in lorries and trucks, and adventurous people have 'swum' the length of Britain, from John O'Groats to Lands End in the pool on a truck as it travels the 800+ mile journey.
And The Rest of the Holiday Home?
This self catering luxury secluded gite is perfectly suited for family friendly holidays in south west France, in peaceful countryside with amazing views, a fishing lake (a short walk from the holiday home), fields and forests – and a large pool. The large garden means you have space and almost no neighbours to worry about. Stepping in from the beautiful gardens, indoors you have no need for air conditioning because of the thick stone walls and insulation keeping the house cool. There is comfortable accommodation for up to 14 people looking out over the countryside views.
We do not insist on a Saturday changeover. Since the global pandemic, we take longer to fully clean the holiday home, so a Saturday changeover is possible but not required.
Local Attractions
Locally you have a huge range of attractions and things to do, including access to the commune's private tennis court (table tennis onsite). If you're prepare to drive an hour or 2, there is a wide choice of great options including canoe hire to row down the Dordogne river or visit cave paintings. La Roque Gageac on the Dordogne river is spectacular.
Where in the South west France is this self catering holiday home?
If you're looking for gites or holiday homes in France, with panoramic views, large gardens and lavender fields, this secluded gite is a great option. 3 hours north of lot et garonne, 2 hours from charente maritime, 3 hours south of the loire valley (the loire valley is good for wine!) and 4 hours from midi pyrenees.
The Terrace Patio
You can reach the swimming area via Terrace Patio. Click to learn more about the Terrace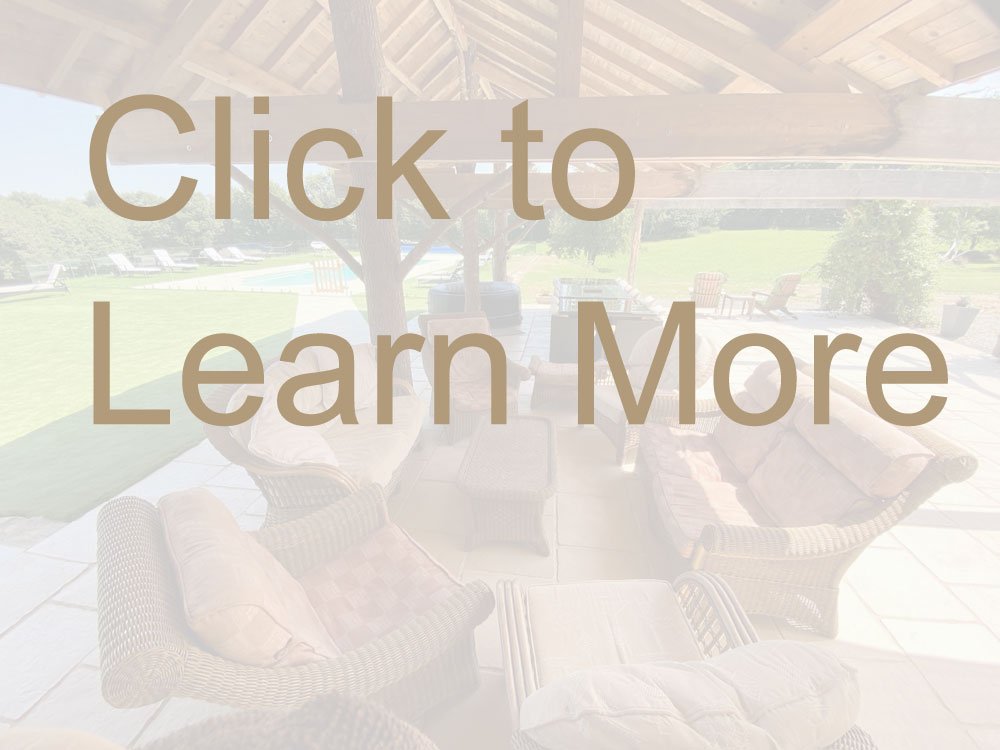 Come Visit This Luxury Villa In France With Private Heated Pool
Book now to avoid the booking fees.
We are sorry that this page was not useful for you!
Let us improve this page!
Tell us how we can improve this page?