Family Holidays in France with Your Dog
Planning a perfect getaway for all the family, including your four-legged friend? Discover why a dog friendly holiday in France is an excellent choice for an unforgettable experience.
France is a country renowned for its beautiful landscapes, delicious food, and a warm welcome to both two-legged and four-legged visitors.
Why France For Dog Friendly Holiday Cottages
As a popular holiday destination, France offers a broad spectrum of experiences, whether you seek vibrant city life or tranquil rural retreats for your holiday cottage. Your pet will also enjoy the varied environments, from the bustling city streets of Paris, rich in history and culture, to the peaceful tranquility of the stunning countryside.
France is a country that truly understands the importance of our furry friends as part of the family, making it a top choice for dog friendly holidays.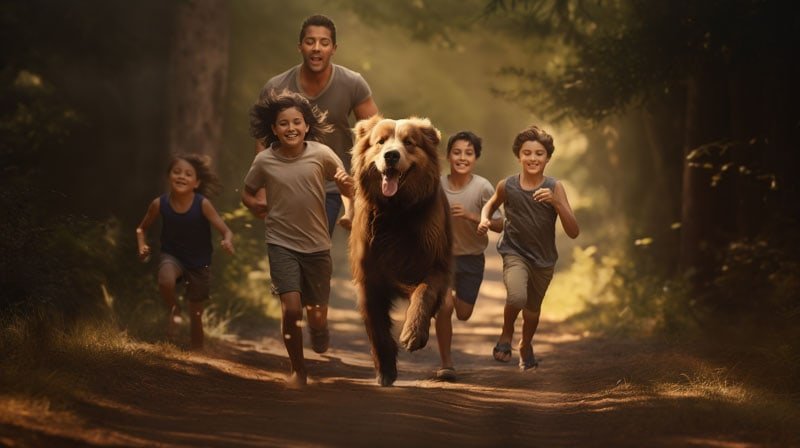 Discover More at this Luxury Villa
The Banquet Hall
Games Room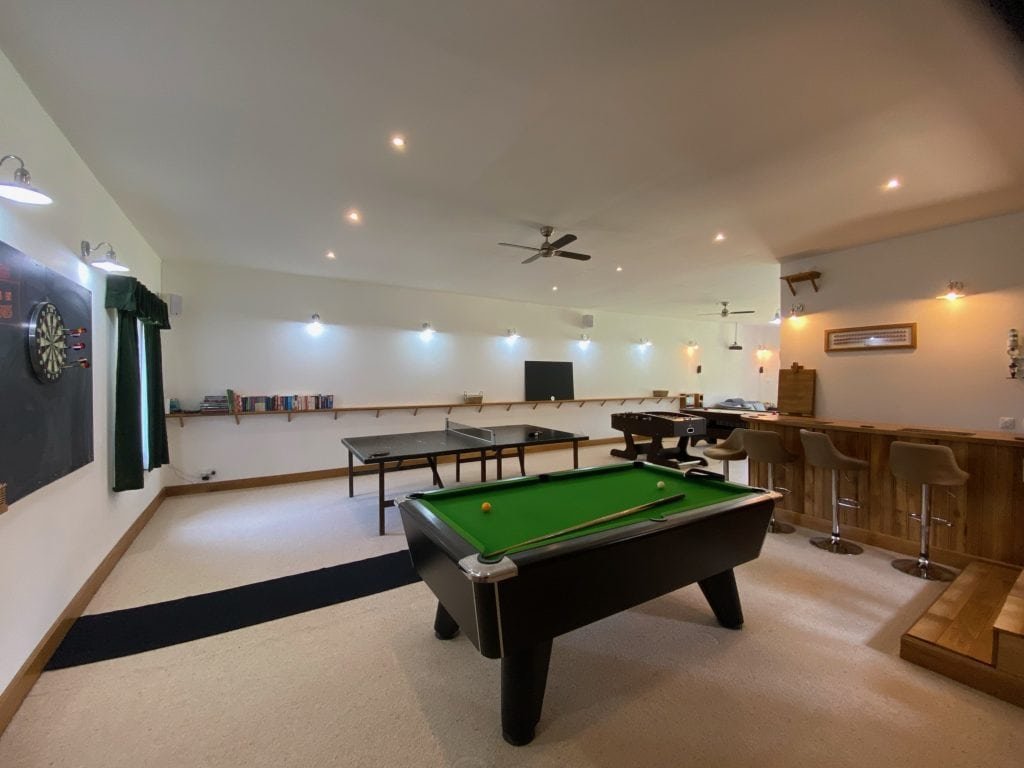 Large Heated Pool
Why South of France For Your Holiday Cottage
The South of France is known for its exceptional climate, stunning landscapes, and a relaxed way of life. It offers beautiful dog friendly beaches where your pet can frolic in the sand, and there's also an abundance of long walks to be enjoyed in the countryside.
It is an idyllic region where you and your pet can relax, with destinations surrounded by nature and some of the world's finest wines.
Why Dordogne
Nestled in South West France, Dordogne is the ideal spot – a dream come true for nature lovers and their dogs. It boasts lush forests, scenic rivers, and rolling hills that provide plenty of opportunities for exciting walks with your pooch.
Dordogne also hosts several dog friendly cottages for your pets, with a nice garden, and the perfect place to end your day in front of a warm fireplace, your pet comfortably snoozing at your feet at night.
Choosing the right pet-friendly luxury villa
When planning your dog friendly holiday, choosing the right holiday cottage is crucial. Luxury villages such as ours in France offer spacious holiday cottages, private gardens, and even private pools.
Ensure that your holiday home has all the amenities to make your stay comfortable and enjoyable, such as Wi-Fi, ample bedrooms, maybe a hot tub, and a fully equipped self catering kitchen. The right dog friendly accommodation not only accepts pets but caters to their needs to guarantee a delightful stay for the whole family.
Heated private swimming pool
To add a dash of luxury to your holiday, consider holiday cottages with a heated private pool, among other things. Nothing compares to enjoying a refreshing dip in your own swimming pool while your pet plays in the private garden.
After a long day of exploring, you can also relax by the poolside, your dog by your side, outside the house, with the freedom of watching the stars in the tranquil French countryside.
What to do in the local area
Exploring the local area is a key part of your holiday in France. Visit the local markets, cafes, and restaurants, many of which are dog-friendly, allowing your pet to dine with you. For the adventurous, you can explore local hiking trails or spend a day at a dog friendly beach.
The South of France also boasts several historic sites and museums that offer unique cultural experiences.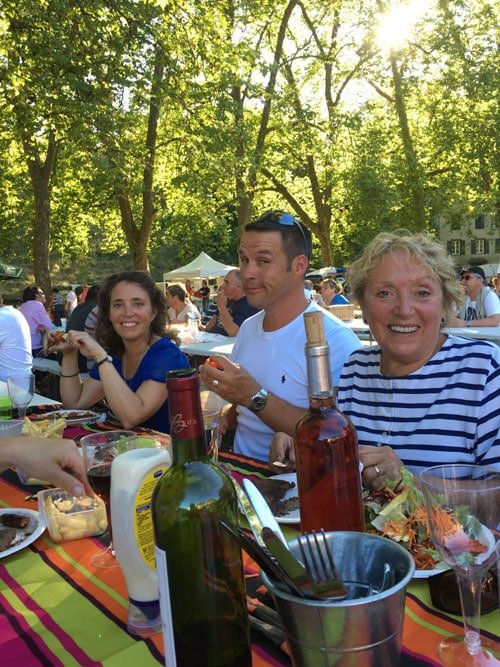 Villa amenities
Luxury villages in France come with numerous amenities to make your holiday a memorable one. From comfortable bedrooms, en-suite bathrooms, fully equipped kitchen, to high-speed Wi-Fi, everything is taken care of.
The properties also provide facilities such as a private tennis court, table tennis, and even a private pool for your leisure.
These dog friendly cottages in France are designed with your comfort and convenience in mind, offering a home away from home where everyone, including your pet, can relax.
More at this Luxury Villa…
Bakehouse
Dog Hols
Restaurants
Paperwork to bring your dog to France on holiday
France is a dog-friendly country, but like all countries, it has rules about bringing pets. The most important is that your dog should be microchipped and have a pet passport or third-country official veterinary animal health certificate. These are not cheap so check first.
Dogs should also be vaccinated against rabies. It is recommended to consult with your vet and check the latest rules and regulations before traveling to ensure a smooth journey with your pet.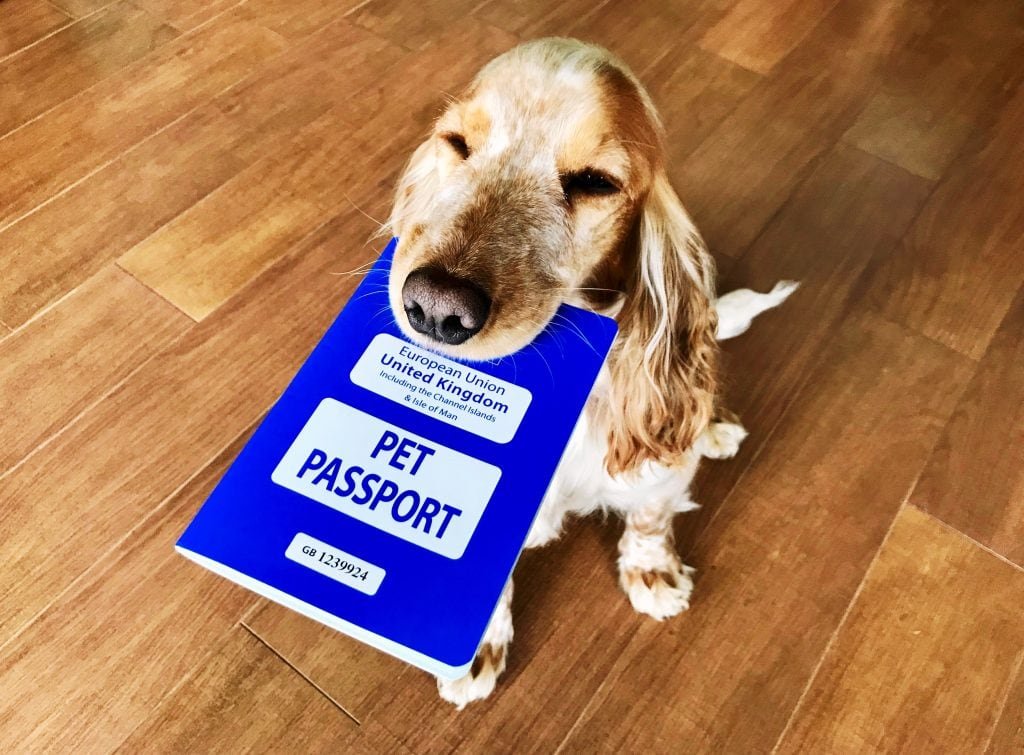 To answer some frequently asked questions:
* You can certainly take your dogs to France on holiday.
* Your dog is welcome in many places in France, including parks, some beaches, and most campsites.
* Pets are allowed on many beaches in France, especially outside the high summer season.
* Dogs are also allowed in many restaurants and are often seen at their owners' feet while they enjoy a meal.
In conclusion, planning a pet friendly holiday that includes your pooch is no longer a daunting task. With its pet-friendly attitude and numerous dog-friendly cottages, France provides an ideal destination for a holiday with all the family.
Whether you're savouring a croissant in a Paris café, enjoying the tranquillity of the countryside in the South of France, or exploring the rich culture and history of France, you and your pet will have the time of your life. Let our dog friendly holidays in France create unforgettable memories for you and your beloved pet.
Pet Friendly Holiday Cottages
The Ultimate Guide to Pet Friendly Holidays
France is a wonderful destination for a holiday with your furry four-legged friend. With its temperate climate, stunning landscapes, excellent dog friendly accommodation options, and overall dog-friendly attitude, it's a great place to bring your pup and children for the ultimate freedom.
This guide covers everything you need to know to plan the perfect dog friendly getaway in France.
Happy Pooch – Happy Family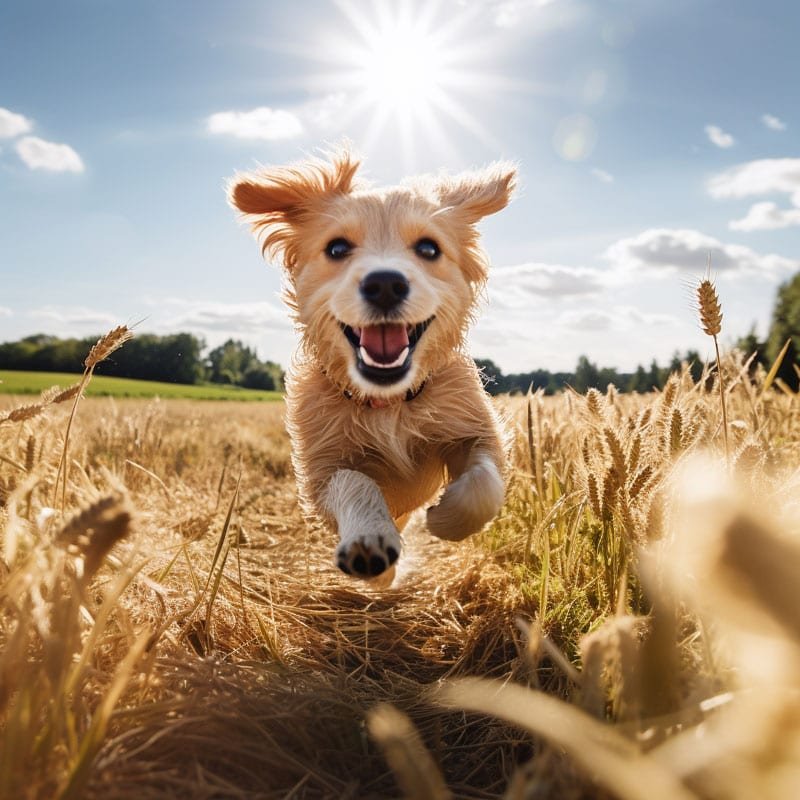 Why France is Ideal for Dog Friendly Holidays
France is an excellent choice for travelling with your furry friend for many reasons:
– The French are generally very welcoming of your pooch. It's common to see them in cafes, shops, and public spaces.
– There are many dog friendly beaches, especially along the Atlantic coast.
– You'll find pet-friendly holiday cottages all over to suit every budget.
– France's varied regions offer lots for you and your furry friend to explore – coasts, countryside, forests, lakes, mountains, cities, and more.
– The climate is mild year-round in most areas, providing comfortable weather for dog walks.
– Strict rules protect animal welfare, so you can rest assured your dog will be treated well.
With its abundance of pet-friendly places to stay and welcoming attitude, France ticks all the boxes for an enjoyable break with your fur baby.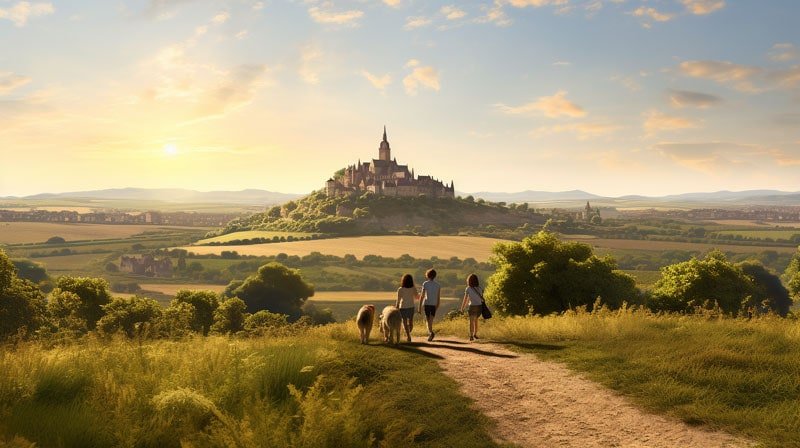 Why the South of France is Great for Dog Owners
The sunny south of France is a particularly inviting region to visit for a holiday in France with your dog. Here's why:
– Mild Mediterranean temperatures mean comfortable weather year-round to be out and active with your pup.
– Endless hiking trails, a short walk from your holiday cottage, beaches, forests, and open spaces exist across Provence and the Riviera for exploring with your dog around the french countryside.
– You're surrounded by incredible scenery – coastline, hilltop villages, lavender fields, vineyards, and more.
– The area has many pet-friendly luxury villas so you can really spoil your dog with a five-star holiday.
– Rural areas provide a peaceful atmosphere where your dog can relax in nature.
If you dream of sipping Rosé as your pup plays under Provençal plane trees, then a dog friendly getaway in southern France is for you.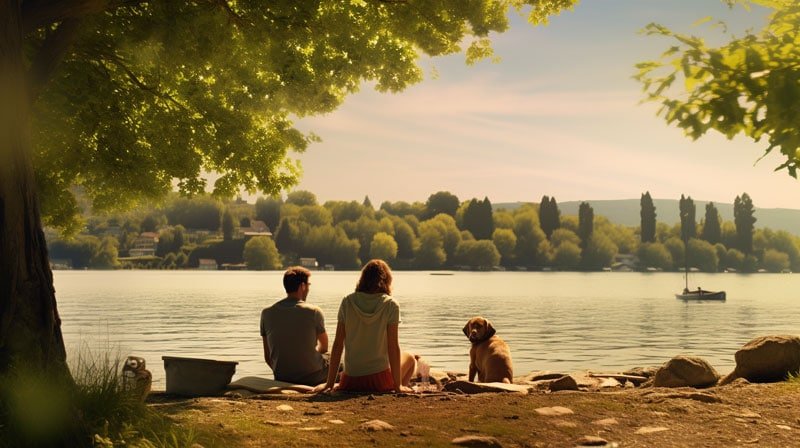 Why the Dordogne Region is Top Pick for Dog Owners
The rural Dordogne Valley in southwest France is a prime choice for travelling with your dog. Perks include:
– Over 1,000 miles of marked hiking trails wind through forests, fields, vineyards, and along rivers – dog heaven!
– The mild climate suits dogs year-round. Summers are warm but not too hot.
– Peaceful countryside France holiday cottages with private gardens abound – ideal for both pets and owners to relax.
– Prehistoric caves, châteaux, medieval towns, farmer's markets, and wineries provide cultural diversions.
– Dordogne's 'no lead' policy means pets can run free in certain areas – check local rules in and around your local town.
With fabulous outdoor adventures, charming villages, and plentiful animal-friendly cottages, Dordogne is hard to beat for an idyllic dog friendly French holiday.
Tips for Finding the Right Luxury Villa Rental For Your Dog Friendly Holiday
Here are some top tips for finding a dog friendly luxury villa in France that suits your holiday needs:
– Look for villas that explicitly state they are dog friendly – don't assume. Reputable listings will indicate size limits and extra fees.
– Ensure the outdoor spaces – garden, pool, patio – are secure so your dog is safely contained.
– Pick a property with enough space – 6+ guests – so you and your dog can comfortably co-exist with other guests.
– Choose a villa in a rural area to minimize disturbances to neighbors from barking.
– Research proximity to walking trails, forests, beaches and dog-friendly towns and restaurants.
– Inquire about amenities – are dog bowls, beds, towels, etc provided? Is there an outdoor hose for rinsing? Private parking?
– Ask for recommendations from the owner or rental company on the best local dog activities and services.
With the right villa, pets can enjoy the luxuries of a vacation in France by your side.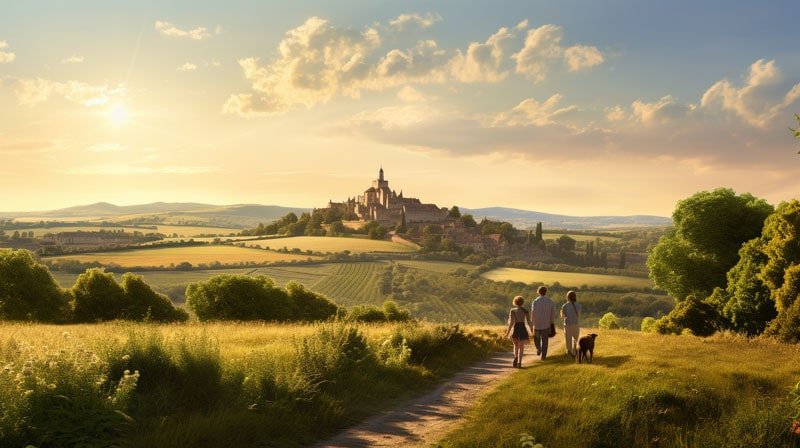 Top Activities to Enjoy with Your Dog
A dog friendly villa stay in France is all about spending quality time together in a gorgeous setting. Here are some top activities:
– Beach days – Take lengthy walks together along the seaside, play fetch on the sand, and swim!
– Hikes & nature walks – Wander through majestic forests and countryside. France has over 120,000 miles of trails within walking distance!
– Boat excursions – Explore coves and beaches only accessible by boat.
– Al fresco dining – Enjoy meals outdoors at dog friendly restaurants and markets.
– Strolls through villages and your local town – Bring your pup along as you explore local shops, cafes and sights.
– Road trips – Take scenic drives through the countryside and rolling hills with the pup perched in the backseat.
– Wine tastings – Hit up dog friendly vineyards and wineries for tastings of their finest wine.
– Farm visits – Interact with barnyard animals and see sheepdog demonstrations.
– Swimming – Take a dip together in your villa's pool or swim in a lake.
With your dog by your side, everyday activities become special adventures to remember. A France holiday gives you the chance to try new things together.
What To Know About Travelling to France with a Dog
To ensure a smooth entry into France with your dog, be sure to:
– Microchip your dog and ensure the chip data is in an approved registry. This is mandatory.
– Obtain a Certificate for International Pet Travel from your vet to certify your dog's vaccinations are current.
– Bring documentation showing your dog is treated regularly for tapeworm by a vet.
– Check carrier restrictions if travelling by air or rail. Some limit pet size, number, breed, etc.
– Make sure your dog is comfortable travelling – practice car rides if driving, before you get to such cottages in France. Consider pet calming aids.
Abiding by France's pet immigration rules will allow for easy passage across the borders with your tail-wagging companion.
With inviting regions like the Dordogne and Provence just waiting to be explored, France promises an incredible getaway for you and your furry best friend at a luxury pooch friendly cottages in France.
Start planning your dog friendly villa holiday today here and get ready for amazing adventures together exploring all that France has to offer.
Learn More of This Villa…
We are sorry that this page was not useful for you!
Let us improve this page!
Tell us how we can improve this page?