As a family, going on a luxury villa holiday you need holiday properties with a fantastic private pool, for the perfect summer holiday.
Luxury villas in France need to be of the highest, most sumptuous standard; you need large, secure and private swimming pools, and maybe near historic towns in rural France for some delightful days out as a family.
One of the facilities or features often requested by families looking to rent villas in France is the option for eating alfresco overlooking their private pool.
This is the Luxury Gite Dordogne Villa here.
Holiday Homes' Pools With A View
Due to new laws in France in any villa holiday home to rent, the private pool must be made safe from the possibility of children (or adults) accidentally drowning.
A common method that answers this legal requirement, perhaps in the less-luxury end of the market for villas in France, is a fence. Often this is a wire fence, not unlike you might see around a tennis court.
Ugly Safety
This is functional and does keep children safely out of the pool when not supervised, but it isn't really what you want to be looking at while enjoying your moules mariniere and glass of chablis wine!
Holiday Homes Without a View!
Often, otherwise luxury villas in France, and particularly villas with private pools, are spoilt in this way. You might find fantastic French villa holiday properties, but the private pool lets the whole luxury villa holiday down!
Either they've put less-than-beautiful fence around their private swimming pool, or they have put all their effort making stylish villas without too much thought to the swimming pool.
Beautiful Safety
It is so much better to have the option of eating alfresco overlooking the swimming pool, either within the swimming pool enclosure, or with a better thought out safety mechanism.
Holiday Villas in France in Quiet-Country Seclusion
For instance, have a look at this private swimming pool enclosure…
You can see that the heated swimming pool is very large itself, has a large area within the enclosure, of solid patio slab flooring to use the swimming pool from, as well as the green grass area for relaxing on a sun lounger.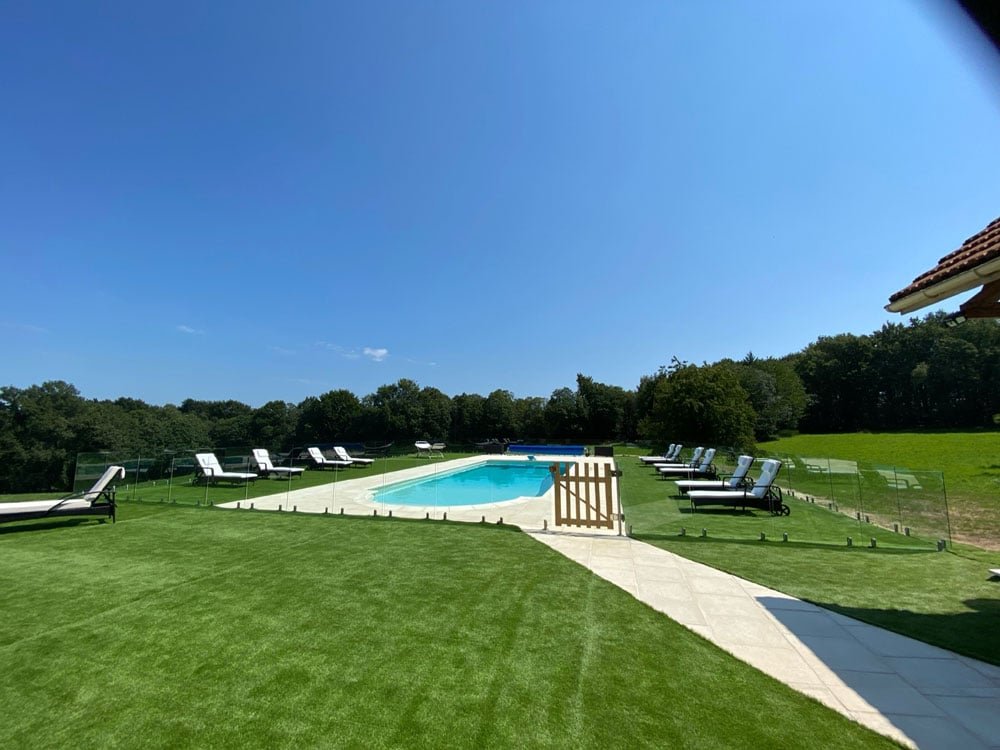 And vitally important, the enclosure itself is made of strong safety glass, so you can see in to the swimming pool area, and out from it.
Imagine for your summer holiday, sitting on the large top step of the heated swimming pool, with a refreshing cold drink in your hand, watching your family enjoying the water, and looking out across a near-360-degree stunning view of rolling countryside; open land, forests and hills.
That is what the best, glass enclosures at villas with private pools offer you for your family holidays.
Holiday Homes with Beautiful Security
When you visit France, your French villas, cottages and holiday homes should offer stunning locations, historic towns and houses in walking distance or an easy drive, fantastic bedrooms, and a sumptuous pool as a focal point.
Your perfect holiday home, whether in the Loire Valley, Provence, Atlantic coast, near sandy beaches, the Mediterranean sea, the French Riviera, Cote d'azur, or in rolling countryside, can include all the elements you require.
The private pools ideal is to have a remote, private and heated swimming pool that you and only you get to appreciate.
Find Your Luxury Private Pool
There are many holiday homes and villas in France with great facilities and amenities in the houses, but often they are in town or in a busy village, and you have to contend with a neighbour – either they are noisy, or you might worry about being noisy for them.
Better to be in the remote country areas of South West France, full of lavender fields and vineyards (north from the Côte d'azur which is too busy and touristy).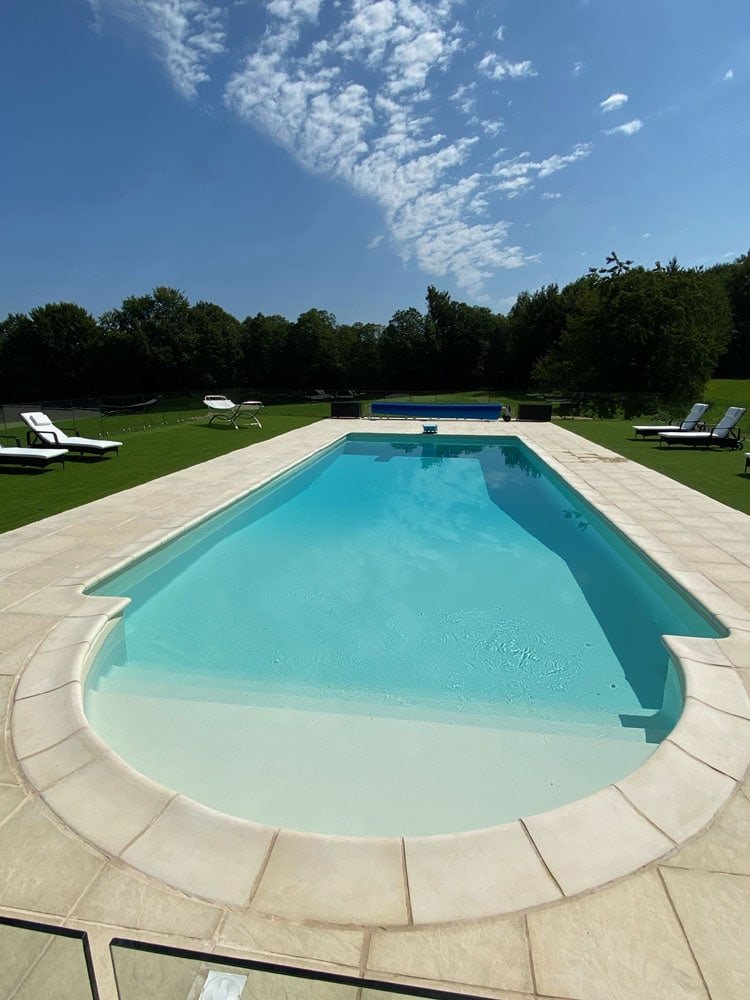 Private Heated Pool
Family groups travelling by car have a lot more access to luxury villas in France, because the remote country roads mean you'll want a car to pop out and enjoy restaurants and the quiet countryside.
If you've visited country after country, the south west France is perfect for quiet summer holiday homes.
Top properties and villas with pools, and either with air conditioning or thick stone walls, will give you the option of staying in your holiday homes seclusion, sunbathing by the pool, having a barbecue, or exploring nearby beaches with friends and family.
It is a worthy reminder to make sure your villas have air conditioning or thick stone walls, because a summer holiday in France can get very hot, especially in the south west, where temperatures can reach 40 degrees C.
You can stop looking for holiday villas now. You've found one of the best available!
It is not on the Cote d'azur, or Provence, or beach coast, so it is not too noisy or insanely expensive.
This is a luxurious villa property in France, for families to enjoy time together, located in the peace of the country
Your French Villa Holiday
This sumptuous villa property is your own perfect kingdom, remote from the trials and noise of the world.
Families come here to get away from it all.
Often we host multiple families, or multi-generational familes and many times for a significant event.
It might be Grandma's birthday. It might be Mum's retirement. And all the adult offspring get together, bringing their own children.
This large villa, located in South France, can sleep up to 14 people.
There are many local restaurants which you can see reviewed here.
Your Families Villa in France with the Perfect Pool
As you can see, we have the perfect pool for you and your family.
You will have fun here together, and do so safely within the stunning secure glass enclosure.
As parents, you can relax on the terrace patio, maybe eating or having a drink, while still being able to see into the pool area with your children playing in the pool.
Your Own Banquet Hall
This converted stone barn is a large vaulted double-height space, all finished to very high standards, in solid oak throughout, containing a lounge, central brick chimney and fireplace, 6-metre Dining Table and open Country Kitchen.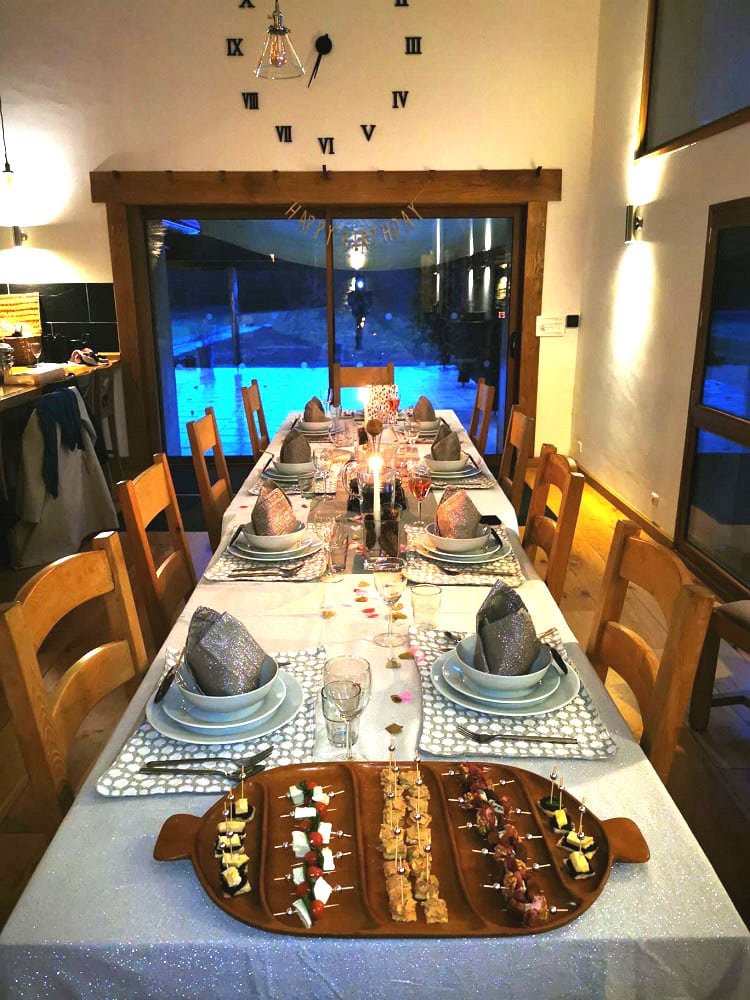 Self Catering Accommodation & Kitchen
You can enjoy using the large Country Kitchen within
Private Chef in France
Having your own private chef for all or part of your summer holiday is a delightful way to allow everyone on your family holidays to relax properly.
Mum or dad don't have to cook every meal!
We have a few chefs local to us, that create fantastic food and beautiful meals, so you don't have to spend so much time in the kitchen on your perfect holiday!
The Lounge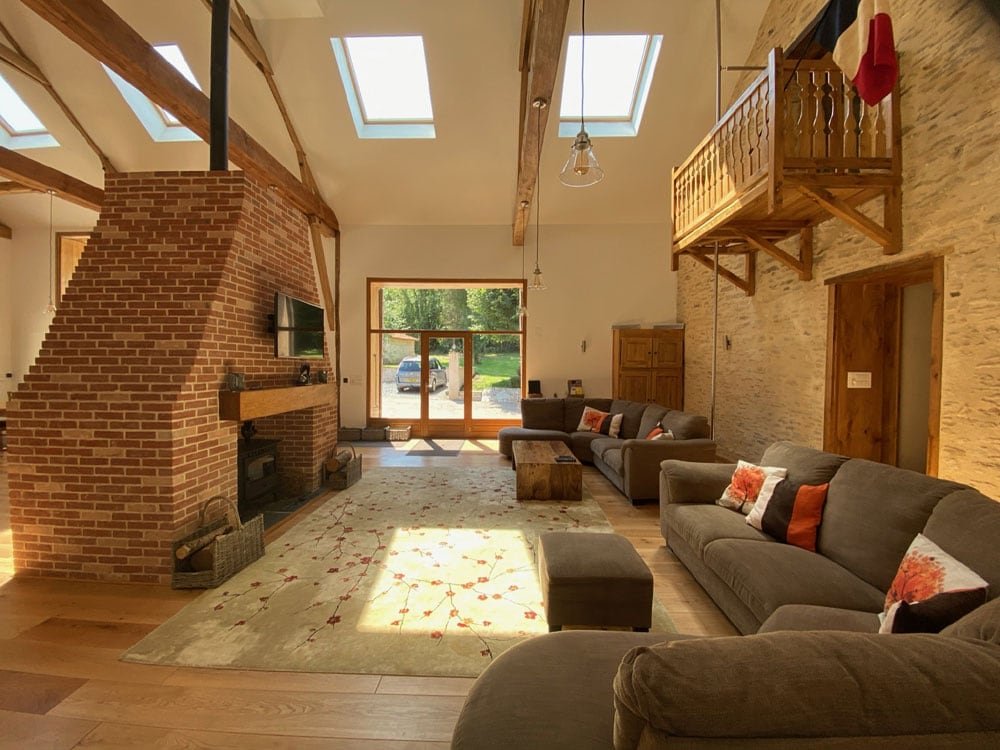 Large, Luxurious Bedrooms at This Villa
There are 5 double bedrooms here, all finished to a very high standard. Three bedrooms have ensuite bathrooms. The master bedroom has an ensuite looking out over a stunning view of orchards and forests.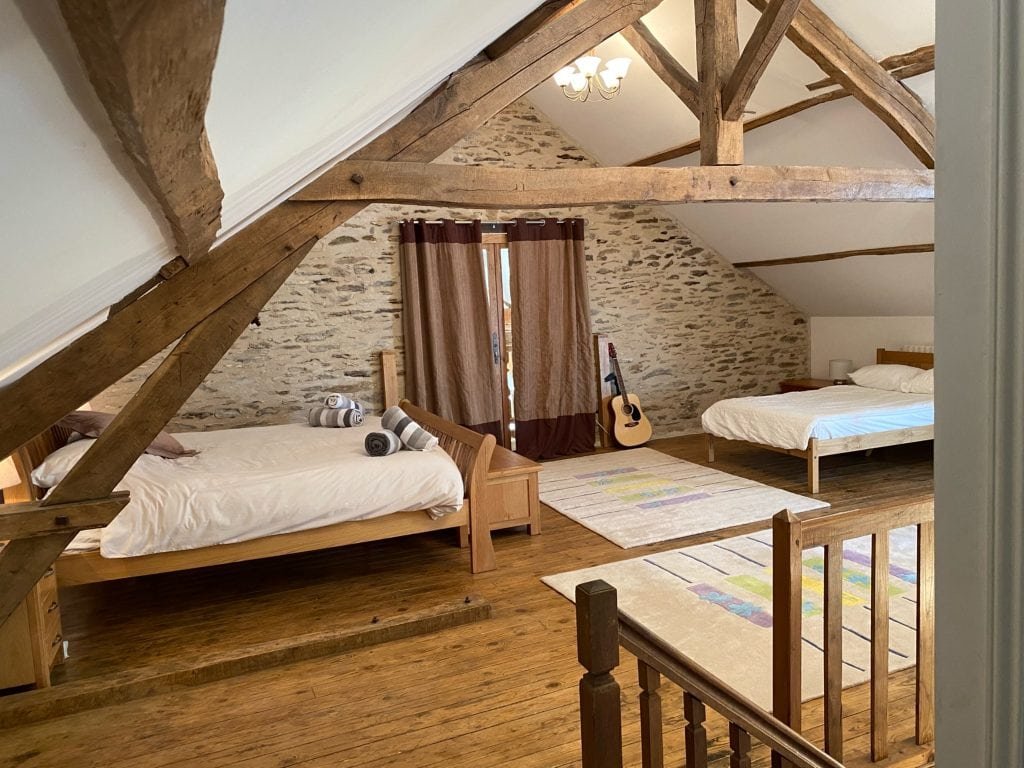 Two bedrooms are double-double – that is, they have 2 double beds, so can sleep up to 4 people per room.
We also have travel cots for small babies and toddlers.
One of the bedrooms has a feature brick chimney and a changing area.
One of the bedrooms has a Royal four-poster bed.
Two of the bedrooms uses the family bathroom at the end of the corridor.
Large Games Room
You can use this large Games Room, which is located just next to the Banquet Hall. This has a solid oak drinks bar, full-size pool table, darts board, ping pong table, air hockey and table football. It also has a Cinema with 3-metre wide screen and a collection of films (please check through this collection of films for age-appropriateness).
You also have the option, if you're feeling adventurous, of joining our French language holidays in the luxury of this environment, while learning the French language is an immersive way, and enjoying a sumptuous holiday.
Book Your Stunning Family Summer Holiday Here Now
More about your luxury villas in France with private pools here
We are sorry that this page was not useful for you!
Let us improve this page!
Tell us how we can improve this page?