Bonjour! Ca va?
(Pronounced "Bonjewer, sah vah?")
What does that mean?
You probably know that much, right?
That is, "Hello! How are you?"
Or more literally, "Good day! How goes it?"
Bon = Good
Jour = Day.
Ca = That
Va = Goes.
More colloquially "Hi, how's it going?"
So there's your first free lesson, before your French language holiday starts.
French Language Start Point
I'm guessing that you have a smattering of French, but it is basic, and you want to pull it together, to be able to hold a conversation in French, yes?
I'd also guess that writing perfect French language is not particularly important, yes?
You want to be able to get conversational, fast.
If so, I can help you.
French Course in France – but Fun!
You see, years ago I learnt the 'proper' boring old school way, at school, learning French at a desk. At GCSE and then again, like a glutton for punishment, at A-level. And it didn't exactly stick.
What did stick, was how I learnt after I'd left school. Long after.
In France. Talking French with French people. Learning 'on the hoof'. Because I had to. I was buying and renovating an old Farmhouse in the south west of France, and partly living there.
I learnt fast, because I was immersed in it, in France. In the French language and the French culture. And in a regional area that was pure French speaking country (in the big cities you might get away with speaking English as more people know it).
French Courses in France – The Easy Way
What I discovered and honed down, was a series of short cuts, where possible, and how to more easily learn french in France, without all the boring grammar tables (90% of which you'd never use).
By a lucky blend of a few good, engaging teachers, and some local French friends who guided my spoken French language as we chatted, I got fluent.
And this process, the short-cuts, is what I will teach you, in one week, as a fun, enjoyable and luxury French language holiday. It isn't necessary for long French summer courses or sitting in a French school for two weeks or three weeks. You can learn French within 1 week and have sufficient language skills to start chatting in everyday life.
I can be teaching French language to you and within 1 week you'll be good to go!
How Much French? Get to 80%
How much French is enough? I'll tell you more about the 80-20 rule of full language immersion when you get here. But the short version is, you don't need to be perfect to start practicing your French skills with a French person.
This language course is for complete beginners and novices, maybe with a small amount of French or none at all. Maybe basic level.
Holiday + French Language Course
Standard French courses can be boring. French language courses sat in a classroom in a drab environment, language tuition being thrown at you, is not fun, and probably not conducive to best learning french.
You want to learn French in France, in a sun-filled and luxury place, with a small number of other likeminded people, other students, keen to boost their French language while having a great time on holiday.
French immersion courses are the way to go.
French language holidays are the way to go.
Doing it in style and luxury, with fantastic facilities, a private heated pool, a huge Banquet hall in a remote country setting – that is the way to go!
French Language School – Easy Access
Our French courses in France are in the south west, in Dordogne, between Bergerac and Limoges.
This means we are easily accessible from either of those airports, about an hour or so from both.
Study French in France – in Luxury
You'll be staying at the Teacher's home – mine! It is stunning. We are lucky. As a language school, we are very proud to have such a beautiful property.
(It is the Farmhouse and land I mentioned renovating earlier. You'll be impressed with the finished product!)
We are positioned 10 minutes between a medium sized town and a small, stunning picturesque village (which has its own chateau 'fairy tale' castle). So you have all the amenities, shopping and supplies you might want available.
And we are so remote and quiet, that it is like having your own kingdom, your own land. There are only 3 neighbours on our 1km lane, and the nearest is over 100 metres away. So it is peaceful.
The house is an old stone Farmhouse set in 26 acres of our own land – of lakes, forests and grassland fields.
So there is virtually no noise.
And no worry of being too noisy!
This is the perfect destination for learning French and to boost your French language skills, because it is relaxed, fun but focused – no distractions.
Summer French Classes in Comfort
Your French lessons and 'French classes' will be held in a few different locations;
Sitting on the terrace patio, on comfy sofas overlooking the swimming pool.
There is a brick barbecue for tasty lunches together, and comfy sofas for lessons.
With our 14 metre long heated private swimming pool, our French language summer courses in France allow you to boost your language skills in the relaxed French lessons, then jump in the refreshing water to cool off.
If it isn't too hot in the summer sun, we'll have some French courses sat out by the pool – small groups of students – around the sun loungers in the pool enclosure. Maybe dip our toes in the water as we learn French.
We'll also have French lessons inside in the Banquet Hall, which is a cavernous space, in a converted stone barn, with double-height apex (no ceiling, only the the roof) with oak beams and surfaces throughout.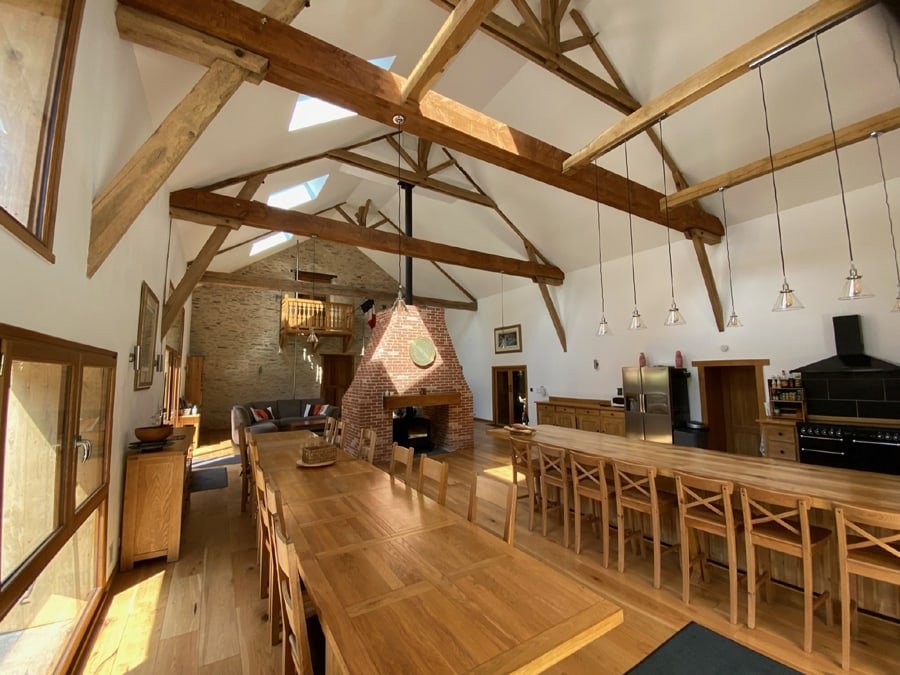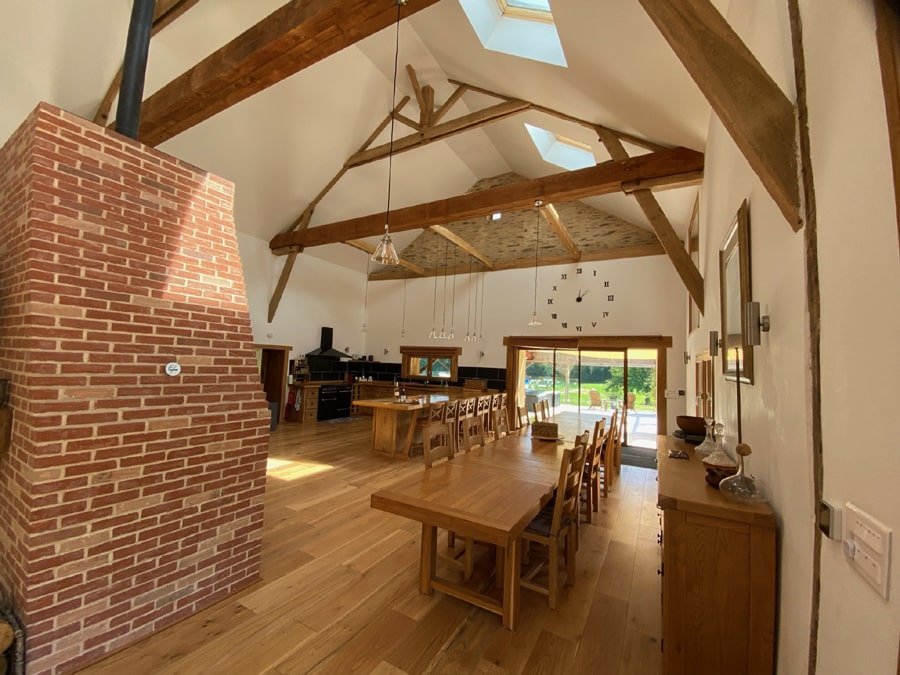 How's that for a French language school with a difference!
French language holidays should be exactly that – a holiday. And we've got that covered.
French Language Holidays with Joie de Vivre
We also have another barn conversion which is a brand new renovation into a Games Room. It is 15 metres long, so there's lots to do here. A full sized pool table, table tennis, darts, air hockey, table football, our own cinema, and naturally, a solid oak drinks bar.
And we'll all be talking (and showing off) our French skills while watching the competitions unfold.
As summer French language schools go, this is the opposite of a standard classroom environment. You will learn French, and enjoy the process.
Complete Immersion Intensive Courses in France
And you'll be talking with real, live, full-bodied French locals.
Imagine talking with a French person and being able to say what you want, and understanding what they say. Your spoken French will improve quickly. Total Immersion is the quickest and easiest way!
You will be talking French in a relaxed environment at 'home', that is, at the luxury villa.
We'll study French most mornings in full immersion, and you have afternoons free to enjoy the luxury villa, jump in the pool, go for a stroll or go out further afield to explore the local area.
French Language Holiday and French Culture
And you'll be talking French with the locals wherever you go.
We will go out specifically to speak with French people – to flex your new French muscles. And to soak up some French culture. And to grow your vocabulary organically the enjoyable way – by total immersion – by using it.
There are many nearby good restaurants where we can test your French – and learn French on the fly. Soon enough, you'll be ordering your steak to exactly the right level you love. Medium rare? Well done?
Talk about a meal with a view!
And there are various activities to do locally that again will use what you've learnt in your French course, in action.
Culture and Summer Markets
The local markets and summer brocantes are a good way to put your French into practice, as you chat with the people selling their products. Students can call upon their new knowledge of how to form the past tense or maybe the future tense, saying they will come back in 10 minutes to buy that cheese.
In France in our area, they have summer evening markets, a bit like a farmer's market but with a lot of social magic added. It is a communal affair.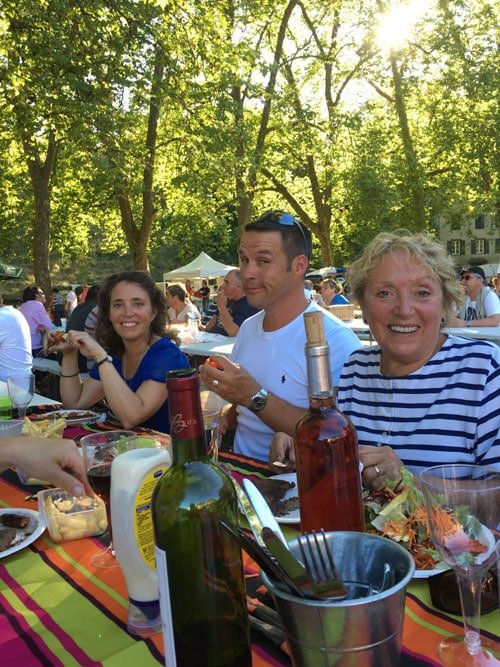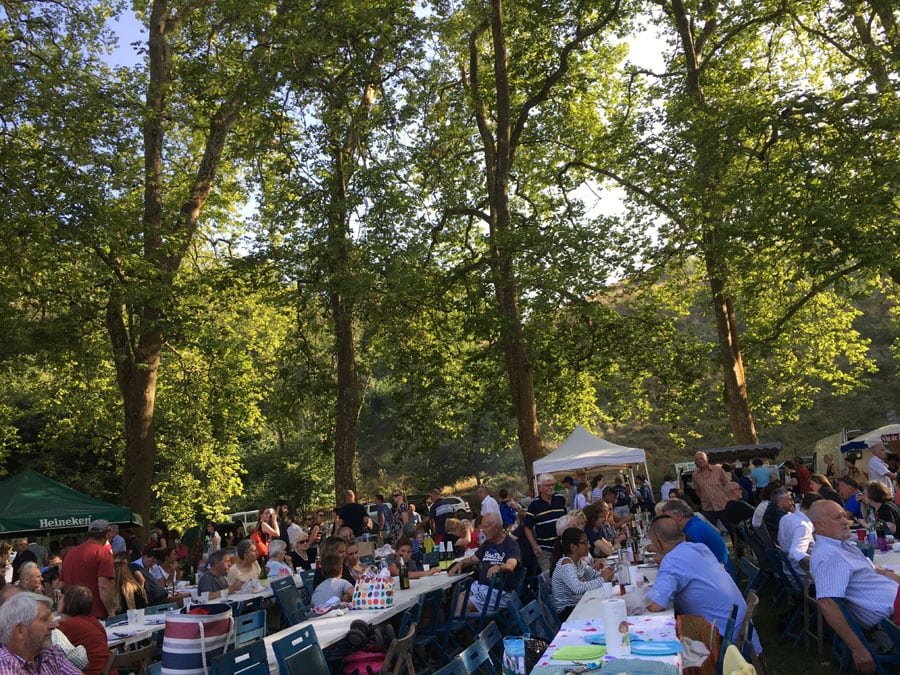 Its all in the town square. You buy your local produce – steak, sausages, fish etc – and then take it to the town barbeque where they will cook it to your liking. Then you sit with other locals (you're one of them by now) and enjoy your food and wine together. And yes, having your conversation in French!
Who says classes and languages cant be this engaging!
French Language schools so often throw dry grammar at you and it rarely sticks. By practicing it live, in the real world, you'll make it stick.
When you learn French in this way, using the short cuts and simpler methods I teach you, not only is it more enjoyable, and makes more sense, but it sticks in your head.
French Summer Courses With Your Family
There is an option to book out the whole house and property entirely for just your family to learn French together.
(Note we normally do not have children on our French language course because it can be a distraction for other students. If the week is booked as a family then obviously children are allowed and actively encouraged to learn french with us!)
Rather than each having French language courses, we can incorporate your family holiday and your own French language holiday in France!
You can bring your two children or however many you all are, and have lessons together or overlapping. Children will often learn better when it is real; when they are in France and can see the words being used in practice.
You can come as a family, use the luxury villa and its facilities for your family holiday, and we can arrange your own bespoke French courses together. You can learn French as a family, in the secure, private tranquillity of your own luxury villa.
As a family, you can also soak up the lazy, bucolic summers with our painting holidays in France.
Learn French as a Family
As a family you will find that learning languages is something that brings you all together, as it forms a new 'secret' language you can all speak together. By practicing it in this way together as a family, you will find your vocabulary improves.
Cooking on Your Holiday.
We have a number of options with regards to cooking and meals. I am a handy cook, and will provide about half of the evening meals. We encourage students to cook one meal if you are happy to, because it will mean you will need to think through the ingredients in French. Other nights we will enjoy some of the many excellent nearby restaurants. This is your holiday – you don't want to have to be cooking every meal!
Affordable prices
I make sure that not only is this course provided at the top level, both in terms of learning French and the provision of this stunning luxury villa in France, but that it comes with affordable prices for a week in a sumptuous farmhouse in the south of France.
Get in touch now to start your journey to learning French the easy way, in luxury. Contact me here to talk through what YOU want.
We are sorry that this page was not useful for you!
Let us improve this page!
Tell us how we can improve this page?