Why Learn French on Holiday
Is there a better way to immerse your family in the French language than to experience it directly in its native country? French language holidays for families offer a unique opportunity to learn French, directly from experienced teachers, in the very cradle of the French culture.
This blend of a holiday with a French language course lets you escape the traditional classroom and explore France while improving your French skills. French summer courses mean you can soak up the language tuition at your French school, while enjoying a relaxing break, rather than online courses you might use from home.
French Language Courses in France on Hols
The language holiday setting provides ample opportunities for students to practice French lessons and speaking French in real-life scenarios, outside of the confines of a traditional classroom, combined with family holidays.
Moreover, interacting with locals allows the class and you to gain first-hand experience of the French culture, further enriching your learning experience.
The French you learn at our French language school is authentic, rich, and nuanced in ways that textbooks alone cannot offer. The experience also enhances your listening comprehension skills as you become accustomed to the accent and rhythm of native speakers.
Our family french courses bring you from zero to hero in one week. You'll grab the french language by the horns on our french language holiday.
Why the Dordogne for Your French Language Learning Holiday
As a perfect destination, for your French learning holiday, the Dordogne region is a gem. Nestled in southwestern France, Dordogne is a vibrant mix of scenic landscapes, historical landmarks, and distinctive culture. It's an ideal setting for family French language courses in France too, providing plenty of opportunities to practice speaking French in real-world settings.
Not only does Dordogne offer a picturesque backdrop for your language holiday, but it also offers a host of cultural experiences. The local markets, historical landmarks, and regional cuisine all add another dimension to your language learning experience.
Here, getting to grips with French on your french language courses goes hand in hand with learning about the culture – from visiting medieval castles to navigating bustling local markets. When you and your family learn French in France, specifically in the Dordogne, the entire region becomes an extension of your classroom.
Such french summer courses in France give you the confidence to go out and speak French in conversation. And the family program means you get a fantastic time together, as well as time to study French in France, with all family members.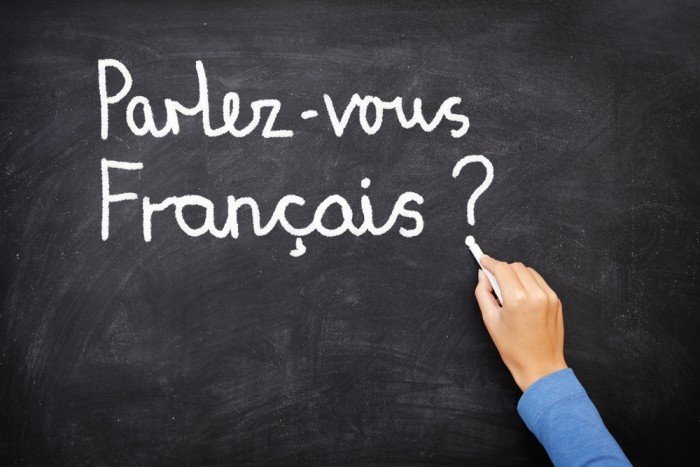 Blending Holiday with Learning French
The concept of French language holidays is a unique blend of relaxation and learning. In the mornings, you and your family attend French classes, where French is taught in a fun, engaging way.
On your french language holidays, your french courses are adapted to your family needs, while you enjoy the time and experience.
By tailoring the French language course to each family's needs and levels, these classes ensure everyone from the youngest child to the adults can study French and get the benefits from the lessons.
On your own french language courses in France, you can learn with your children – whether two children or teenagers or kids – and enjoy a break together, not for ages like three weeks, but for one to two weeks. If you book as a family, there wont be other students – just your family.
After the morning classes of your language holidays, the remainder of the day is free for the family to explore the enchanting landscapes and rich history of the Dordogne region.
This balance creates an immersive environment where you can spend the morning soaking up the lingo, and the afternoon using it in practical situations, enhancing both your understanding and appreciation of the language and culture.
Additionally, these outings serve as an opportunity to bond as a family while navigating new experiences together.
The Right Tutor
A crucial aspect of French language courses on holidays is the quality of the French language teacher. Our teachers are skilled, experienced, and, most importantly, passionate about teaching French.
They are capable of bringing the course and language to life, sharing not only the technical aspects like grammar and vocabulary but also the subtler aspects that make French such a beautiful and rich language.
French Courses With Function
Our French language school teachers take a customized approach to teaching, taking into account the age, learning style, and proficiency of each family member, to give you real immersion with our host family.
This personalized approach ensures that each class caters to everyone's learning needs, making the these French courses and classes enjoyable and effective for everyone.
Who is Your French Teacher?
Duncan Ritson-Elliott has an unusual story and history with French since school. He and other students, other teenagers, were learning the lingo at school and it usually didn't stick. He'd sit there with one teacher trying to recall the grammar and it didnt happen.
What he realised, long after he left school, was that people – children, teenagers, adults, parents – can soak up the info in a far more engaging dynamic way, and in a stunning luxury setting here!
Your french host family will allow you the time to learn and the time to yourself.
Learn more about your teacher here <<
French Classes By The Pool
Summer family French courses should be fun and engaging, so you learn to speak French while having a great time together.
This is the beautiful heated private swimming pool which you can make full use off on your summer family hols here.
We built this pool exactly to our design for a luxury heated private swimming pool. It is surrounded by secure safety glass as a barrier, so children of any age are safe and cannot fall in, and you keep a fantastic view of the surrounding landscape and gardens.
Terrace Lunch
You can enjoy lunch on the terrace patio here.
This is a large space outside, partly covered by a roof to protect you all from the hot summer sun.
You can relax with your children here, and students can be boosting their skills here too! We often hold the courses here on the terrace and outside in the summer sun.
Countryside Luxury for Your French Language Holiday
The luxurious countryside homes where the families stay during their French language week and holiday add another layer of appeal to this unique experience. These aren't the sterile accommodations of a language school; instead, they are warm, inviting homes where you can relax after a day of French courses.
From enjoying breakfast with a view of the French countryside to winding down in a cozy, comfortable living room after a day of learning and exploring your own home, these accommodations make the experience feel more like a stay at a friend's home rather than a traditional language course.
These luxury accommodations also provide an opportunity for a complete immersion experience. Living in a French-style home while learning allows you to immerse yourself fully in the French way of life.
This integration makes your learning experience more authentic and enjoyable, further enhancing your progress and confidence in speaking French.
The Accommodation
The accommodation at GiteDordogne sets the standard for luxury during your French language school. A restored farmhouse nestled in the heart of the Dordogne region, GiteDordogne offers all the modern comforts while retaining the charm and elegance of traditional French architecture.
This beautifully restored farmhouse is not just a place to rest your head after a day of classes but also a place where memories are made.
It's the perfect place to return to after a day of French courses, where you can relax, recap the day's lessons, and prepare for another day of learning and exploration.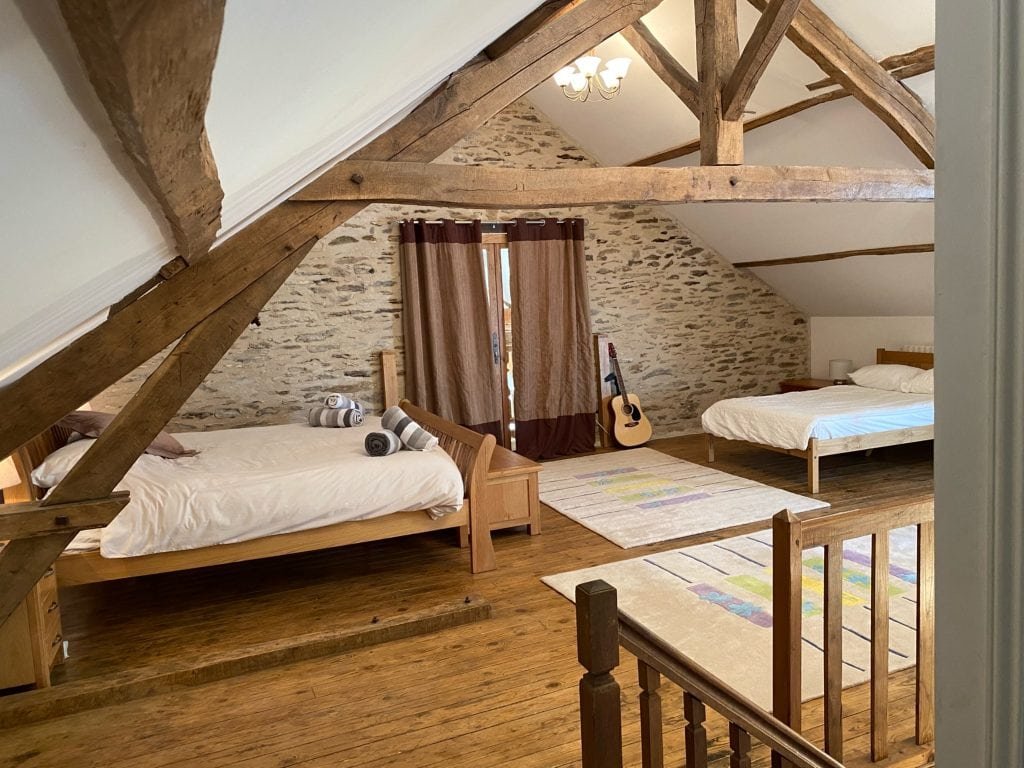 Accommodation For Families
We have 5 stunning bedrooms here. All are large double rooms. 3 of the bedrooms have ensuite bathrooms.
2 of the bedrooms have 2 double beds so can sleep more people, for instance if parents and children are in the one room, or all the kids are.
Modern Banquet Hall
This is a cavernous barn conversion with double-height vaulted oak-beamed ceilings. It has a country kitchen, dining table, breakfast bar, central brick chimney and lounge.
It also has a fantastic accoustic sound system.
Learn More of This Luxury Villa
The Banquet Hall
Games Room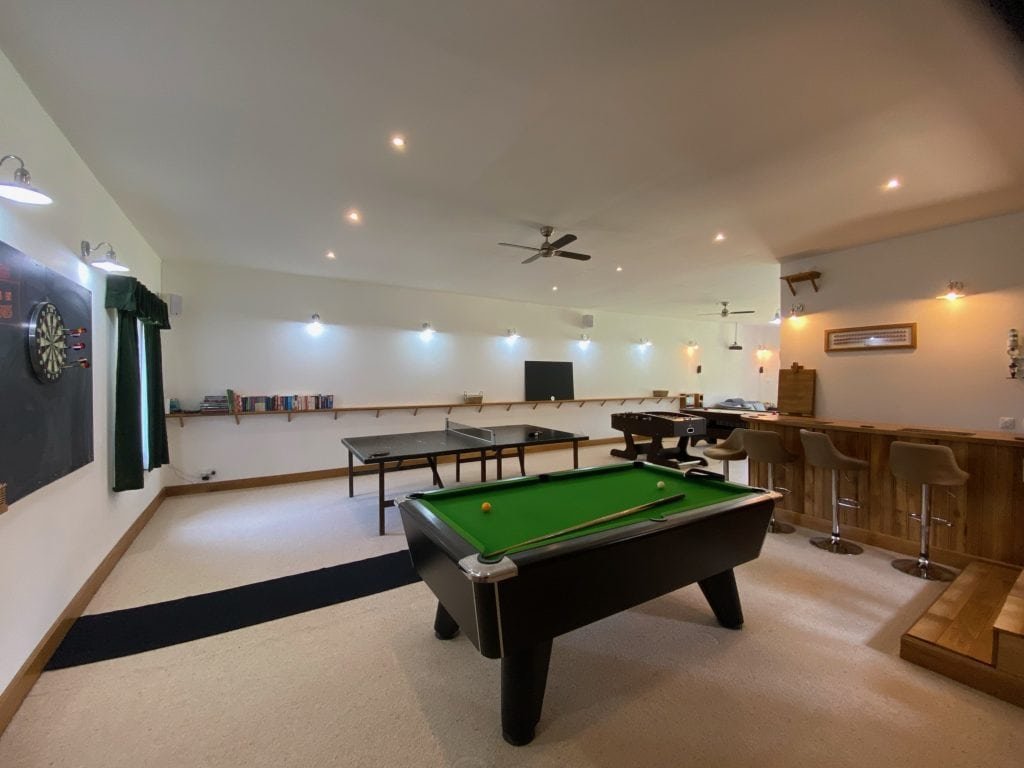 Large Heated Pool
Fun Learning French While on Holiday
At Gite Dordogne, we believe that soaking up the French courses should be as much fun as exploring France. That's why we incorporate games, role-playing, and other engaging activities into our French classes. These approaches ensure that the children remain engaged and the adults can enjoy the process of studying French.
We also take advantage of the outdoor environment to facilitate French learning. Picnic lunches and outdoor classes offer students a change of scenery and a fun way to learn French.
By making the classes enjoyable, we ensure that every member of the family looks forward to the French course as much as they do the afternoon adventures. We don't teach from books and minimal writing is needed.
Afternoons Off from Your French Language Course
While the mornings are dedicated to French lessons, afternoons are reserved for families to enjoy their holiday. Whether you choose to explore the stunning Dordogne landscapes, visit local attractions, or simply relax at the accommodation, there's no shortage of ways to make the most of your afternoons.
This balance ensures that your French holiday is not just about your French skills but also about experiencing France in all its vibrant beauty and diversity. Afternoons off offer the perfect opportunity for the whole family to come together and enjoy the French lifestyle and culture, enriching the overall summer holiday experience.
French Courses
French language holidays for families offer an enriching experience that goes beyond a simple vacation or linguistic course. By learning French in the heart of France, you and your family can deepen your understanding of the French tongue and culture, making your holiday not just enjoyable but also educational.
And with the right French process, teacher's home, a comprehensive, French school or language course, and a stunning location like the Dordogne, you're set for an unforgettable French skills holiday. As you plan your next summer holidays, whether July, August or elsewhen, consider a French language holiday – it could be the perfect blend of relaxation, learning, and cultural exploration you're looking for.
Click here to learn more about boosting your skills together with your family <<
We are sorry that this page was not useful for you!
Let us improve this page!
Tell us how we can improve this page?