What should your Holiday Home Rental with private heated pool look like?
The right holiday homes and gite with private pools in France for you and your family is a very personal choice. Should it be near a picturesque village? Have beautiful gardens? A large garden? A secluded gite? Self catering in a stone barn? Do you want a private tennis court?
Would you accept a shared swimming pool or does it have to be a private pool? (A shared swimming pool is defined as being used by others that are not part of your holiday group) Does it have to be a private heated pool?
Do you need a 5 bedroom villa with large pool?
When you're looking for a gite complex in Dordogne or houses to rent in France, you first need a list of criteria.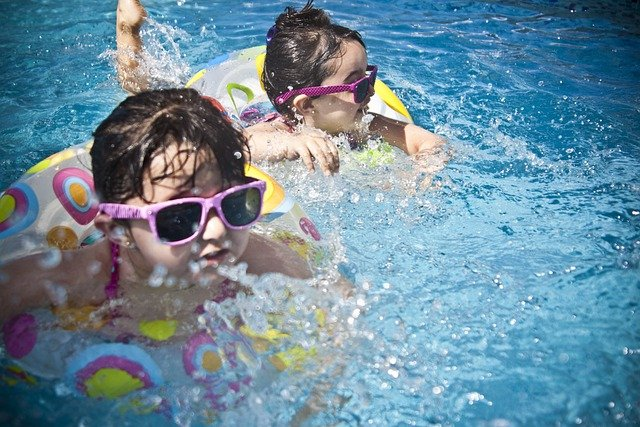 You need the right child friendly holiday in France – that is right for you!
We took 10 years before taking the plunge and buying this beautiful, remote, tranquil and fun farm in its rural location, with 26 acres in the North East of the Dordogne, south west France.
But is it right for you?
Only you can decide that. It depends on your criteria.
Looking for gites in dordogne with private pool with fun local attractions?
If you want a busy, hectic place to stay with lots of other unknown people around you, this is not the right place for you (although you are only a short drive away from a lively town at St Yrieix).
If you want a town environment to stay in, this is not it.
But… if you're fed up with camping next to an annoying family who don't quite understand personal space or acceptable boundaries, if you're looking for gites in Dordogne with pool, then this IS the right holiday home for you.
This beautiful farmstead has space galore – whether you want to keep it quiet and enjoy the peace – or if you want to make as much noise as you want and know it is not a problem with a hundred other people around you.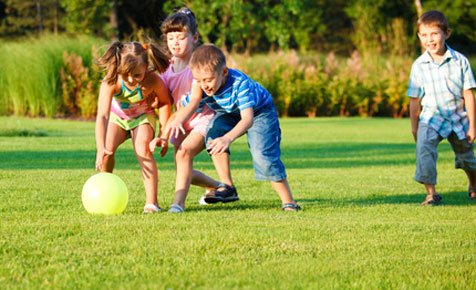 Your Kids at Your Holiday Rental Gite With Pool France
You see, one of my overriding criteria when we were looking at villas in France, for our own villa, was that our 4 kids could go out as make as much noise and have as much fun as they wanted, without me feeling worried about annoying any neighbours.
(my other main criterion was that I could kick a ball as hard as I could and it would finish up within our land. Here, there is 26 acres. I really cannot kick that hard! )
The good news is we found such a place. This is it. We are surrounded by peaceful countryside for miles around.
Secluded Gite Property & Private Heated Pool
So you can relax and have fun, knowing that you are not about to upset any neighbours and that you too can kick a ball as hard as you like and not have to worry about asking a neighbour if you can have your ball back!
If you are looking for Dordogne villas with private pools or a gite complex in Dordogne, this is where you need to be!
Holiday Home Sports
Want to play football? Absolutely fine. There is so much space, you could have your own football ground… plus your own rugby ground… plus your own cricket ground. Maybe explore the forest down to the fishing lake with your children. Or jump in our large pool !
You are welcome to bring whatever equipment you want.
Gite With Private Pool France For Friends & Family
Want to holiday with your friend's family too? Not a problem. Because this family-friendly gite in Dordogne has 5 large bedrooms (2 of which are very large), you may choose to take your family plus your friend's family or your extended family. If, in addition, your old chums want to come, they can camp, if all the rooms in the house are being used. (Please make sure to contact us to arrange camping permission; it is not a problem, we just have to register it).
There is more than enough room for everyone to stay.
Obviously, if there is more than one family staying, this makes your holiday much cheaper by dividing the cost across everyone.
We have a large Games Room with table tennis and a wide range of games and toys.
We also have a hot tub jacuzzi spa to relax in.
Discover More Around This Large Luxury Villa
The Banquet Hall
Games Room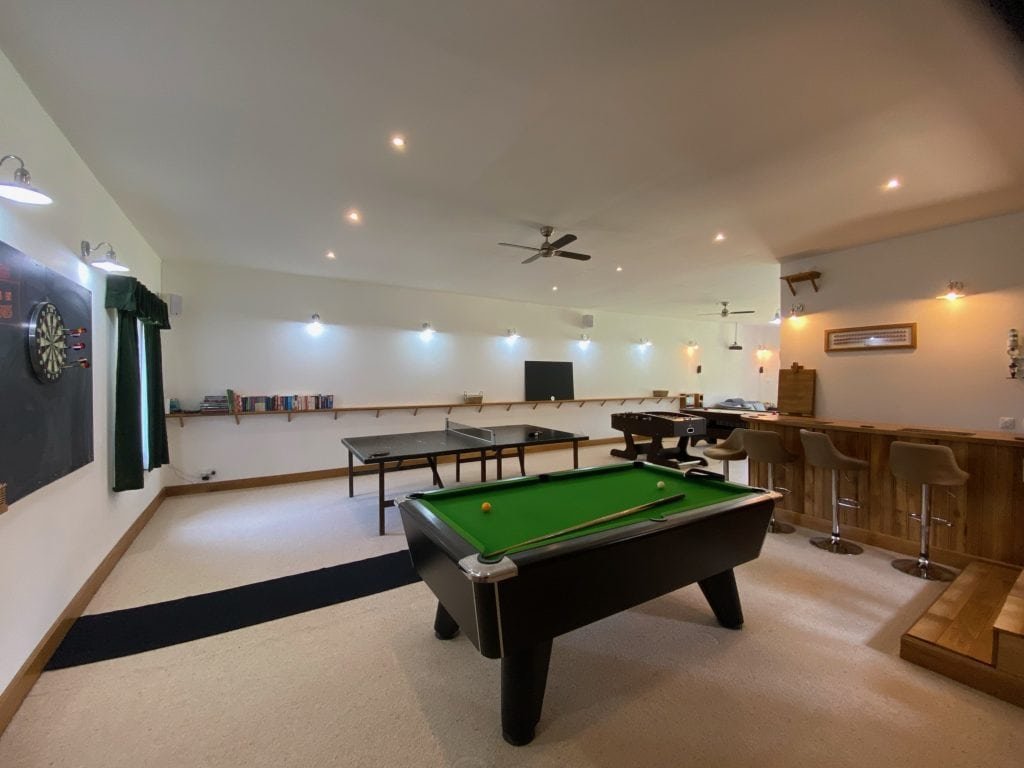 Large Heated Pool
South West France
The south west France area is very popular because it is warm and dry with wonderful sunny weather, with many self catering properties, with amazing views – often panoramic views – and comfortable accommodation.
There is a huge range and wide choice of property and things to do. A converted barn with swimming pool, for your family holiday in France – or holidays homes near vineyards!
Some properties have shared pool but ideally you want a your own swimming pool in a private garden. Some have a fishing lake in peaceful countryside, in peaceful setting.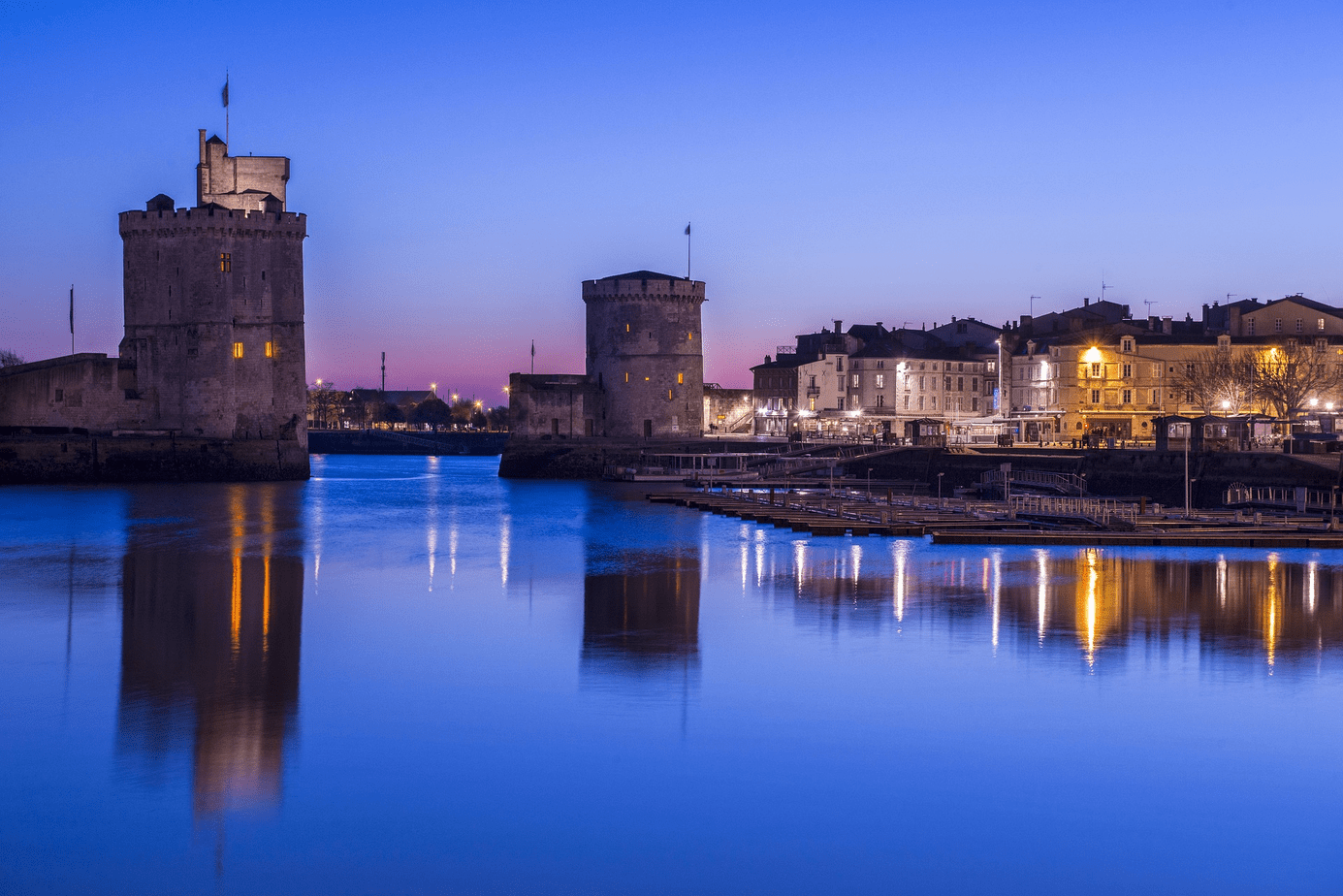 Heading south from the Loire Valley, past Charente Maritime before you hit Lot et Garonne, Tarn et Garonne and the Haute Garonne and the Midi Pyrenees (you can visit Lot et Garonne from our villa) you get to the Dordogne in south west France. This is very poplar as a holiday destination – most gites in France here large gardens and countryside views. Some have a shared pool but your own heated pool is better.
The south west France is warm in summer, but if your gite is a stone barn conversion with thick walls, as ours is, you wont need air conditioning.
Along the Dordogne river you can canoe hire and enjoy the water, which is a great option, or visit a picturesque hilltop town.
French Gites With Private Heated Swimming Pool
It is possible to have a larger gathering at your gite with pool France, although we ask that you talk with us first to make sure this is appropriate. For instance, you might have 4 families staying, with 2 in the house and 2 tenting outside and enjoying the air. Or maybe the adults inside the house…
We do require that you notify us if there will be more than 15 people on the property at any time, for legal and safety reasons.
Whether you want a Saturday changeover or Sunday changeover or whenever, contact us to tell us what you need.
As owners, we are here to help at every step – but there will be no owners on site – this is YOUR own kingdom. Your luxury family villa.
With that in mind, invite your friends, and book now today.
We are sorry that this page was not useful for you!
Let us improve this page!
Tell us how we can improve this page?