This page is for Yoga teachers
How Will This Help You?
This beautiful place in the south of France lends itself to tranquillity, peace, repose, regeneration
Location Affects State of Mind
You can make more progress with your students given the right environment. A noisy, busy environment means distractions, and will hold them back. A calm peaceful environment will help you and them get the state of mind needed for advancement.
You can picture yourself running your own Yoga retreat in France here, with your yogis appreciating your teachings, in these stunning, peaceful surroundings, both inside and outside.
Yoga Retreats Dordogne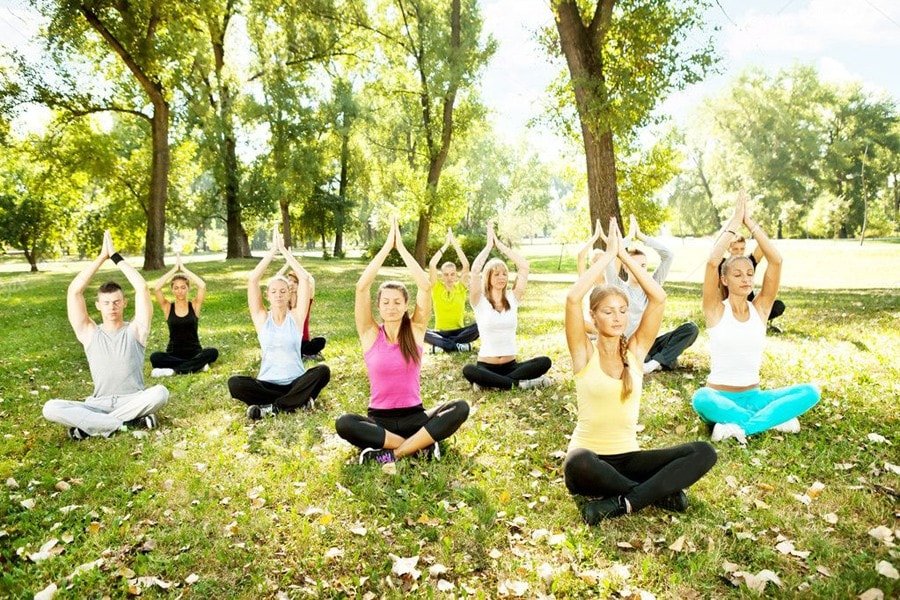 You can run your classes in any of a number of locations throughout the property meaning your students get variety as they learn and develop.
Why France?
This area in the south of France is usually on average 5 degrees warmer than the UK, sometimes 10 degrees warmer. This means it is more pleasant to be doing outside yoga in the sun, as well as a more pleasant experience.
France is usually drier than the UK, which again lends itself to outdoors yoga. See below for more details on outside yoga.
Why This Yoga Retreat in France?
Travel
Many yoga retreats in the UK can be 3 hours travel away. Similarly, international yoga retreats, for instance in Asia might be 12 hours flight away. The flight to this yoga retreat is 1 hour 40 minutes. The nearest airport is Limoges, which has easy flights from London Stansted, East Midlands, Bristol, Leeds Bradford and Manchester. Other travel options are outlined here
When?
Because of the pandemic, I fully understand that committing to travel isn't practical right now. This is for next year, or the year after. Consider this the start of a long-term friendship 😉 Feel free to bookmark this page for future-you.
Watch this video for a quick overview of the location.
Inside Yoga Classes
Indoors we have 2 options for you to hold your yoga retreat classes:
The 'Banquet Hall' is a huge indoor space, wooden floored, 14m long by 9m wide and double-height (no upper floor) so the roof is 8m above.
The Games Room is a carpeted area, 14m long x 7m wide. We can clear a space for your class here.
Looking For Yoga Retreats Dordogne?
The Banquet Hall is a massive and stunning indoor space. For your yoga retreat, we would remove the sofas to give you a 6m x 8m yoga zone, with solid oak wood flooring.
The Banquet Hall has a high-roof and large open space. Your classes can be where the sofa and floor rug is.
Watch this video to view inside the Banquet Hall
More videos here.
Yoga Retreats in Southern France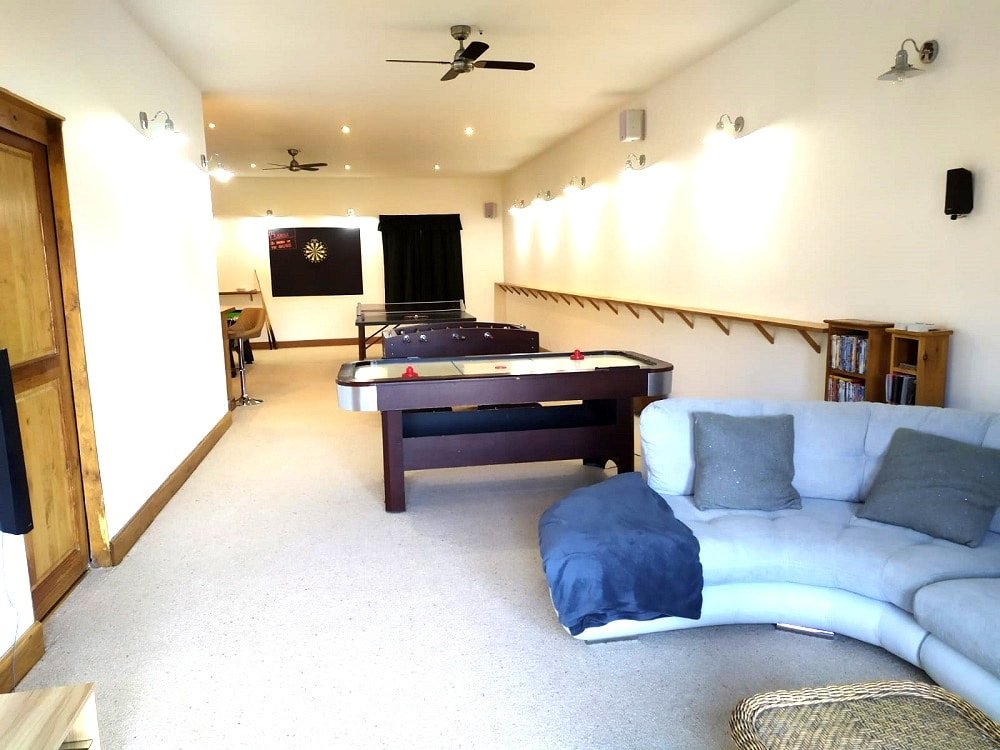 Additionally (or alternatively) your yoga retreat studio for classes can be in what is currently the Games Room. The games tables can be removed to leave a large indoor, warm, carpeted area for your yoga classes.
It's Giveaway Time!
We've got some decent Yoga mats for you to win.
All you need to do is Facebook share our home page which is https://gitedordogne.co.uk/ (click the button below to copy that address).
Once you have copied that above, click here to go to Facebook then paste that web address into a new post.
You can either Facebook share it to your personal Facebook or if you have a Yoga Facebook page, you can share it there – you might like to do your own market research and ask "What do you think of this beautiful place in France for a Yoga retreat holiday?"
After you've FB shared our homepage, click the green button below.
We will make the prize draw fortnightly up to Christmas, just in time to get you your special present.
Good Luck!

Outside Yoga Classes At Yoga Retreats Dordogne
Outside there is 26 acres of space. Run a class anywhere you want;
By the large 14m x 5m swimming pool. The pool is surrounded by terrace slabs for hard service. Around that is luxury-feel, high-end artificial grass that feels just like soft natural grass, but has the benefit of being near-perfectly flat and sits on sand beneath so it is slightly forgiving.
On the terrace patio, 11m x 10m. For a hard service this is ideal. Half is roofed for shade, and half is open air for yoga in the sunshine.
By the lake, in the sunshine. There are many spots around the lake for natural grass yoga.
In the forest, with the rustling trees. We have a few forests where yoga is possible.
On any part of the open grass fields. The open grasslands allow you to take a yoga class anywhere in the 26 acres of land.
More videos here.
The photo above was taken on an Autumn evening.
Your Yoga Retreat South West France
Partnership
We are working towards a long-term partnership with you (no contracts or commitments, just a partnership that continues because it works for you). Because you love it and because it is profitable for you with your yoga retreat in France, we want this to be a regular fixture for you, coming back successfully as often as you want, many times each year, year after year. So we want to make sure everything is just right for you and your students. We will do everything we can to get you everything you need.
Discount
With this long term partnership in mind, we want you to start the process of having your yoga retreat, as easily as possible. With this in mind, you can claim up to 50% discounts. Further details as you read on down.
Nourishment
We are fully equipped for independent cooking. We have a spacious, open Country Kitchen, with a large RangeMaster oven, and all pots, pans, utensils, plates, crockery etc, all provided. We also now have an outdoor kitchen (ideal for cooking fish or just enjoying the fresh air) on the terrace patio. There is a small brick barbecue plus a large outdoors bakehouse including a 2m long professional barbecue for bigger events. Local shops provide everything you will need.
We can organise a private chef for you, or you can bring your own. There is also an option for home-cooked meals to be delivered, from our lovely local friend.
Bedrooms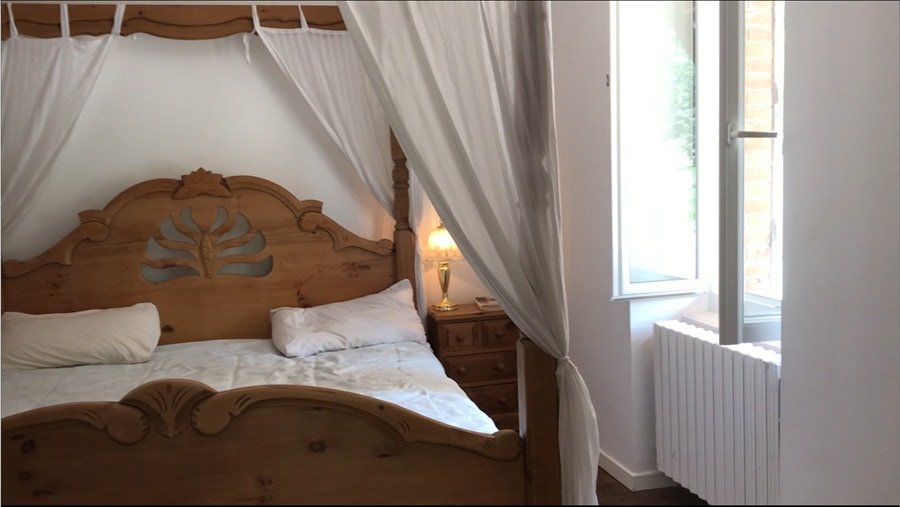 Beds can be rearranged as necessary. Currently all beds are large double beds. If you need singles in a twin room, we can arrange this for you.
Here is the current bedroom layout, which we can 'edit' as you wish. If needs be, 4 of the 5 bedrooms could be twin, rather than doubles.
Bedroom 1: Emperor large double + standard double (inc ensuite bathroom).
Bedroom 2: King sized double + King sized double (inc ensuite bathroom).
Bedroom 3: King sized double (inc ensuite bathroom).
Bedroom 4: King sized double 4-poster 'Royal' bed
Bedroom 5: Twin-double (2 singles within 1 frame)
We can adjust bedroom 4 and 5 into twin singles if required.
The house can accommodate up to a maximum 13 people. For a yoga retreat, a decent number might comfortably be 6-9 people (10 max), plus yourself.
Further details on the bedrooms are here.
Videos of the bedrooms are here.
We have 2 baby cots available. There is space for more.
Other Accommodation Options
During the summer months, you or some of your students might like to consider any form of outside accommodation, from yurt to tent. We can provide tents and other such equipment if required. Ask for details.
We have a friend with a beautiful manor house that offers Bed & Breakfast, a short distance away, if you need additional accommodation.
Local Area
This farmhouse property is idyllically remote, yet accessible to amenities and entertainment. You and your tribe will be quite content to remain in your own private kingdom, without leaving the property, if you wish. Many people who come here stay for days on end without leaving, except for shopping.
There is plenty to do in the local area, should you and your yogis wish to venture out. Details here.
Rates
It is entirely up to you how much you charge your students to join your yoga retreat holiday. We've seen rates normally between £800 and £1200 (I have seen some at £2500 per week, but that is the outlier, unusual rate). Again, it is up to you. The average seems to lie around £1,000 for the week. With, for example, 7 students per retreat, this gives you somewhere in the region of £7,000 incoming for the week. If you are not sure, you could charge less for your first retreat until you are confident to charge more. It is up to you.
There is no minimum number of students – that is up to you. A realistic maximum, to accommodate comfortably, is 10 people, plus yourself.
Discount Details
Because we want you to benefit from a long term relationship with us here, I want to make sure it is as easy as possible for you to say "YES" to hosting your own yoga retreat holiday with us.
With this in mind, I want to offer you a discount that makes this attractive for you to start, to come and host your yoga retreat with us. For your specific quote, simply call me and we can talk it through.
Also to reduce the risk to you, we will extend the booking payment period for you; to give you as long as possible to take your students' bookings before you need to finalise the booking with us. You make the tentative booking with us, get students to sign up and pay, then later finalise payment for hosting your retreat, so you don't have to pay up front.
Taster Weekend
Understandably, you might like to visit and view before committing to hosting a full yoga retreat here. You are welcome to stay for a weekend. Unfortunately, due to the Coronavirus quarantine, currently you would have to quarantine for 14 days on your return to the UK. I would have to also, because most of the year, we live in England.
So practically, it will not be possible to give you a taster weekend visit until after the quarantine is lifted. The best option is to watch all the videos here which will be almost like being here, seeing all the rooms, outside the house and the land. If you have any other questions, just call me.
And when the wonderful day of quarantine-lifting arrives, we will be happy to arrange a weekend visit. When that time comes, just call me to arrange a visit.
When To Host Your Yoga Retreat in France
Because the weather is best for outdoors yoga in the warmer drier months, it is best between May and September. Currently we have 2 weeks available in June 2021 and then 4 weeks in September 2021.
2022 is mostly available. Contact me for details.
Prices & Availability
To check availability and when we are already booked, as well as to view the normal prices (before your discount), see here.
How to Get Here
The easiest option is to fly to Limoges. Further details on how to get to the retreat here.
Contact Me
If you would like to discuss any aspect of hosting your yoga retreat at this stunning, peaceful location in the south of France, please simply contact me, Duncan Ritson-Elliott at duncan@gitedordogne.co.uk or call 07930 338 555. Alternatively, if you would like me to contact you, please use this short form below and tell me what you need and when I should best contact you.
[wpforms id="2521″ title="false" description="false"]