Are there dog friendly holiday homes in France?
Can I take my dog into the swimming pool?
Absolutely not. If you want to swim with your dog, there are lakes nearby you can use, or our own lake is an option. In fact, they will probably jump straight into the lake if it is a hot summers day. But the swimming pool has a liner that could easily be ripped by sharp dog claws. We are fairly confident you wouldn't want to pay the £5000 to replace and fit the pool liner! So we have a glass enclosure around the pool to keep dogs (and children) outside the pool area, and nice and safe.
Can you take dogs to France on holiday?
Absolutely. But post-brexit, you need to pay for an Animal Health Certificate (AHC) which come in at a price of about £200, mostly because vets don't particularly want to be filling in such boring forms! Once you've got your AHC, you can travel to France. You need your AHC completed between 1 day prior to travel and 5 days prior. You can put up to 5 dogs on one AHC form so if you are going on holiday with others, club together and put them all on one form.
What are the health requirements of pet arrival in France? Your pet should be microchipped / vaccinated against bacterial rabies. Please see our Pet Travel Scheme Check List before travelling and visit DEFRA's website for details.
Is France a dog friendly country?
Very much so. Make sure you stay attuned to sign postings. If in doubt, ask. Particularly for country walks, France is very dog friendly.
Even within the country, laws and regulations are very pet friendly. Nearly half of French household pets are kept in their house. All pets are welcome in most places all over France: restaurants and buses, if you follow regulations on pet behaviour on public streets.
Is the South of France Dog friendly?
The dogs will enjoy exploring any local french forest. It's essential to have the best preparation possible for such an intense trip – putting everything on balance. The south of France can be particularly welcoming for pets. Check with your villa owners if they are ok with that. We personally welcome pets and dogs at our luxury villa in south of France, subject to certain rules (for safety and to contain any mess).
Does France allow dogs in restaurants?
France usually accepts dogs in its restaurants. To ensure your best experience, we have examined many of the best dog-friendly restaurants. As a general rule, if they have an outside terrace, they will likely be ok with pets, if they are kept on leads. Some restaurants will let you bring your dog inside the restaurant, so long as they are well behaved.
Can dogs go on holiday to France?
What are some important medical considerations when taking pets? All animals need microchipping for rabies and they need to be vaccinated. See Pets Travel Schemes checklists before travelling or see DEFRA website for details.
Where can I take my dog in France?
There are a lot of options for your Canine friendly visit. Stroll through the Seine in Paris. … Also visit Luxembourg Garden of Paris. …… Visit a friendly dog hotel in Provence. … Discover beautiful Alsace towns. … Continue walking in beautiful waters and beaches. … See Mont Saint-Michel. … Visit Carcassian medieval villages. Take a stroll through Paris Seine…
Visit a dog-friendly château at the Loire Valley. … Explore Alsaces's Cutest Towns. … Embrace the beautiful river shore. '. Visit Saint Michels. … Visit Carcassonne Medieval village.
Are French beaches dog friendly?
There is a hundred miles of beach that offers ample opportunities for a sandy paw and a soggy coat – pure bliss!! Similar to Britain, not all beaches allow dogs, but most do, so long as your pooch isn't a menace to others. And they can be seasonal. France has 267 dog friendly beach areas.
Are dogs allowed on beaches in France?
Yes, on the whole, unless otherwise signposted. The dog is allowed to roam the beaches throughout the year. Simply be respectful of local bylaws and other beach guests.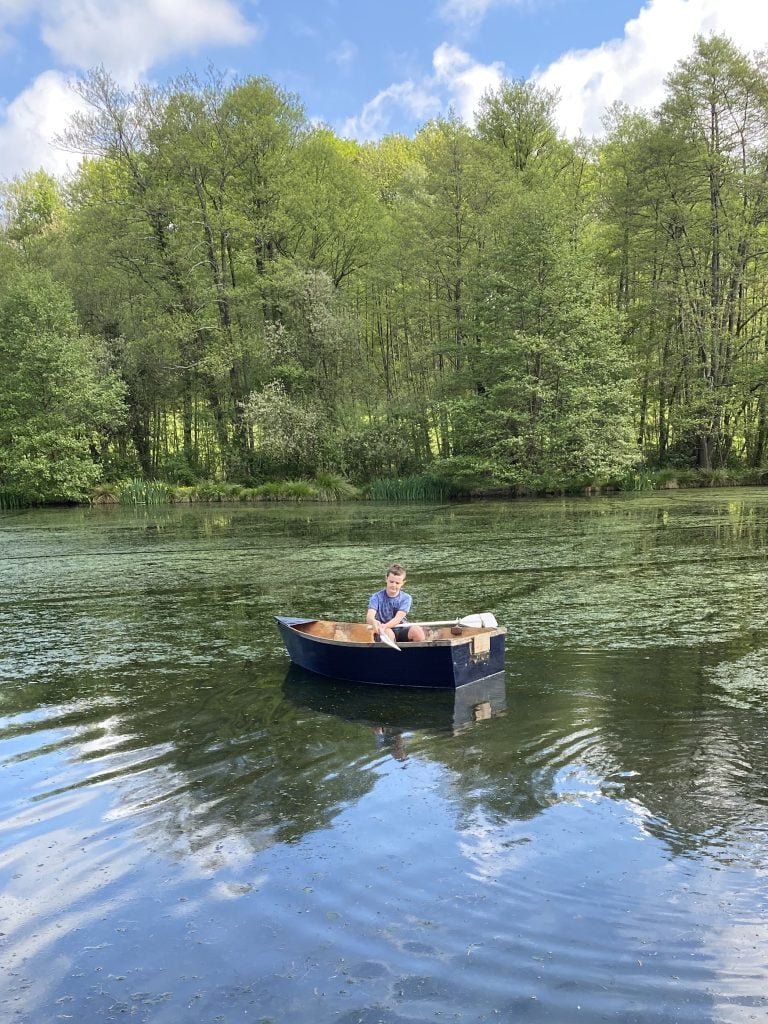 Can you take dogs into shops in France?
Legally, the proximity to fresh food means dogs cannot be permitted on outdoor market sites or in supermarkets and boutique restaurants. Please see the "no dog signs". A variety of stores such as FNAC, Monoprix and Darthy allow dogs if you politely ask guards inside.
This Villa
Learn More About Your Dog Friendly Holidays in France <<
NOTE – We DO NOT compete on price. You will find cheaper. If you want cheap, look elsewhere. We compete on QUALITY. It is all about the luxury.
Discover More Around This Ideal Luxury Villa in France
The Banquet Hall
Games Room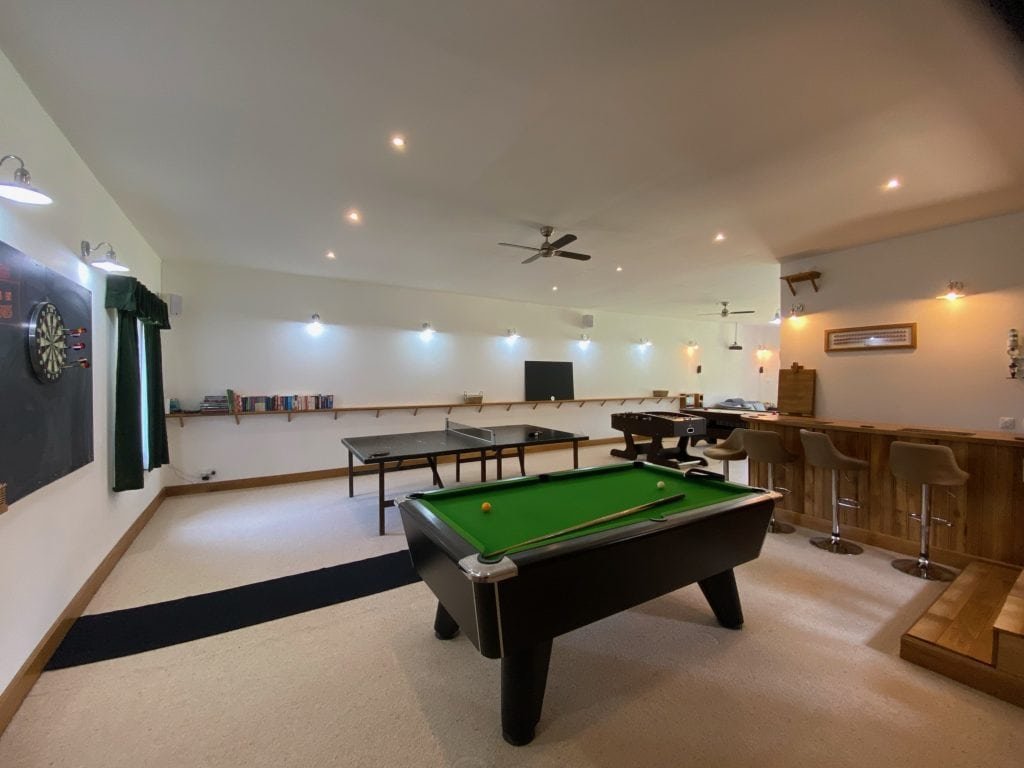 Large Heated Pool
Other Cottages Around France
We trawled the web for dog friendly data and info for holidays in France for you. Here are some updates.
Pet and Dog Friendly Holiday Cottages in France
We found 21 houses to rent so that you can compare the best holiday homes for dogs with pets in France.
Brenazet gites and campsite in the heart of France.
Holiday villas in Vernusse, Allier, France. Three large apartments with modern furniture will accommodate up to four people. Lovely views of the farm fields and grounds and a tiny camping spot inside the farmland. Currently available: € 325.00- € 670.00 a night. Sleeping: 6 pets welcome. Wheelchair accessibility is provided.
Tamarisk Self Catering Cottage West France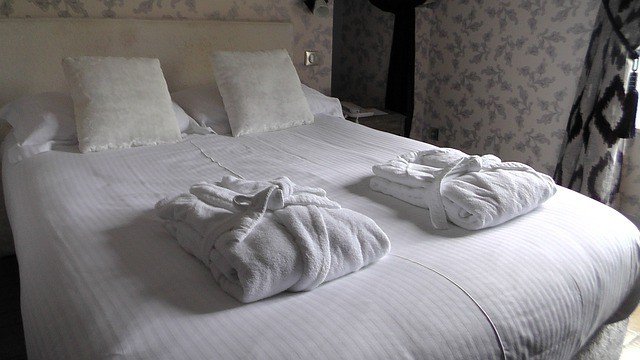 Holiday Cottage on a beach near Dampierre sur Boutonne
Charente-Maritime, France. It's an affordable accommodation for 2. There are twin bedrooms upstairs and showers/shower room. In the basement is a seating room and kitchenette. Bed linen… £ 141 – £ 240.00 the week. Two pets & dogs. Friendly dogs welcome.
Les Geais Rural Self Catering Cottage Limousin France
Holiday cottages in BUGEAT Correz France recently renovated lovely 2-bedroom Stone House close to Bugeat Limousin, France. The nearest lakes and the most beautiful countryside. The best of a family home with a great range of amenities. £ 245,000-£ 485.00 a week Sleeps 4, dogs welcome..
Gite du Pilan Large Self Catering Cottage Vosges
Holiday house in Portieux Voges, France: Comfortable home with self catering accommodation inside an ancient pond that sleeps 12. In a small village surrounded by dense forest. Most amenities near you. Located on an island… €400.00 to € 900.00 a week. Sleeps 12, pets & dogs welcome.
Chez Arran Farmhouse Holiday Apartment and Gite Pyrenees
Holiday house in Tarascon sur Ariege, France farmhouse, gite and apartments in Ornola Ussat les Bains Tarascon sur Ariège. Two bed house. Cheza Arran is an impressive and old farmhouse located in Barry d'en Bao, Ornia. £250.00 – £650.00 per week. Sleeps 10, dogs and pets welcome.
L'Oule Self Catering cottage gite La Fortie Auvergne France
Holiday house in Viscomtat in Poire du Dom France. Self-catering cottage apartment situated close to a quiet village in heartland at Livradoie-Forez Natural Park in Auvergne, France. Ideal for lovers of outdoor activities. €280 – €685 / night. Sleep: 6, dogs and cats welcome.
The Lodging of the step of Froud
Holiday cottage in Saint Christophe sur Guiers, Isere, France. Located in the French Alps surrounded by the National Natural Park of Chartreuse and located 40km from Grenoble and Chamonix. Its a former farmhouse. €960.00 – €2380.00 weekly. Sleeps 8, pet friendly pets.
Gite les Sangliers Pet Friendly Holiday Cottage South West France
Holiday House in Penne, Tarn, France, a family friendly rural holiday home with fenced gardens in South West France. A charming farmhouse located at the edge of Gréigne forests. 40.00- 495.50 euros a week. Sleeping 2, Pet Friendly, Animals are welcome.
Chalet des Aiguilles in Savoie French Alps
Holiday house in Montrond, Savoie in France. The cottage is located in Montrond in the Chalmieuhameau at the entrance to the Ski de Ski. The beauty of Son Plateau, located at the foot of Arves, and the richness of the views. €1,500-€2000 per week.
Charming self catering holiday home in Brittany with sea views
Holiday Cottages in Perros-Guirec Cotes d'Armor, France. This property is located in Perros-Guirec on the stunning Pink Granite coastline sleeping 6 people with breath-taking sea views.
2 bedroom cottage with pool
Holiday House in Saint Just France Charente-Maritime France. Beaches close with shared and fenced pool with solar heating pool. Children are welcome – £1340 to £9350 per week – sleeping six – Suitable for pets.
Nicotiana Gourdon Self Catering Rural France
Holiday Cottages Fajoles Lot, France. A very friendly and family-friendly country hideout situated near Sarlat Gourdon and Rocamadour offering a quiet and relaxed holiday for all… £560.00 – £1100.
Domaine de Pommayrac – Bedrooms and self-catering cottages within a Horse-riding farm
Holiday cottages near the city of Carcassonne / UNESCO in South France. Horseback tours and horseback riding courses… 35 – 75 euros per day. sleep: 8, dogs & pet friendly pets welcome.
Via ferry from the UK, it's only a short trip over the English channel ensuring your doggo won't have to go on any stressful long-haul journeys. Just be sure that your pet's jabs are up to date and has all the identification before leaving for your dog friendly holiday in France. Dog friendly cottages in France are the perfect solution for bringing your pets on holiday with you. The large open spaces and the privacy of having your own holiday home allow for your dog to settle in easier. Regardless of where you go, whether it be Calais or Marseille, not only will you have the holiday of a lifetime, but memories to boot.
They will adapt to new surroundings. After long days of frolicking through the woods or playing on the beach, there's nothing better than cuddling up on the sofa with your pet and spending the rest of the day relaxing in your dog friendly cottage in France. Ideas for your holiday Holiday homes with pools Holiday rentals for hiking or Holiday homes for families Holiday homes with sauna. Holiday park rentals Farmhouse stay Dog-friendly holiday homes. Some of the most popular destinations are Edinburgh, Whitby, Cornwall, Wales, Scotland, Dorset, Blackpool, The City of Brighton and Hove.
Our dog-friendly villas in France have something for every wallet, family and four-legged friend. We have self-catering holiday homes in South West France with private pools; houses with private gardens and shared swimming pools; and holiday rentals and luxury houses with hot tubs. Other common amenities in our holiday cottages include private parking, enclosed gardens, bar areas, games room, table tennis equipment and incredible views. You see, these Dog Friendly Cottages and we believe everyone deserves a family holiday, which is why we make it so.
In France for Families we have a lovely selection of dog friendly villas, gites and cottages, perfect for your dog friendly holiday in France. Our owners are also pet owners so many of them are happy for you to bring along your pet dog. Dog friendly villas in France with a private pool France is a great choice for dog friendly holidays and our selection of dog friendly villas in France with private pools will ensure a perfect family holiday with your pet! Our partner Select Villas plus some of our independent partners offer some lovely self-catering villas that will happily host your dogs.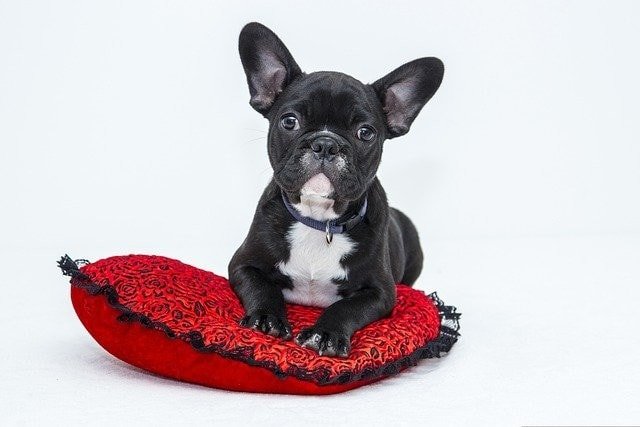 Holiday accommodation, Le Chambarru Blauzac,
Occitan 3 bedrooms. Sleeps 6. Impressive 16th century manor house, fully restored Charming village location with extensive views Large, private garden and private pool 10m x 5m. Wi-Fi internet. All amenities. € 215 per night ( 4 night minimum stay ) Weekly: €1,500 €3,760. Self-catering accommodation,
Maison Gavoua Seillans
Provence-Alpes-Côte d'Azur 4 bedrooms | sleeps 8.
Charming, detached in France Holiday Cottages in France Holiday Apartments in France Holiday Homes and Villas in France Guest Houses and B&Bs in France Hotels in France Camping and Caravan sites in France Popular Tourist Areas Pet/Dog Friendly Holiday Cottages in Coastal France Pet/Dog Friendly Holiday Cottages in French Riviera Pet/Dog Friendly Holiday Cottages in The Pyrenees. Pet/Dog Friendly Holiday Cottages in South of France Pet/Dog Friendly Holiday Cottages in Rural France. Pet/Dog Friendly Holiday Cottages in South West France. Pet/Dog Friendly Holiday Cottages in The French Alps Popular Areas Pet/Dog Friendly Holiday rentals.
Become a Dog-friendly Cottages lover for free and enjoy exclusive deals and discounts on thousands of properties for you and your four-legged pals. Enter to see Discounts exclusive to members. Save & share your favourite properties See your previously viewed properties. Sign up to see Discounts exclusive to members. Save & share your favourite properties. See your previously viewed properties.
Relax as lavender scents waft in windows. Blissful Tarn countryside cottages in France.
Gites de Sevenne Labretonie
Lot-et-Garonne From €261 per night. Self-catering 2 places for 4 – 6. Two family-friendly gites (big groups can take both houses) with beautiful gardens, sparkling pool, activities for children and peace for parents. Request booking.
La Valade Saint-Saud-Lacoussière
Dordogne tree house. From £500 per night. Self-catering. The house to take your breath away, in the heart of the Périgord Vert.
Rediat Cor Hautefort
Dordogne. From £70 per night. Self-catering countryside place for 4. The views are sensational, the bedrooms full of charm and higgledy-piggledy beams. Sip Périgord Noir wine on the terrace and amble to the market.
Quiberon House Saint Pierre Quiberon
Morbihan From €214 per night. Self-catering 1 house for 6. Clean, modern interiors and just a few steps from the sandy beaches of the Quiberon coast. Spend days walking, cycling and paddling.
La Bergerie
Experience accommodation, Dining & bars Shopping Spa treatment rooms. Wifi. Dog & pet-friendly holidays. Disabled access holidays. Car & motorcycle holidays. Self-Catering Cottages, gites & casas French cottages and villas with pool. Chalet campsites in France Apartments in France Hotels, Breaks & Tours.
Provence Côte d'Azur and Riviera Island of Corsica
Holiday Inspiration. Here's some ideas and categories to get you inspired… Perfect for couples Large groups 12+ Short stays Pets considered Private pools Private tennis courts Pure France Magazine Information and easy reading about our wonderful properties, destinations, customer reviews, tourist guides and much more.
Save your favourite properties.
Canopy & Stars Sawday's pubs Sawday's books Detour: stories from the road Other Other Our stance on COP26 – a climate emergency
Travelling to the EU – Brexit
Pet-friendly holidays in France & Spain.
If you love your holidays but always feel sad at the prospect of leaving behind your four-legged friends, then Brittany Ferries have the answer. As approved carriers for cats, dogs and ferrets, taking your pet to France or Spain couldn't be easier. Whether you want the freedom of a cottage, apartment or luxury villa, travel with freedom.
So much easier. Regardless of where you go, whether it be Calais or Marseille, not only will you have the holiday of a lifetime but so will your dog. France offers you and your dog new sights and excellent scenery, perfect for long walks. You are also sure to find many dog friendly beaches all over the country as the French are almost as crazy about canines as us Brits.
France's countryside and climate is also not too far off the UK weather and countryside of Britain, just with a lot less rain and more sun. This can be to your advantage as dog's often find it stressful to acclimatise to new surroundings.

Other Options To Consider
Smokers, Non-Smoking, property Lift access, Wheelchair adapted, Wheelchair accessible. Activities to consider – Beach or lakeside relaxation, City breaks, Skiing – property near ski resort, Walking holidays, Tennis in town, Nightlife, Water sports, Horse riding, Fishing, Cycling holidays, Golf course on site or within 15 min walk, Golf within 30mins drive, Mountain Views, Waterfront, Lakefront, dog friendly and pet friendly properties.
Back to the Best…
Discover more of our luxury dog friendly villa in Dordogne France here

We are sorry that this page was not useful for you!
Let us improve this page!
Tell us how we can improve this page?