Are you a fishing enthusiast looking for the ultimate family holiday with carp fishing lakes? Take your partner and kids… and your fishing kit!
Your Carp Fishing Holidays in France
Or perhaps you're a family seeking a unique and exciting break that is also a carp fishing holiday? Look no further than carp fishing in France with accommodation. This combination offers an unforgettable getaway that caters to both fishing enthusiasts and families, providing the perfect balance between relaxation and adventure – family carp fishing holidays.
Destination Spotlight: Dordogne, South West France
When it comes to carp fishing, Dordogne in South West France is a beautiful region. Known for its picturesque landscapes and abundant fishing spots, Dordogne offers a dream setting for anglers seeking to reel in some impressive catches. With its beautiful rivers, lakes, and canals, this region is a haven for carp fishing enthusiasts.
Luxury Villas for an Unforgettable Stay
You can find a lake with a chalet or lodge by the lake. Often these are OK but basic. If you're going fishing for a week or two, why not take it up a notch and relax in style at a more luxury venue?
Choose the right venue situated next to its own lake, and you could quickly drop a line in for your sturgeon, or catfish while the rest of the family are happy in the swimming pool.
To make your French carp fishing trip even more memorable, indulge in the comfort and luxury of the accommodation options available in Dordogne. Maybe with your own private fishing lakes in France. Having your own lake makes all the difference for your carp fishing in France with accommodation.
Imagine waking up to stunning views of the French countryside, with easy access to prime fishing spots just steps away from your doorstep, down to the lake. It can be all yours – and only yours – on your exclusive carp fishing holidays in France, pulling big carp or bigger fish out of your lake. We take exclusive bookings for our lakes. Your swim – your rules.
Perfect French Fishing Holidays
The luxury villas in Dordogne provide a range of amenities specifically tailored to cater to fishing enthusiasts and families. These accommodations offer the keen carp angler proximity to fishing spots, allowing you to maximize your time on the water.
Some have lakeside accommodation while some have more luxury accommodation a short walk from the house, while still being on the same property as your own accommodation. Decent lakeside houses give carp anglers the opportunity to holiday, fish in a fantastic lake, and hang out with your tribe.
Additionally, you'll find family-friendly facilities and activities to keep everyone entertained during their stay, such as hot tubs, swimming pools, a secluded garden with BBQ on site for your family. You can all enjoy local attractions together on your holiday days out in France.
Carp Fishing Holiday For Large Groups
You can enjoy your French fishing holidays not just with your family, but potentially with a group of families together, in luxury accommodation together.
We offer spacious accommodation for up to 14 people, so maybe you and 2 other families could take your family holiday as one large group.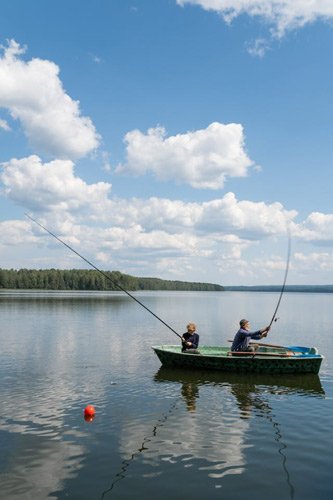 Food on Your Carp Fishing Holiday
When it comes to food, you can savour the local cuisine and indulge in delicious regional dishes. Experience the flavors of France while enjoying the tranquility of your surroundings.
The Thrill of Carp Fishing
Carp fishing in France offers an exhilarating experience for anglers of all levels. Whether you're a seasoned pro or a beginner, there are techniques and strategies to suit every style. From using boilies and method feeders to mastering the art of stalking, carp fishing provides endless opportunities for excitement and challenge.
To make the most of your carp fishing adventure, it's important to have the right equipment. From rods and reels to bait and tackle, ensuring you have the proper gear will greatly enhance your chances of success. Check out advice from local experts or fellow anglers to ensure you're well-prepared for your fishing expedition.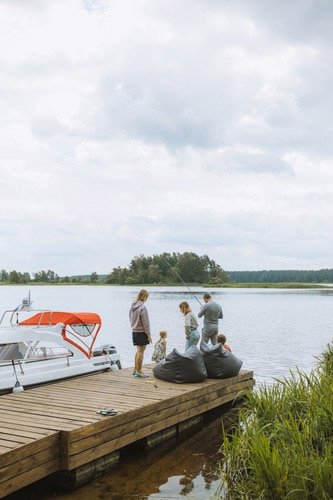 Visit Our Luxury Accommodation
Besides our lake and its smaller lake, the whole family can enjoy time together in France, on the terrace having a BBQ.
On-site Heated Swimming Pool
One of the standout amenities at these luxury villas in Dordogne is the heated swimming pool.
So whether you are an avid swimmer or someone who just loves to lounge by the water, this heated swimming pool adds a touch of luxury and relaxation to your carp fishing trip.
The Benefits of Carp Fishing in France
Carp fishing holidays in France with accommodation merits special attention for its enriching benefits. Chief among these is the chance to explore some of the most picturesque landscapes in Europe. Each fishing spot swim, often nestled in the middle of serene woods or by a tranquil lake, provides a breathtaking back-to-nature experience.
Moreover, French waters are renowned for their healthy, abundant carp population. Anglers have the opportunity to catch a variety of carp species, including the prized mirrors and leathers, making for exciting and often unpredictable fishing sessions.
This diversity not only offers a rewarding challenge to experienced anglers but also encourages beginners to sharpen their skills.
Lastly, France's commitment to conservation ensures that the fishing environments are well-maintained and sustainable. This mindful approach towards fishing promotes a balanced ecosystem and encourages anglers to respect and protect the environment.
All these facets combine to ensure that carp fishing in France is an experience that extends beyond the thrill of the catch itself.
Activities for the Whole Family
While carp fishing may be the highlight of your trip, there are plenty of non-fishing activities to keep the whole family entertained in Dordogne. Explore the charming towns and villages, visit historical landmarks, or indulge in outdoor activities such as hiking, cycling, or canoeing.
Dordogne offers a wealth of attractions that cater to every interest and age group, ensuring that everyone has a memorable vacation.
Conclusion
Embarking on a carp fishing trip in France with accommodation is a fantastic way to combine your love for fishing with a family-friendly vacation.
With the stunning backdrop of Dordogne, luxury villas offering comfort and convenience, and a wide range of activities to enjoy, this experience is sure to create lasting memories for both fishing enthusiasts and families alike.
So why wait? Start planning your unforgettable carp fishing holiday trip in France today!
We are sorry that this page was not useful for you!
Let us improve this page!
Tell us how we can improve this page?