We all love our kids. No matter who they are or how they are.
We're all different, right?
It is vital that families with an autistic child or anyone on the autism spectrum, get an autism friendly holiday you can all enjoy.
You deserve stress free accommodation, accessible cottages and a wide range of sensory room / activities for your family.
Any level of disability or disabilities need to be catered for lovingly, with assistance where needed, to service any difficulties you may experience – and to pre-plan for any likely difficulties!
Autism Friendly Holidays
Accommodation needs to be autism friendly, noise levels low and in a controlled environment.
All facilities need to be carefully considered specifically for autistic children, for a stress free holiday.
Autism Villas Abroad
A private pool needs to be equipped with necessary safety equipment and sensory games.
ALL guests need to have a fantastic holiday!
We have an autistic child ourselves, so we have an awareness of what special changes are needed to travel abroad for holidays together.
We and our team made this house and site adapted to these needs.
This is not some faceless hotel with a noisy team of people you don't know running around. You'll find that at any standard hotel – you wont find that at our luxury villa in France!
Call me with any arrangement or requirements you need.
Stress Free Holidays
This is exactly what we offer and why we offer autism friendly breaks for families with an autistic child – plus other children and parents. Its got to be a holiday to support and be helpful for everyone in your family.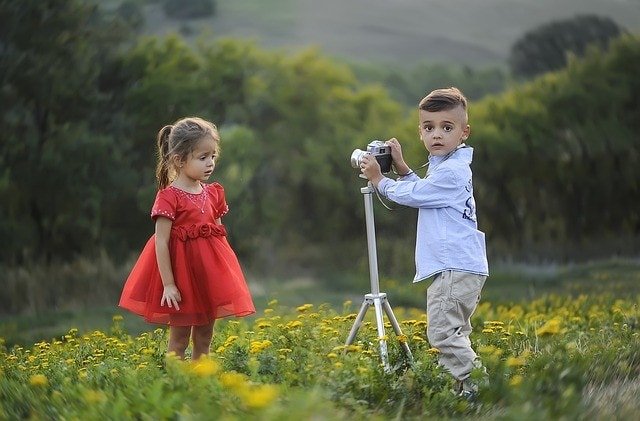 We work hard to make sure your family has a great holiday, for your autistic child and non autistic child alike. Children and parents will have a wonderful and luxurious holiday at GiteDordogne.
Your accommodation here is top-level luxury, with solid oak beams and structures throughout, so you can holiday in style.
Autism Spectrum Breaks and Holidays
As you look through the photos on this website of this stunning villa farmhouse cottage and its spacious private gardens, you will start to feel the tranquillity of the place. This will become your favourite holiday destination together.
You are welcome to come as just your family, or as a group of families on holiday. Because the property can sleep up to 14 people, very often the holidays here are exclusively for either extended families or maybe you prefer to holiday with some old friends and each of their families.
All are welcome to come visit and love their holiday here.
Relaxed Company on Your Break
You control who every single guest is. There will be no other guests, other than your own holiday group. There is not a shared swimming pool. There are not shared accommodation facilities – it is all yours!
Luxurious Facilities and Service
The whole house and area has been fully renovated since 2017, so everything is new and at the Rolls Royce end of the quality scale.
The cottage bedroom area of the house was totally gutted and renewed in 2017, with 5 large double bedrooms. Each room has comfy double beds. The upstairs room has an amazing ensuite bathroom with views over the orchard and forests. The Victorian bath gives you these views as you soak in the tub.
Accessible Room and Carer Assistance
There are 2 rooms with ensuite bathrooms on the ground floor which is more accessible for any disability. One of these has a large walk in shower, the other has a bath and shower.
There is a family bathroom on the ground floor with a bath and shower which might be suitable for any disabilities or otherwise.
Maxime Fuller,
Guest
"Un sejour inoubliable!!!, Quoi de mieu qu'une magnifique propriété pour passer un moment avec tous, tout etait parfait, la communication avec l'hote , la maison, l environnement…..Merci beaucoup. A l'année prochaine."
————————
Translated from the original French:
"An unforgettable stay !!!, What better than a magnificent property to spend a moment with everyone, everything was perfect, communication with the host, the house, the environment ….. Thank you very much. See you next year."
Private Pool Suitable for Autism Children
The private heated swimming pool is suitable for all. Children can be either safely kept out because of the safety-glass panel enclosure, or you can all enjoy the pool together.
You can also see into the pool area through the glass, from the patio terrace area.
The top step of the pool is designed as a social seat, for sitting and watching your children play. This seat is 1m by 3m wide so you could sit together if anyone doesn't want to swim right now.
Don't let autism hold back your holiday fun together!
Support For Children With Autism
Our Games Room is designed with a strong awareness for families on holidays and a child with autism.
This area of the house is carpeted for extra warmth and sensory experience and environment.
For the parents there is a drinks bar area for a relaxed cold one in good company.
You also have a 3-metre widescreen cinema to curl up together and watch something.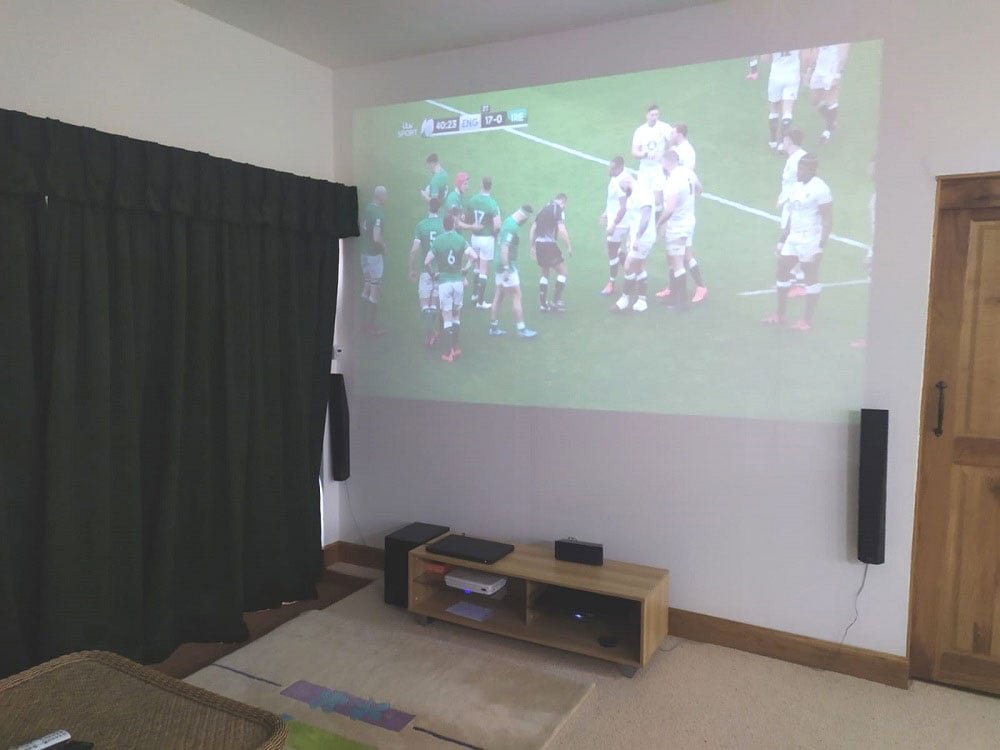 We have a range of games and toys which might be suitable for your ASD child or other children. Depending on the age of your children, we have toys for younger ages and games for older children too, including badminton and tennis rackets (there is a nearby tennis court in the village which is free to use).
Depending on suitable noise levels, we have a sound system in the games room to play your own music. There is also a sound system on the terrace which could help create a predictable noise level on site for your ASD child.
Animals For Autism Sensory Experience
There is a farm at the end of our lane, which has over 300 cows in the fields, so your family can take a gentle walk to say hi to the animals. You will also see some amazing local wildlife, including eagles and deer.
You are welcome to bring your dog to your holiday abroad, especially if this helps your child with autism, as this is often a requested favourite feature – a dog friendly holiday here. If bringing your dog would support you and your children please simply get in touch.
The accommodation is accessible for dogs (once they are clean!) and the gardens are huge and will be a joy for your dog.
And you don't have to board your dog in the UK's kennels.
Local Activities For Children and Parents
There are a number of special locations near this villa abroad for child and parents to enjoy on your holidays.
The nearby lake has sand beaches to play and swim. The beaches at Arfeuille lake are smaller than the beaches at Ruffiac lake, which is a little further (20 minutes away rather than 10 minutes). Either beaches are fun for the family.
Visit the ceramic shops which produce world famous plates and other ornamental items.
There are stunning caves you can visit with are a short travel away. The Padirac and Lascaux caves are also world famous ancient art works. Kids and parents can appreciate the underground environment paintings from cavemen years ago.
Another of the locations you could enjoy are some of the range of village markets and brocantes which can be just a short travel.
Discover More At This Villa in France
The Banquet Hall
Games Room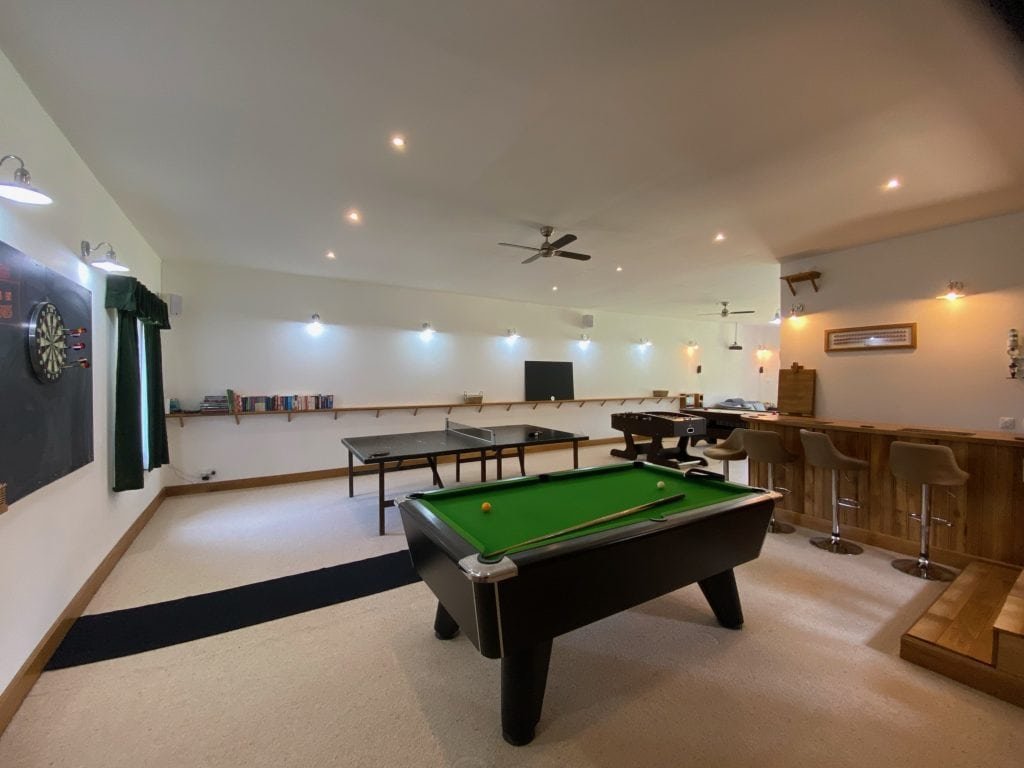 Large Heated Pool
Book Your Spectrum Holidays Break Here
Book now to avoid disappointment. We do book up early because of high demand and the luxury nature of this holiday destination. When you book, please give any advice on special needs or special assistance for your accommodation or families needs.
You can call me to discuss your special needs, mobility access, support and anything you want prepared or arranged before your holiday here. I am happy to give advice and best methods of travelling here or any other helpful input for you. Because of this, we are one of the UK's best autism friendly luxury breaks abroad.
The airport is 50 minutes away, so a trip by plane is an easy option. Limoges airport is small but well serviced. Travelling through Bergerac airport is the next best option, and travel through Bordeaux airport is the 3rd nearest.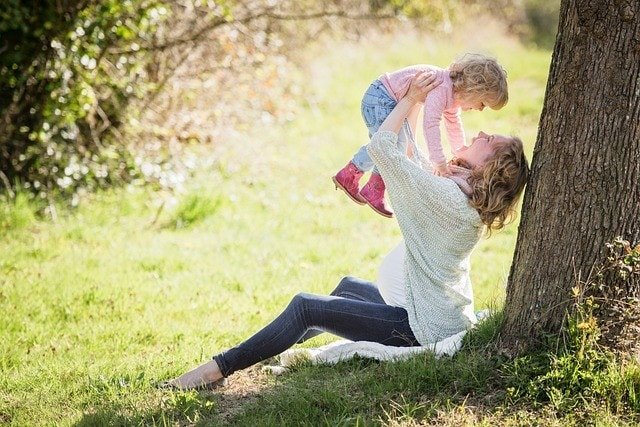 You can drive to France and park your car at this stunning holiday accommodation easily. We have space to park up to 10 cars in the parking area and on the drive. You can also park a caravan if you are planning on travelling with your caravan over. We do also have a caravan on site of our own here, which is not normally part of the rented accommodation, but if your autistic child specifically likes caravans, then we can make this available to you. Call to discuss this.
Join Now
Book now to arrange your visit by calling me personally or emailing me here.
We are sorry that this page was not useful for you!
Let us improve this page!
Tell us how we can improve this page?