Looking to rent a cottage or house for Christmas in France? Searching for the perfect holiday cottage for a memorable Christmas holiday? Look no further than France for Christmas holiday cottages and large houses for large groups, where you can experience the magic of the holiday season in some of the most enchanting locations. In this blog post, we will explore the best houses to rent for Christmas in France, ensuring that you and your loved ones have an unforgettable holiday experience.
Popular Christmas Activities in France
In France, the holiday season is a time of joyous celebration, brimming with elegant traditions and festive activities that captivate both the young and the young at heart. As you settle into your sumptuous holiday cottage, enveloped in the enchantment of Yuletide, you'll find a myriad of delightful pursuits to partake in, especially if you're staying in one of the Christmas holiday cottages.
Delight in savoring the exquisite flavors of Le Réveillon, France's traditional Christmas Eve feast, with delicacies that tantalize the palate and embody the spirit of the season. Take a leisurely stroll through the vibrant Christmas markets, or "Marchés de Noël," adorned with festive lights and bustling with holiday cheer. Wander amongst stalls filled to the brim with handmade crafts, local culinary delights, and unique gifts, creating an atmospheric shopping experience like no other.
And for the children, or merely the young at heart, don't miss the joy of Pere Noel's (Father Christmas's) visit. The anticipation and excitement that fills the air on Christmas Eve is simply palpable.
So, whether you're relishing in the culinary delights, immersing yourself in the festive markets, or eagerly awaiting a visit from Pere Noel, Christmas in France is a magical experience that will create lasting memories.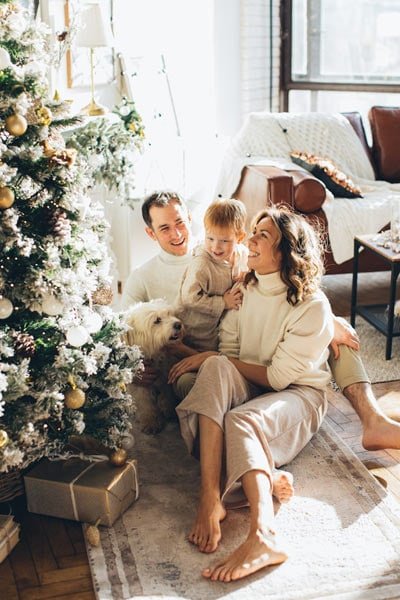 Rent a House For Christmas
Renting a luxurious holiday home in France during Christmas bestows a multitude of benefits unto its occupants. The elegantly furnished residences offer an exquisite home-away-from-home, brimming with authentic French charm and modern comforts. These private sanctuaries, nestled within France's picturesque locales, provide the perfect setting for intimate gatherings, allowing families and friends to celebrate the festive season in style and seclusion.
Gourmet kitchens become the heart of the home, where traditional Christmas feasts come to life using locally sourced ingredients, while spacious living areas serve as the backdrop for sharing gifts and creating delightful holiday memories. Moreover, a stay in these holiday homes offers an enriching cultural experience, providing an opportunity to partake in local traditions and customs, truly immersing oneself in the magic and spirit of a French Christmas.
Indeed, the enchantment of Christmas in France is amplified when enjoyed from the comfort and luxury of one of the Christmas large houses for large groups.
Dordogne: A Winter Wonderland
If you're dreaming of a white Christmas and sumptuous Christmas celebrations, Dordogne is the perfect spot. This picturesque region in southwestern France offers a winter wonderland experience like no other. Imagine waking up to snow-covered landscapes and cozying up by the fireplace with your family and friends, for a special time together. The Dordogne region boasts not only natural beauty but also proximity to various tourist attractions, including medieval castles and charming villages.
Best Christmas Holiday Cottages
When it comes to large houses to rent at Christmas for your family and friends, maybe with a swimming pool, snooker tables and large bedrooms, Dordogne has something for everyone. From traditional stone country cottages to elegant country estates, you'll find a variety of unique architectural styles to suit your taste.
Many holiday cottage properties in Dordogne also offers luxurious amenities such as a private swimming pool or hot tub in an enclosed garden, allowing you to relax and unwind after a day of exploring. Moreover, if you're a pet owner, there are pet-friendly options available so that your furry friends can join in on the holiday fun.
Christmas Culture
Delving into the cultural festivities and traditions of Dordogne is an enchanting journey in itself. As the Christmas season sets in, the region is illuminated with festive lights, and the sounds of carolers echo through the charming alleys.
13 Desserts!
The time-honored French tradition of "Les Treize Desserts de Noël" is a spectacular sight to behold. This tradition, translating to "The Thirteen Desserts of Christmas," invites you to relish an array of local delicacies, each symbolizing Christ and his apostles.
Christmas 'marche' are another highlight of the festive period, providing an avenue to peruse and purchase a variety of local artisanal crafts, foods, and gifts. Here, the aroma of mulled wine and fresh-baked treats fill the air, evoking a sense of warmth that is quintessentially Dordogne.
Christmas Cuisine
Sampling Dordogne's culinary delights is an experience akin to embarking on an epicurean pilgrimage. The region is renowned for its gastronomic prowess, with dishes that masterfully balance rustic charm and gourmet sophistication.
Foie Gras, a decadent local delicacy, is a testament to the region's respect for tradition and culinary craft. Truffles, the "Black Diamonds" of Dordogne, are another exquisite treat that will tantalize your taste buds with their earthy and aromatic subtleties.
Fine Wines
The region is also home to Monbazillac and Bergerac wines, which perfectly complement these rich dishes with their nuanced flavors and crisp undertones. In Dordogne, every meal is a celebration of craftsmanship, tradition, and the region's bountiful produce.
Christmas Holiday Cottages
You'll find more than just a standard holiday cottage, you'll be able to book a stunning self catering big house for a large group, with more than just two bedrooms for your guests, with a family bathroom as well as ensuites, a hot tub, cinema rooms, games room with a snooker table and board games for festive celebration, swimming pools, access to tennis courts, large beautiful gardens for short walk, and beautiful surrounding countryside within walking distance.
With a large house self catering holiday home, you can fit your guests in comfortably and cook for everyone easily – the perfect base to celebrate your Christmas holiday with family.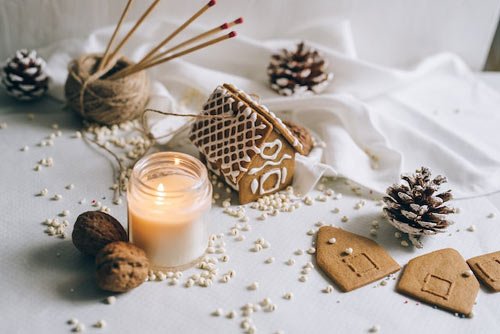 Normandy: Charming and Festive
For a charming and festive Christmas experience, look no further than Normandy. This region in northern France is known for its rich history, picturesque landscapes, and delicious cuisine. During the holiday season, Normandy comes alive with Christmas night markets, light displays, and festive decorations.
Christmas Celebrations
When it comes to a holiday cottage or barn conversion, lovingly converted, in Normandy, you can expect the same level of charm and elegance. Many properties feature unique architectural styles, ranging from charming cottages to grand manors.
Proximity to tourist attractions is also a highlight, allowing you to visit iconic landmarks such as Mont Saint-Michel or explore the beautiful Normandy countryside.
Large Houses to Rent for Christmas
Just like in Dordogne, you can find a self catering holiday cottage with a lovely garden space, pools or hot tubs, and stunning bedrooms, providing the perfect setting for relaxation and enjoyment for Christmas celebrations, and games room and snooker tables.
And of course, if you're traveling with your four-legged family members, there are pet-friendly holiday cottage options available for the Christmas period (usually in holiday cottage where pets allowed, they are usually only on the ground floor).
Loire Valley: Majestic and Magical
If you're looking for a truly majestic and magical Christmas experience, the Loire Valley is the place to be. Famous for its magnificent châteaux and rolling vineyards, this region in central France offers a fairy tale-like setting for your holiday getaway.
Explore
For a holiday cottage for Christmas breaks, the Loire Valley does not disappoint. You can find elegant properties that perfectly blend modern comforts with the region's unique architectural styles. Proximity to tourist attractions is a significant advantage, as you can visit world-renowned châteaux like Château de Chambord or indulge in wine tastings at local vineyards.
Your Holiday Cottage
Similar to the previous regions, Christmas family holiday cottages in the Loire Valley often offer amenities such as pools or hot tubs in the garden space, ensuring that you have a luxurious and relaxing stay. And of course, pet-friendly options are available for those traveling with their beloved pets for your festive celebration.
French Riviera: Sun, Sea, and Celebration
For those seeking a lovely family Christmas holiday filled with sun, sea, and celebration, the French Riviera is the ultimate destination. This glamorous region on the Mediterranean coast offers mild winter weather, picturesque beaches, and a vibrant atmosphere.
Luxury Large Cottage to Rent for Christmas
For a holiday cottage to rent for Christmas in the French Riviera with a private garden and cinema rooms, maybe a hot tub, swimming pools, central location and games room, there is a plethora of options to suit your preferences.
From luxurious villas overlooking the azure sea to stylish apartments in bustling cities like Nice or Cannes, you'll find accommodations that perfectly complement your holiday experience.
Amenities
Proximity to tourist attractions is a given, as the French Riviera is known for its glamorous lifestyle and cultural landmarks. Of course, a holiday cottage in this region also offers amenities such as cinema rooms, pools or hot tubs, allowing you to enjoy the Mediterranean lifestyle to the fullest.
Pets
And for pet owners, there are pet-friendly Christmas holiday cottages available so that your pets can enjoy the sun and sea as well.
Conclusion:
As you can see, France offers a many a family large house that promise a special time and memorable Christmas holiday. So, don't wait too long and book your dream Christmas holidays in France. Your luxury and family fun-filled holiday in large houses to rent awaits!
We are sorry that this page was not useful for you!
Let us improve this page!
Tell us how we can improve this page?